Valentine's Day might be around the corner, but we're a strong believer that you can empower your partner, best friend, or coworkers with these powerful pinbacks anytime of the year. Tell the special people in your life how you really feel with the sentiments behind these pins.
Empower, Uplift, Ignite
Jordan Pintar and Katie Mullen, also known as the design duo running Black Paint Studios, are no strangers to creating artwork that inspires putting good out into the world. In November 2017, the team used their iconic color palette and impactful words for #PassTheMicWi—an initiative urging for more "inclusive representation within our own leadership." Planned Parenthood WI, Emily's List, and Emerge WI all banned together to express this message: to empower, ignite, and uplift with their voices and buttons. The effect of these emblems lasted longer than just the convention. Remind those in your life that empower, uplift, and ignite you to start a chain reaction of positivity.
You ARE Beautiful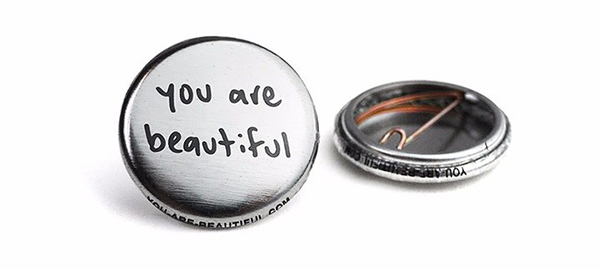 One of the most shared images on social media are the art installations of Matthew Hoffman that are his 'You are Beautiful' campaigns. He coined the message 'You Are Beautiful' as a standalone work of art in the Windy City 16 years ago and the flattering phrase has spread throughout the globe via stickers, billboards, murals, art installations and custom buttons ever since. Try using your other love language and give the gift of this compliment with a button.
I Am Great—Thank you for Noticing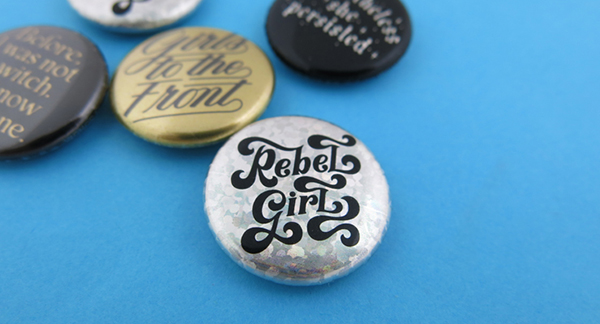 Influenced by Victorian ornament, hand craft, masonic banners, and punk & DIY, Jenna Blazevich's brand, Vichcraft, uses her strong typography skills to evoke change. Vichcraft is an independent and collaborative, multi-disciplinary studio that not only creates these wearables with powerful messaging, but also focuses on client work for other brands dedicated to doing good. Jenna's designs that celebrate women and their messages make for the perfect tokens of the feminist movement that can be shared through buttons.
This year for Valentine's Day, Galentine's Day, Single Awareness Day, or whatever you call February the 14th, tell the people most special in your life that you support them. Be inspired by these examples to make your own buttons with your own empowering and amiable sayings.
Read More