Buttons and tattoos have a lot in common. Think about it: They're both things we wear to express our interests; they're both things other people will ask you to explain; they're both attached with sharp, pointy needles. While you're more likely to see us covered in flashy pin back buttons than permanent tattoo-shop flash, we'll happily commit to custom button orders from our many tattoo-shop friends.

Getting tattooed is a personal experience. You want to choose an artist that specializes in the style you're after, and a shop that makes you feel comfortable with not just their chairs, but also their values. Shops can use buttons to market both of these qualities. Here are some of our favorite examples:
Great Lakes Tattoo (Chicago) promotes their affection for American Traditional style tattoos by distributing buttons of old-school skull, rose, noose, and spider designs. The name of the shop is printed on the side for reference.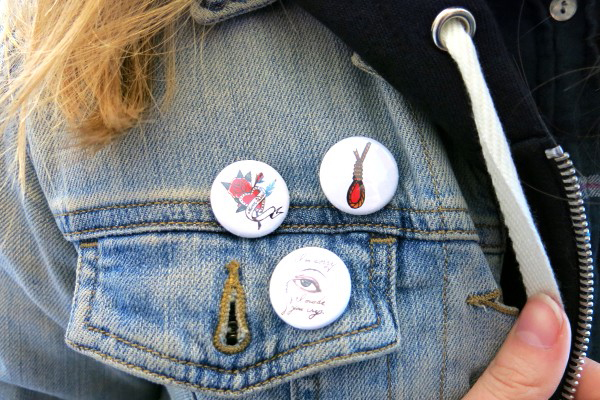 Hold Fast Tattoos (Ottumwa, Iowa), on the other inked-up hand, makes their buttons more like business cards—with the name, logo, and location right on front. A classic anchor symbol and "burn in hell" back rim text give a good idea of the shop's spirit.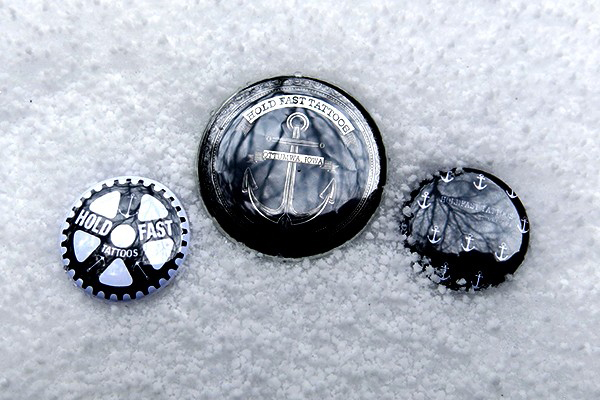 Insight Studios (Chicago) takes an entirely different approach to their button-based marketing. This shop specializes in high-quality piercings and detailed, custom tattoos; Owner Bob Jones has established himself in this community and chose to leave his mark a little differently in the tattoo and button community. So he makes buttons of his self-proclaimed "badass felines" instead.
"I love those two," he says of button-stars Indy and Miss Priss, "They rule. So why not?" The cat buttons are distributed by way of a free Button-o-Matic dispenser at the front of the shop. Jones says customers—especially children coming in for ear piercings—get a kick out of using the machine and are often (pleasantly) caught off guard by the set that comes out of it.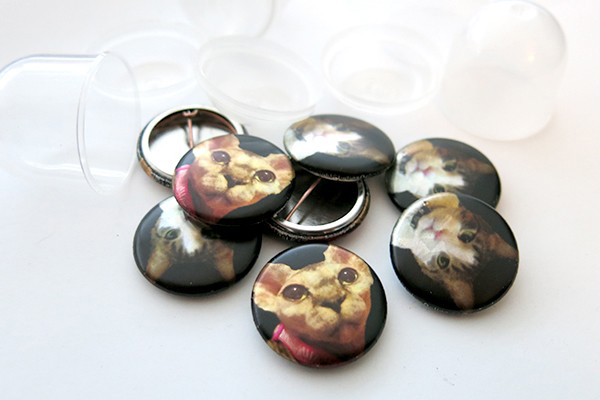 Not quite ready for your own? Cover yourself in buttons instead. We'll even help you with the design.
Read More