Imagine the impact that a single button can have. It's a lot, right? A great design that speaks to your audience, perfectly located at that important event, or handed out to the right person, can mean big things. Now imagine you can double or triple the impact of that single button, plus give yourself a little bonus room to spread your message. Sound pretty great, right?
That's where a button pack comes in. Take the power of a single button and multiply it for even greater impact!
Button packs are great in lots of situations. At trade shows or in swag bags, a pack means that your button doesn't have to stand alone-- the design can be sleek and wearable with messaging on the packaging itself. For musicians or visual artists, a button pack sells at a higher price point and earns you a little more bang for your merchandising buck. As promotion, button packs look sleek and professional, and the packaging gives you lots of room to add in promotions, contact info and other copy.
Busy Beaver offers three button packaging options-- bag and topper, display packs and flat packs—each with it's own unique set of uses and custom options. Read on for info about each of our packs!
Bag and Topper Pack

Bag and topper packs with five 1.25" buttons for Luke Strosnider
Our most popular packaging option, bag and topper packs are look put together, and are durable and versatile for just about any use. Because the the affordable price point on bag and topper packs (they start at $2.60/pack with three 1" round black buttons), they're a good option for giveaway. But bag and toppers are also a great option for retail, in stores or as merch to promote a project.
Even better, bag and toppers can be customized just about to your heart's content. More buttons, less buttons, mixed sizes and shapes are all possibilities. Bag and toppers even work with magnets or bottle openers, as pictured below. Contact us with your ideas and we can get you a custom quote!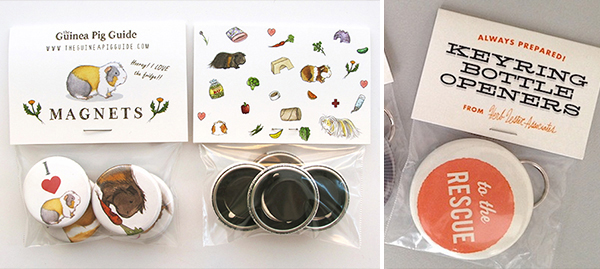 Custom bag and topper packs featuring "Guinea Pig Guide" magnets and Herb Lester bottle openers.
Display Packs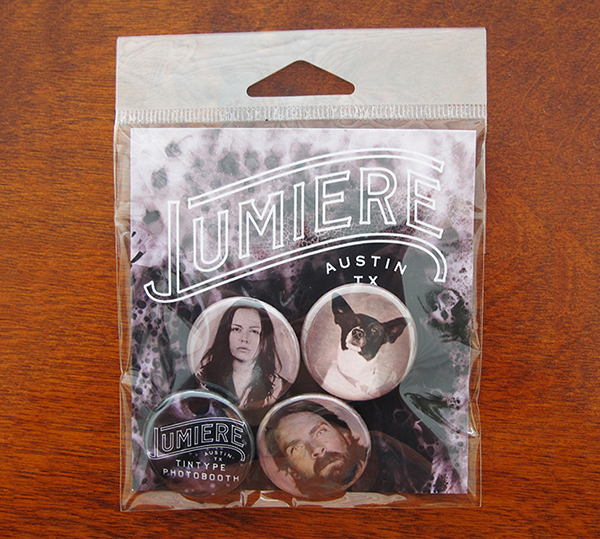 Display pack featuring photographs for Lumiere Tintype
Display packs were developed specifically as a retail-ready packaging option. The bag comes with hole designed for a hanging retail display, and protects the backer card from damage, making it the most durable of our packaging options. Not to mention, the 3.75" x 4" backer card can be printed single or double-sided, giving you lots of space to customize and add your own message.
Display packs work well for larger size buttons since the bag is larger as well, and are a good option when you want to include a large number of buttons, such as the Rooster Teeth "RWBY" pack with a dozen 1" buttons.
Flat Packs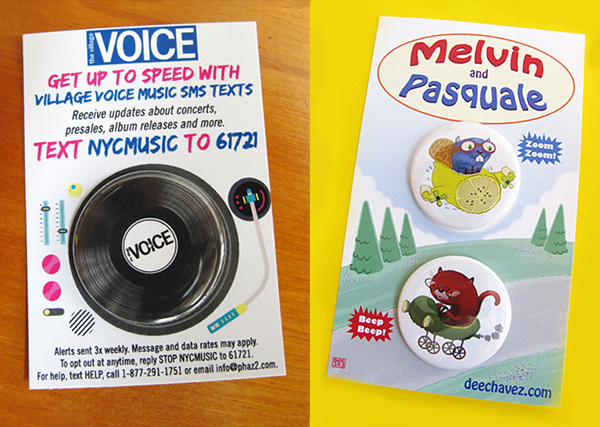 Single 1.25" flat pack for The Village Voice and double 1.5" pack for Dee Chavez.
Need a pack that'll work well as promo at an event? Flat packs are the way to go! This option includes your buttons pinned to a single or double-side printed card. As the only packaging option in which the buttons held in place, you have the opportunity to create clever interaction between the button placement and backer design.
Flat packs are a great option at tabling events, and they even make fun button wedding favors, as with the escort cards pictured below. Keep in mind that because the backer card is unprotected with these packs, though, we don't suggest flat packs in situations where they'll get handled or jostled a lot, like a retail setting.
Starting at $1.68/pack for single 1.25" button on a business card size backer, pricing per pack is less than $1 at quantity.
Read More