He goes by many names: Kris Kringle, Saint Nicholas, Papa Noel, Father Christmas, and the one we know him by the best in North America, Santa Claus. While the iconic imagery of Santa as a jovial man in a red cap and matching red suit with white trimming seems as historic as George Washington having wooden teeth, Santa has not always been depicted this way. The truth is, this version of Santa has only been around since the early 19th century. Thanks to companies like Coca-Cola and Marshall Fields the face of Santa Claus has been memorialized in soda cans, clothing, movies, and of course buttons.
First Depictions
Ironically, the image of the jolly man was first depicted in the words of a poem. The first lines of which tend to be more memorable than the title, Clement Clark Moore's "A Visit from St. Nicholas" or "Twas The Night Before Christmas" depicted Santa Claus with his classical jovial bearded appearance and sparkle in his eye. Later this poem could be said to be one of the inspirations for Thomas Nast's Christmas and Santa illustrations that he was commissioned to create for Harper's Weekly. In this drawing we can begin to see the first resemblance of St. Nick was taking shape. (Smithsonian.com.)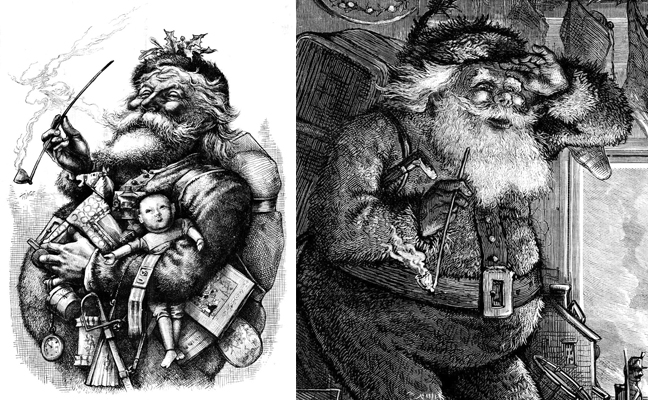 Department Store Santa Claus
Santa Claus' image began to spread and cement itself into American culture by making cameos in more newspapers, stories, and poems by the late 19th century. Business owners soon saw an opportunity— with so much buzz around the idea of Santa Claus, owners of department stores like James Edgar of Brockton, Massachusetts decided to bring the Santa Claus legend right to the children. In 1890 the dry-foods store owner created the new roll of "Department Store Santa" which by the next year spread across the nation as a holiday staple. (New England Living.)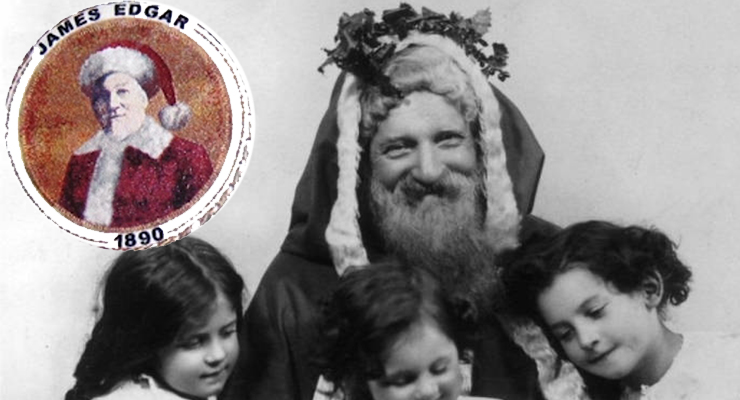 Marshall Field's began customizing buttons to hand out to shoppers as a piece of memorabilia as a way to remind kids to visit Santa again next year. It's now common practice to get your child's photo taken with Santa Claus and although sending that photo to all your relatives is a nice way to say "Merry Christmas", you can also turn that photo into buttons for an extra special seasons greetings.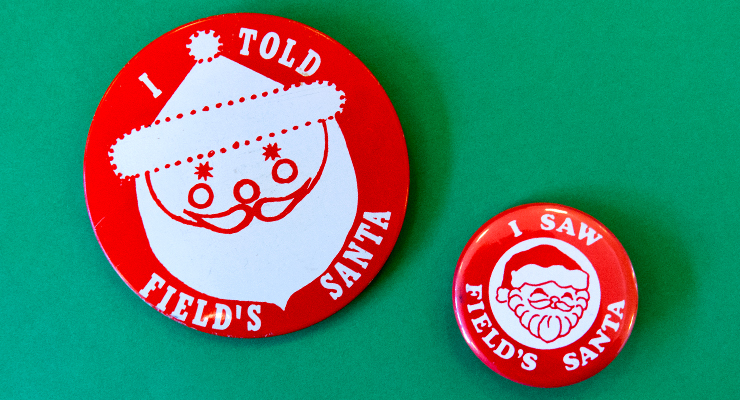 Some may say the version of the American Santa Claus we know today was truly solidified in the 1930's with the arrival of Coca-Cola's portrayal of the man. Archie Lee of the D'Arcy Advertising Agency worked alongside the soft drink company in hopes of syncing the spirit of the Christmas holiday with Coke. Archie advised to make his coat red with white trimming to match the brand colors of Coca-Cola (even though Santa appeared in red prior to this project) and noted he "wanted the campaign to show a wholesome Santa who was both realistic and symbolic". This responsibility fell onto Michigan-born illustrator Haddon Sunblom to design and create advertising images "showing Santa himself, not a man dressed as Santa." These Coke advertisements went on to be featured in popular publications such as The Saturday Evening Post, Ladies Home Journal, National Geographic, and The New Yorker (Coca-Cola Company.)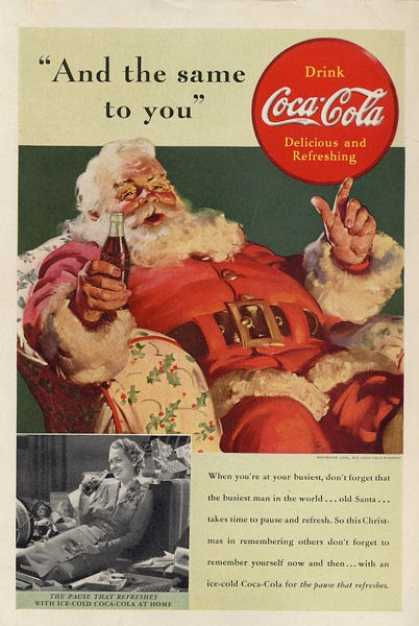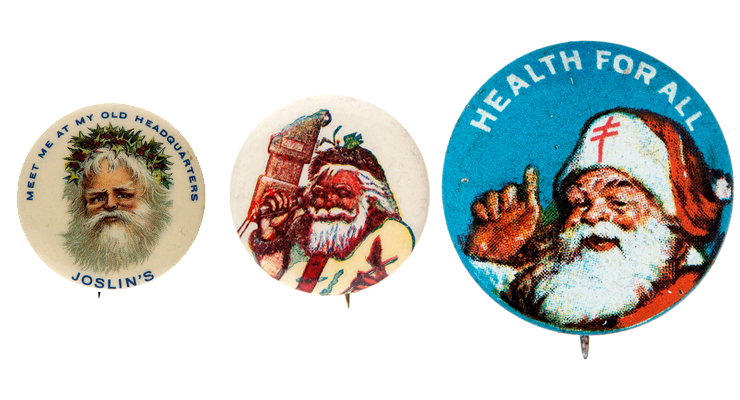 Button Images courtesy of TedHake.com. Early depictions of Santa Claus from the early 1900's (left) to 1930's.
The history of modern Santa is what makes him a special tradition of the holidays. Today Santa is depicted much the same as he has been for 80 years. He's gained a following throughout his lifespan, a wife, 13 loyal reindeer, and many handy elves to help make all the toys in the North Pole in order to get those excellent quality pool tables delivered to all children. These stories if not passed down from generation to generation are still being told in the books, movies, television, amusement parks, and even apps for your phone (i.e. Santa Tracker). Every year kids' fantasies of Santa are materialized when they see him outside the grocery store, at the mall, and in hospitals too because of his dazzling and recognizable look.
Read More