Busy Beaver is a group of creative people who understand the importance of expression, sharing ideas, and building community. Which is why we love turning your ideas into shareable custom buttons and stickers.
We truly care about your project; you're not just a customer, but a friend! We even created our "Service from a Friend" process to ensure every order is handled with care and checked for quality from the beginning to the moment it leaves. You'll get a quality product on-time, every time.
What Is Service From A Friend?
Friends are people who want the best for you. Friends will help you out when you need it, too. And that's how we treat you!

"Service From A Friend" is what we call our internal system— it's how we do everything. Contacting us and ordering should be easy, every product must look great, and it'll be there when you need it. You can rely on us, just like a good friend!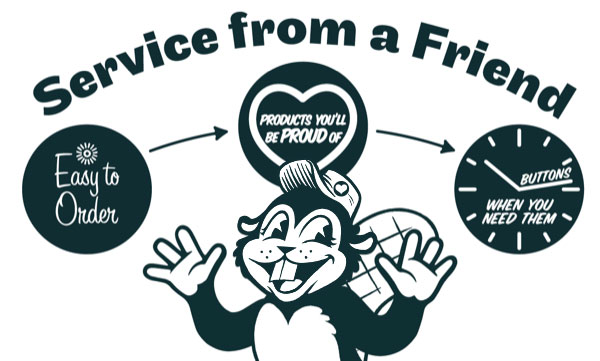 EASY TO ORDER

Fast, helpful, and friendly service
Easy ordering whether it be online, in person, by email, or by phone
We are dedicated to make sure the product you see in your mind becomes the product you see in your hand

PRODUCTS YOU'LL BE PROUD

Eyes on quality at every stage of production
American-made parts and machinery, made by humans who care
Variety of finishes and packaging options to trick out your message

BUTTONS WHEN YOU NEED THEM

Orders shipped within 5 working days
Guaranteed delivery with rush shipping
24, 48 hour and same day service available upon request
99.9% on-time rate