Busy Beaver Button Co. wants to make your custom stickers exactly the way you've been dreaming of. From special finishes all the way to the custom die cut. That's right, at Busy Beaver you can order your stickers any shape you want them!

Here at Busy Beaver we pride ourselves on our dedication to your needs. The sky's the limit when it comes to possibilities with your custom stickers. Your stickers will be made 100% to your specifications.

Custom die cut stickers are perfect for whatever need you might have; handouts for the opening night of a gallery all the way to marketing material for your small business. No matter what the situation might call for we'll be here for you! Our team is knowledgeable and always excited to help make the perfect stickers just for you. We have built a reputation in the community for being reliable and easy to work with and we intend to uphold that good name by satisfying each customer who comes our way.

We can even give you a hand if you need a little help getting started on the artwork. That's what our design services department is here for! We'll keep you up to date during each stage of the process until you're happy with a design you'd like to move forward with. Working with us makes ordering your custom die cut stickers a breeze.

Personalize your custom die cut stickers even more by exploring our incredibly cool special finish options. Your stickers will stand above all others when they glow in the dark or catch the light in a hologram!

Busy Beaver is the only sticker maker to turn to for custom die cut stickers. We guarantee high quality products at affordable prices you can be proud to hand out!

5-Star Customer Service
With Busy Beaver as your custom sticker maker, you can be assured you are speaking to a knowledgeable person who is excited to help you make custom stickers. We pride ourselves on our reliability and dedication to our customers. We will work closely with you to make sure all your stickers are High Quality with On-Time Delivery.

Work With Our Design Experts
If you're new to designing stickers, we're happy to guide your through the ordering process. We offer free digital proofs upon request. That way you have the chance to double check your artwork and give us your A-OK before production begins. And for those who need a little extra help, we offer design services. Our communicative design team will work with you to create the perfect custom made stickers.

Special Finishes
Busy Beaver is your one stop shop for the coolest tricked out personalized merchandise around! Personalize your custom stickers even further by exploring our incredibly cool special finish options. Your custom die cut stickers are sure to attract attention when they glow in the dark or sparkle with a hologram finish.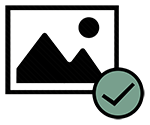 Expert Design Review For Every Order
Our in-house design team will review artwork to ensure you will receive the very best custom sticker printing.

Our design team will check your artwork to make sure it has the proper image resolution and size, art is within the safe area and includes a full bleed, color is CMYK and rim text is placed correctly.

If your artwork looks good, we'll begin production. If changes are needed, you will receive an email from our design team within 1 business day.

Quick Turnaround Stickers
• Free Ground Shipping included with every order
• Standard Turnaround: 1 week plus ground shipping time, typically 5 - 10 business days.
• Rush Turnaround: 4 - 7 business days. Choose a rush shipping option at checkout.
• Need quick turnaround stickers? Contact us and we'll do our best to make it happen! If you're local, we may even be able to offer same day sticker printing.

Eco Friendly Stickers
Order your custom stickers from a woman-owned, eco-friendly business. Every sticker is created in a solar-powered, geothermal facility using non-toxic toner. Learn more about how we create eco friendly promotional products.
Please submit artwork according to the following guidelines:
• Art is in CMYK Color
• Art is at least 300 dpi
• Art is at least the size of your chosen sticker
• Include .125 inch bleed on all designs
• All fonts are outlined
• All linked images are embedded in file
• Fonts are 5pt size or above
• Line weight is 0.5pt thick or above
Accepted File Types (Max size: 10mb)
.jpg, .png, .psd, .eps, .ai
Need color matching?
We print in Seven Color Process Printing (light cyan / cyan / light magenta / magenta / yellow / black / light black), but are happy to match Coated Pantone process colors at no charge upon request. To request color matching, please provide PMS color matching info in the comment section of your order. Please note, your artwork must be a vector file with that spot color set up in the design.
We promise you'll receive the best and highest quality custom stickers and products.
Exceptional Quality Control is applied to every stage of our production process, from the review of your artwork to the manufacturing and shipping of your custom stickers. This Commitment to Quality is evidence of our 5-Star Rating and 20+ years of happy customers!