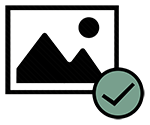 Expert Design Review For Every Order
Our in-house design team will review artwork to ensure you will receive the very best pinback buttons and products.

Our design team will check your artwork to make sure it has the proper image resolution and size, art is within the safe area and includes a full bleed, color is CMYK and rim text is placed correctly.

If your artwork looks good, we'll begin production. If changes are needed, you will receive an email from our design team within 1 business day.

• Free Ground Shipping included with every order
• Standard Turnaround: 1 week plus ground shipping time
• Rush Turnaround: 4 - 7 Days. Choose a rush shipping option at checkout.
• Need them quicker? Contact us and we'll do our best to make it happen!

Every button is created in a solar-powered, geothermal facility using US-made recycled steel parts, a combination of recycled and sustainably reforested papers, and non-toxic toner. Learn more about how we create eco friendly promotional products.
Please submit artwork according to the following guidelines:
• Art is in CMYK Color
• Art is at least 300 dpi
• Art is at least the size of your chosen button
• All fonts are outlined
• All linked images are embedded in file
• Fonts are 5pt size or above
• Line weight is 0.5pt thick or above
Accepted File Types (Max size: 10mb)
.jpg, .png, .psd, .eps, .ai
Need color matching?
We print in Four Color Process Printing (CMYK), but are happy to match Uncoated Pantone process colors at no charge upon request. To request color matching, please provide PMS color matching info in the comment section of your order. Please note, your artwork must be a vector file with that spot color set up in the design.
Questions about our artwork guidelines? Please read our FAQs.
Questions about our special finishes? Please read our special finish guidelines.
We promise you'll receive the best and highest quality custom buttons and products.
Exceptional Quality Control is applied to every stage of our production process, from the review of your artwork to the manufacturing and shipping of your custom buttons. This Commitment to Quality is evidence of our 5-Star Rating and 20+ years of happy customers!

Green Manufacturing
We produce all our custom buttons in the most environmentally efficient way possible. We've built sustainability into every part of our business, from using geothermal heating and cooling to making sure all our diy pinback buttons are made from recycled materials. Some of our green manufacturing processes include:
• Your artwork is printed on a combination of recycled and sustainably reforested papers
• The metal part of the buttons and pins is US-made recycled steel.
• Our factory is a renovated a century-old building in Chicago's Logan Square neighborhood with eco-friendly insulation, geothermal heating and cooling and reclaimed building materials.
• Our use of solar power offsets our carbon footprint to save an average of 9 trees every month. That's enough oxygen for 27 people!
• Nearly all of our suppliers are located within a 100 mile radius of our factory. We support local businesses while also cutting down on the emissions produced and fuel used during shipping.
• More than half of our employees bike to work. This not only helps combat noise pollution, reduce traffic in the area, but riding to work rather than driving can cut down on total household emissions by at least 6%.
Busy Beaver Button Co. specializes in buttons and pins of almost every shape and size.
Our round options include 1 inch, 1.25 inch, 2.25 inch, 3 inch, and our biggest button, 6 inch. If you're looking for square pinback buttons, we offer 1 inch, 1.5 inch and 2 inch square. We also have unique oval and rectangle shapes. All of our custom buttons have a locking pin back. Every button is made with care by a woman-owned business in a solar powered, geothermal facility.
If you want to order custom buttons that are extra special, Busy Beaver offers a variety of exclusive special finishes. You can choose from standard, matte, metallic, glow-in-the-dark, holographic, neon, gold or silver paper, paper bag, and even 24k gold (for 1" only).
And we don't just offer button pins! Busy Beaver also offers a variety of unique products and services, including: Fridge Magnets, Lapel Magnets, Stickers, Mirrors, Bottle Openers, Button Machines, Button Parts, Button Packs, Sticker Packs and more!
Order from the Button Experts
Since 1995, Busy Beaver has been creating custom buttons for clients of all kinds. Our team of dedicated and friendly button experts will work with you to create the custom pinback button of your dreams. Think of us as your friend in the button business - we'll make sure that you'll get the buttons you want, when you want them.
Be Part of Button History
Did you know that the Busy Beaver Button Co. factory also houses a button museum? Yes, that's right! Christen Carter, the owner of Busy Beaver, loves buttons so much that she created the world's only Pin-back Button Museum. The museum is dedicated to preserving the history of the button. When you order custom buttons from Busy Beaver, a sample of your order is automatically donated to the museum. So you're not just getting a high quality batch of custom buttons, you're becoming part of button history.