Pricing & Turnaround
How much will my order cost?
Pricing is available for each product during customization. Need a quick estimate? Try out our pricing calculator or contact us for a custom quote.
What's your standard turnaround?
Standard production for orders up to 12,000 buttons is 5 business days. Free ground shipping is included with all standard orders, which will have your items to you in about one additional week. All together, standard turnaround is about 2 weeks total.
How fast can I get buttons?

Need your order quicker than our standard turnaround? For orders up to 12,000 buttons, you can select one of our rush shipping options. By selecting rush shipping, we automatically rush production on your order to three days (pretty swell, right?!). You can select from overnight, 2-day and 3-day shipping to have your order to you in 4, 5 or 6 business days total.

We also offer Same day, 24 hour and 48 hour rush production, as our production schedule allows. Contact us for availability and quotes!
---
Product Info
Material Info
Our buttons, magnets, magnet lapels, bottle openers and mirrors are made from a combination of three materials: steel, paper and mylar.
• The steel in our buttons parts is sourced in Gary, Indiana, where it comes from a variety of recycled sources.
• The paper we print on is FSC (Forest Stewardship Council) certified.
• The mylar covering that protects our buttons can be removed, allowing the remaining parts of the button to be recycled.
Do you make custom enamel pins?
Unfortunately, no we don't offer enamel pins at this time since all suppliers are located overseas. We do have an enamel pin manufacturing partner, though! See our Custom Enamel Pin Page for details.
Product Size
Finding it hard to visualize the size of a 1 inch or 2.25 inch button? Check out our Size Chart for images of our products next to common objects.
Green Manufacturing
Since Busy Beaver's founding in 1995, incorporating sustainability into our business practices has been an important part of what we do. See our Green Manufacturing page for a full list of our green initiatives.
Made in the USA
All button products are manufactured in our Chicago headquarters.
Woman Owned Business
Busy Beaver Button Co. has been 100% owned and operated by a woman since 1995. We are a WBENC certified woman-owned business.
Illinois Sales Tax Exempt

If you or your organization are Illinois Sales Tax Exempt, please email a copy of your Illinois Sales Tax Exempt letter (for non-profits) or a CRT-61 (for resellers) to orders@busybeaver.net.
---
Artwork & Guidelines
What are your artwork guidelines?
Please submit artwork according to the following guidelines:
• Art is in CMYK Color
• Art is at least 300 dpi
• Art is at least the size of your chosen button
• All fonts are outlined
• All linked images are embedded in file
• Fonts are 5pt size or above
• Line weight is 0.5pt thick or above
What file types do you accept?
Accepted File Types are .jpg, .png, .psd, .eps, .ai
What is the recommended file size?
Your artwork should be at least 300 dpi and at least the size of your chosen button. Please submit files that are 10mb or lower.
What is CMYK?
CMYK stands for Cyan, Magenta, Yellow and Black, the ink colors used in the 4-color print process. Busy Beaver uses a CMYK printer, so products we print will be produced in CMYK color.

For a more in-depth explanation and instructions on how to make sure your image is CMYK, please read our blog post CMYK vs. RGB for Beginners
What does 300 dpi mean?
DPI stands for "dots per inch". The number of dots per inch determines the resolution of your image. 300 dpi is a high resolution image; high resolution images are the best to use for print. Images from the internet or social media are typically 72 dpi, making them low resolution. Low resolution images might print blurry or pixelated.

For a more in-depth explanation, please read our blog post How To: Resolutions for Beginners
What is a bleed?
The bleed is the area on your design that wraps around the edges to gives a continuous look from front to back.

For a more in-depth explanation and instructions on how to add bleed to your image, please read our blog post How To: Button Layout Dos and Don'ts
Do you provide templates?
Our templates are available for download online at www.busybeaver.net/templates.
Do you keep artwork on file?
Yes! We have artwork on file dating back to 2008. Get in touch and we're happy to help you reorder an old design.
What is Backrim Text?
Backrim text is small writing that appears on the side of the button, sometimes called "curl text." It appears on the edge where the printed artwork wraps around, just before it meets the metal pinback of the button. Backrim text is not visible from the front, only from the side or back. Adding backrim text is a free option.
Do you offer color matching?
Yes! Since colors often appear differently between monitor and print, we offer free color matching services upon request. When ordering, please add your Pantone Solid Uncoated color in the comment section for matching.
Can you help me create a design?
Busy Beaver has a talented designer on staff who can transform your idea into a professional button design. We offer three levels of design service based on the complexity of your request. Please see our Design Services page for more information.
How do I request a proof?

We understand that you may want to double check artwork before going forward with your whole order. To help, we offer two proofing options: Digital proofs and Physical samples.
Digital proof: You can request a digital proof when you are placing your order. Once your order is in, our designer will email you a PDF with your artwork laid out in our button template so that you can confirm accuracy.

Physical sample: We can create a physical sample for you to review before placing your larger order. Physical samples are $5 each. Turnaround for samples is the same as with a standard order—one week production plus one week shipping, or via a rush service. When rushing a physical proof, be sure to keep this timeline in mind.
Please contact us at orders@busybeaver.net or 773-645-3359 to request a physical proof.
Can I submit multiple designs?
Each individual design should be entered as a separate product in your shopping cart. For instance, if you'd like 100 buttons total split between two designs, you'll want to enter 50 of one button and 50 of the other one into your shopping cart.

Keep in mind that because each individual design goes through processing and production separately. Our pricing is based on the quantity you order per design, not on the number of buttons in your entire order.
---
Ordering
How To Order Buttons

Ordering buttons online is easy! Under "Products", click on the product you'd like to create and follow the steps to select the options you'd like. Once you've entered products into your cart, you can select shipping options at checkout.
How to Order Button Packs
Samples
Though 50 is the minimum order for a bulk rate, we can offer fewer at our single sample rate of $5/button. Please contact us at orders@busybeaver.net or 773-645-3359 to request a sample.
Payments
Full payment is required to start production. Accepted methods are Visa, MasterCard, American Express, Discover, PayPal, and Google Checkout. You can also pay by check or cash, just note that production won't begin until we receive payment.
---
Shipping & Delivery
Shipping Methods
Ground: Depending on weight and shipping location, your order will either be sent by USPS or FedEx Ground. See the FedEx ground map below for a general timeline.
Rush: All orders with rush shipping are sent via FedEx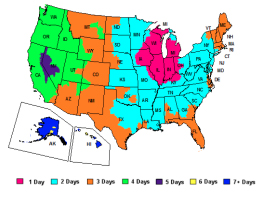 Shipping on Your Account
If you have a FedEx account, we are happy to ship via your account for no extra charge. Please request this service at time of order. Please note that pick up fees may apply if you want to use another service. Just contact us at orders@busybeaver.net or 773-645-3359.
Tracking Information
When your order ships, you'll get an email confirmation with tracking info included. If you created an account when placing your order, you can also log in online to check the order's status.
Drop / Blind Shipping
For these and other shipping related services please contact us at orders@busybeaver.net or 773-645-3359 and we'd be happy to set that up for you.
Fulfillment Services
If you are interested in direct drop shipping custom buttons to your mailing list please contact us at orders@busybeaver.net or 773-645-3359 for a fulfillment service quote.
---
Returns & Replacements
We designed our Constant Quality Control program to ensure that all orders are accurate and arrive on-time. Every product is made by hand, though, so occasionally something slips through the cracks.

Because our products are 100% customizable, not every order will be eligible for a return or redo. Check out our guidelines below to see if your order qualifies:
Eligible for a Redo:
• Your order was damaged in shipping
• You received an order different from that listed on your order form
• You requested rim text but it didn't appear on the final product
• You received 1-inch buttons without their pins

If your order qualifies for a redo please contact us within 15 days after receiving your order. We'll work with you to make sure you get the corrected order by your deadline.

Eligible for a Refund:
• For rush shipping options only, if no delivery or delivery attempt was made before your guaranteed delivery date.

If your order qualifies for a refund please contact us within 15 days after receiving your order.

Not Eligible for a Redo or Refund:
• It's smaller / bigger than you imagined
• The color is darker / lighter than you imagined
• The color differs from what you saw in the digital proof / on screen
• There is a spelling error
• The text is hard to read
The best way to ensure that you get exactly what you want is to follow our Artwork Guidelines and request a Physical Proof. We do our best to keep an eye out for issues and we'll contact you if we notice anything. We're always happy to provide guidance during the ordering process-- just drop us an email or give us a call!
Still have questions?
Talk to the button experts!