Create your own merchandise with Busy Beaver
Partner with a woman-owned business that manufactures your custom merchandise in an eco-friendly, green facility.
Buttons and stickers are essential merch items— they're affordable, versatile and portable— and Busy Beaver guarantees to deliver high quality and unique products when you need them.

One of the many things that set us apart from other manufacturers is our unique special finishes and custom packaging. Your custom printed merchandise can glow-in-the-dark, sparkle, shine with 24k gold, and so much more!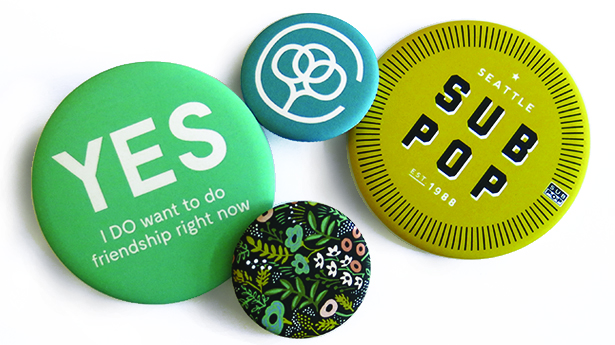 Top Brands Turn to Us for Custom Merch
Request A Quote
At Busy Beaver all of our products are fully customizable from the size, to the artwork, to the exclusive special finishes we offer. We also have custom, retail ready packs available to give your products a finished, shop ready look! Let us know if you're ready for a quote for custom buttons, stickers, magnets, or packaging!

Looking for other branded merchandise? Complete this contact form with the details of your project and we will be in touch within 2 business hours.
Custom Merchandise 101: How Much Should I Charge?

Knowing how to price your goods is important. A good pricing strategy is the difference between barely breaking even and making a profit. There are so many variables to keep in mind when setting the prices for your buttons, stickers, pins, or other products. Here are a few tips to consider when pricing your custom merch for retail.

Calculate Costs & Profits
Find the total cost of your goods, making sure to factor in material, production, and labor costs. Now decide on your profit margin. A standard profit margin is 50%, meaning you double your costs to determine the price.

Examine Market Trends
Check out other businesses with similar products to see what they're charging. Make sure the prices you set are within 10%, plus or minus, of what your competitors are charging.

Create Different Price Points
When setting the prices for your branded merchandise, make sure you have items at multiple different price points. That way your products will fit into everyone's budget!

Skip the Change
You don't want to carry around rolls of quarters because your buttons are marked at $.50! Round up your items to a full dollar amount so you won't need to dish out a bunch of change when sold.




Design Your Own Merch: Special Finish Resources

At Busy Beaver, the customization goes beyond your artwork. You can trick out your designs by choosing from one of our exclusive special finishes, too! New to our special finishes? Refer to the 3 resources below when creating your design.





Matte or Standard?
Out of all our special finishes, standard and matte might be the most similar. So which should you choose? Read our guide to decide! Read Now >

How To: Glow in the Dark
If you're considering glow for your next project, we've got you covered with our top tips for designing with glow in the dark. Read on for all you need to know to glow! Read Now >

3 Ways to Make Gold Buttons
24k gold, metallic gold, or gold paper— which should you choose? Read on for everything you need to know about these 3 similar special finishes. Read Now >
Pro Tips: 4 Brands Who Create and Sell Merch
How do you get your brand noticed in a field of colorful and unique products? We reached out to our button friends to hear how they incorporate buttons, magnets, and mirrors into their brand to attract attention and get buyers.
Smarty Pants Paper Co.
With bright colors and a vintage style, Kate of Smarty Pants Paper Co. has created a line of hand-printed greeting cards, pins, prints, coasters, and so much more. Kate's brand features a lot of retro-inspired designs, which she says is complimented perfectly by having mirrors in her product line. "I always had a pocket mirror and I loved them" Kate says, "I try to incorporate things I was obsessed with when I was younger in a way that is relevant today."
Rifle Paper Co.
Customers and retail partners both love Rifle Paper Co.'s limited edition pins. Since they're not a part of the product line, the custom made buttons that are created exclusively for events are very collectible. "They [buttons] are a great way for us to give people something special and unique to the event," says Helena Salles, Marketing Manager, Rifle Paper Co. Customers get a free button that becomes a wearable advertisement for the business.
Read more about Rifle Paper Co. merch >
Bash Party Goods
Angela Wator of Bash Party Goods really knows how to make every day a party. Her line of custom party goods, tableware, buttons, pins, and decor are pattern and print heavy with quirky designs. This style is reflected in her buttons. For major events, Angela create a variety of her favorite prints to giveaway. Since Bash's pin backs are sold in packs, the free buttons were a great way to draw attention to the packaged ones.
Anne and Kate
Anne and Kate, two best friends who share a passion for screen-printed stationery and bold designs, founded anne and kate in 2015. Their pocket mirrors "all have messages of positivity which are in line with the colorful correspondence we're known for," says Kate Jensen. "The sentiments are always upbeat and supportive. These mirrors are a fun reminder to yourself that you're still a hot ageless beauty who looks out of this world."
Take inspiration from these fine brands and make your own retail-ready button, magnet, or mirror packs.
| | |
| --- | --- |
| | Make Your Own Merch |