Create community with unique products for nonprofits
Partner with a woman-owned business that manufactures your nonprofit merchandise in a green facility.
Coming up with creative ways to engage supporters can mean the difference between a ho hum and highly successful fundraiser. But if you partner with Busy Beaver, we'll help you change the world one unique button at a time! Here are just a few ways that buttons and other non profit merchandise sales will help you achieve your fundraising goals:

• Giveaways
Maybe it seems counter-intuitive, but giving buttons away can be a good way to generate donations. Everyone wants a button! Your supporters will gladly wear buttons out into the world to spread the word about your cause.

• Fundraising
Can non profit organizations sell products? Yes, they can and they should! Our 2.25 inch buttons cost as little as $.22 each, but you can easy sell them for $3 or $5 each. So if you're still wondering "Can nonprofits sell products?" wonder no more and start selling those pins!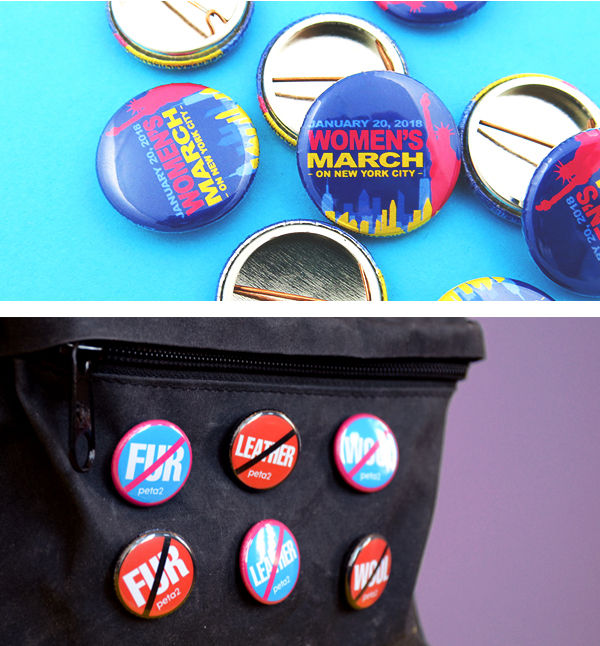 For Earth Day and Beyond: How the NRDC Uses Buttons
When it comes to a message as important as saving our world's natural resources, the NRDC, or Natural Resources Defense Council, trusts buttons to get the job done. By using pins and other inexpensive non profit giveaways, the NRDC is able to easily draw awareness to their cause.
The NRDC uses buttons as fun giveaways when tabling at events. At last year's Bonnaroo, the NRDC's focused message was to help urge participants that "Climate Change is not a Hoax." Free buttons with the same call-to-action were given to guests who stopped by the table.
As Elizabeth Corr, Manager of the Arts Partnership & Events, puts it, "the NRDC logo buttons are often used as tokens [so] our supporters can wear to show to NRDC pride and their support for climate action."
Can a non profit sell merchandise? Yes! See more examples on our blog >