Create community with unique products for nonprofits
Partner with a woman-owned business that manufactures your nonprofit merchandise in a green facility.
Coming up with creative ways to engage supporters can mean the difference between a ho hum and highly successful fundraiser. But if you partner with Busy Beaver, we'll help you achieve your fundraising goals. With your own custom non profit products, you can change the world one unique button at a time!

Interested in us blind shipping direct to your mailing list? Ask about our fulfillment services!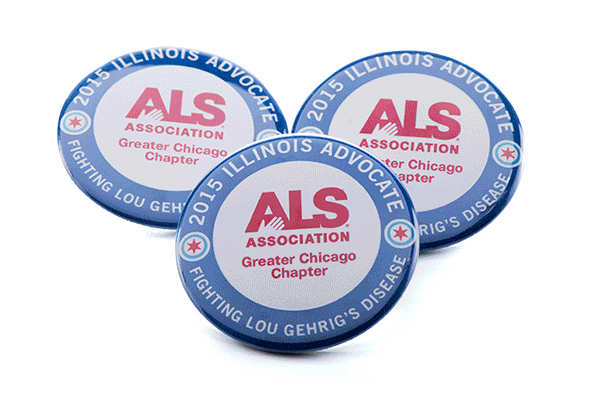 Top Organizations Turn to Us for Nonprofit Swag
Request A Quote
Promotional buttons and other custom products are a cost effective way to spread a message, thank donors, and unify around a single cause.

Do you have an uncoming event you want to create custom pin back buttons, magnets, or stickers for? Let the experts at Busy Beaver give you a hand!

Please fill out this contact form with the details of your project and we will be in touch within 2 business hour.
Button Making: Interactive Activity for Events
Busy Beaver Button Company also offers a butteenering service for local, Chicago-based events. For buttoneering, we would have one or two of our employees come out to your fundraising event with a couple of our hand crank machines and station up at a table to help your guests make their own buttons right on the spot. Buttoneering is a really fun, interactive activity to engage your guests while creating and sharing promotional products for nonprofit organizations. There is also the option of purchasing the necessary button parts and renting one of our hand crank machines if your team would rather press the pinbacks for your guests yourselves! We can work with you to figure out the best, most cost effective option that works out for your event.

The hand pressed buttons at button making tables can have your design or logo on them. Your patrons can have the opportunity to color around, add detail and their own personal touch to your design before it gets pressed. Everyone loves to see how a button is made but it's even cool when you get to walk away with your own one of a kind souvenir, too! Get a Quote >
How To: Promotional Products for Nonprofits

Promote Your Cause
Buttons and other promotional products are amazing social tools that help start conversations. Designing a button with your organization's slogan can be a very effective way to spread awareness.

Support Your Candidate
Pinback buttons have a long history in political campaigns; they can be understated in appearance, but impactful in action. Buttons can be used to show support for the candidate your organization backs or to express the thoughts and perceptions of supporters.

Volunteer Appreciation
It's important to show appreciation to supporters and buttons are an excellent way to honor the folks who are showing their love and giving their time. Use buttons to give recognition and say thank you.

Event Giveaways
Buttons are a great take-away for attendees of events and fundraisers. Making specific colors for the roles of folks working with the events, like press or volunteer, can help the logistics of the day run more smoothly.

5-Star Customer Service
Perfect - All Around!!!
⭐⭐⭐⭐⭐
Buttons came out even better than I imagined. Customer service was excellent, with quick & professional communication. Pricing was reasonable & product worth every penny. Couldn't have asked for a better experience.
— Jessica C., Las Fotos Project

Friendly, Fast & Easy
⭐⭐⭐⭐⭐
We love Busy Beaver! We've placed several orders with them, and they are always very responsive and helpful. They also offer a wide array of product options, which is nice. I would highly recommend them for all your future button needs!
— Kyle S., Adler Planetarium



Busy Beaver is the Best!
⭐⭐⭐⭐⭐
Busy Beaver Button Co. never ceases to amaze me with their quick turnaround, great prices, and professional results. Our nonprofit organization has worked with Busy Beaver for years. This company is awesome!
— Abby C., People's Action

Smooth Sailing for a First Time Orderer!
⭐⭐⭐⭐⭐
Our organization had used Busy Beaver before, but this was my first time ordering. The design process was so simple and the turnaround time was quick for my custom 2" buttons (the red ones in the picture). Highly recommend!
— Samantha C., ALS Association Greater Chicago Chapter



Saving the World One Button at a Time
Your organization is working hard to make the world a better place, but how do you increase public awareness about your particular cause? One of the best ways to spread your message is by giving out pinback buttons. Small but mighty, buttons are great for sharing your values to future supporters. Check out how some of the nation's top trailblazers are using buttons to deliver the message of their cause.
NRDC
When it comes to a message as important as saving our world's natural resources, the Natural Resources Defense Council (NRDC) trusts buttons to get the job done. By using pins and other inexpensive non profit giveaways, the NRDC is able to easily draw awareness to their cause.

The NRDC uses buttons as fun giveaways when tabling at events. At Bonnaroo, the NRDC's focused message was to help urge participants that "Climate Change is not a Hoax." Free buttons with the same call-to-action were given to guests who stopped by the table.

As Elizabeth Corr, Manager of the Arts Partnership & Events, puts it, "the NRDC logo buttons are often used as tokens [so] our supporters can wear to show to NRDC pride and their support for climate action. We use our buttons to help raise awareness of NRDC's work across the country."
Learn more >
PETA
People for the Ethical Treatment of Animals, or PETA, is the biggest champion for animal rights in the world with over 6.5 million members and supporters. To create awareness of their mission, they use their buttons at events, in student programs, and even as nonprofit swag on their free mobile app.

The "Free the Animal" buttons were also included in the swag bags that every attendee of the Animal Rights National Conference in Washington, D.C. national gathering of the leading animal protection advocates.

One of PETA's social awareness campaigns uses their free app geared for PETA's younger audience to help take action to help the animals. The more actions you make, you can earn points and redeem them to get free tees, wristbands, phone cases, and also the "Let Them Be Free" buttons that are up on the freebie section of peta2!

Planned Parenthood
In response to the increased scrutiny against their organization after the most recent election cycle, Planned Parenthood is using buttons to help educate and dispel misconceptions of their organization. Planned Parenthood pins are given out at events, conferences, and pride parades to help encourage, inspire, and educate.

Both Planned Parenthood Illinois and Planned Parenthood Wisconsin use buttons and other promotional products for nonprofit organizations to start conversations and make an impact. And now, more and more Planned Parenthood chapters all across the country are utilizing the power of the pinback. Buttons, though small, are a powerful way to reach out to future supporters and donors.
Learn more >
Everytown for Gun Safety
Gun violence is one of the most polarizing issues in America right now, but it's also one of the most ubiquitous. According to Everytown for Gun Safety, "everyday 93 Americans are killed with guns, and hundreds more are injured". With that kind of magnitude, gun safety and gun violence prevention are issues important to every community in the US.

Every year Busy Beaver collaborates with an individual or organization to curate a 1-inch button artist series. In 2017, we paired up with Everytown for Gun Safety, who have enlisted the help of 11 creators to make artwork promoting the urgency of gun safety in our country. The buttons were sold online and dispensed via button vending machines as a way to raise awareness.
Learn more >
Pins are an easy and inexpensive piece of advertising and are being used by activists of all kinds in their best awareness campaigns. Pin back buttons are a way for us to connect to one another, which makes them a powerful addition to any nonprofit merchandise seasonal line up. When we wear a button, we are showing the world a little glimpse inside of ourselves, a small piece of our personality, sometimes even sharing something we care very much about.

This is especially true for buttons and other nonprofit merchandise. Not only do buttons used as promotional products for nonprofits help spread awareness for important causes, but they show our support for them. For strangers passing by, they may see these little billboards on our bags and relate in some way. They may feel empowered to ask us a little more, maybe how they can learn more information or contribute to a cause they care about too but did not know the right place to look. We here at Busy Beaver like to think of buttons as conversation starters. Certainly with non profit products the conversation can lead to constructive action. Let's work together to change the world, one button at a time.