Eco friendly buttons made with hemp paper
Introducing Hemp Paper Buttons, the most eco friendly pins on the planet.
We're taking our green initiatives to the next level with our newest product, Hemp Buttons. Each button is made with archival quality Hemp Paper that is 25% hemp / 75% post consumer, and 100% acid and chlorine free.

Add to that our solar powered and geothermal facility, US-made recycled steel parts, non-toxic toner and eco-friendly printer, and you have the most sustainable custom buttons on the market.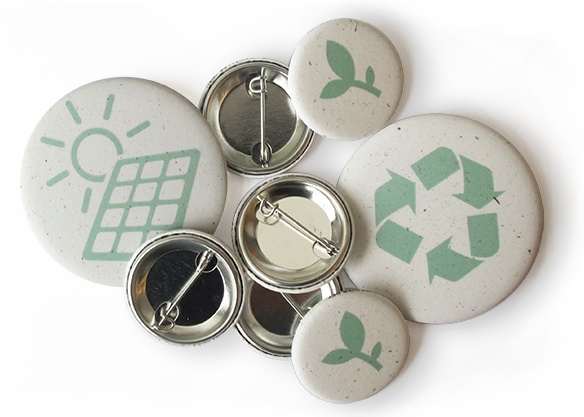 What makes our hemp buttons so eco-friendly?

Hemp paper is widely considered more sustainable than paper made from trees.

1 acre of Hemp can produce as much paper as 4-10 acres of trees over a 20 year cycle.

Hemp stalks grow in 4 months, whereas trees take 20-80 years.

Button artwork is printed with non-toxic toner on an eco-friendly printer.

Button parts are created from US-made recycled steel.

Our facility is powered via solar panels and heated and cooled with geothermal.
Order Hemp Promotional Products
Looking for other hemp based products?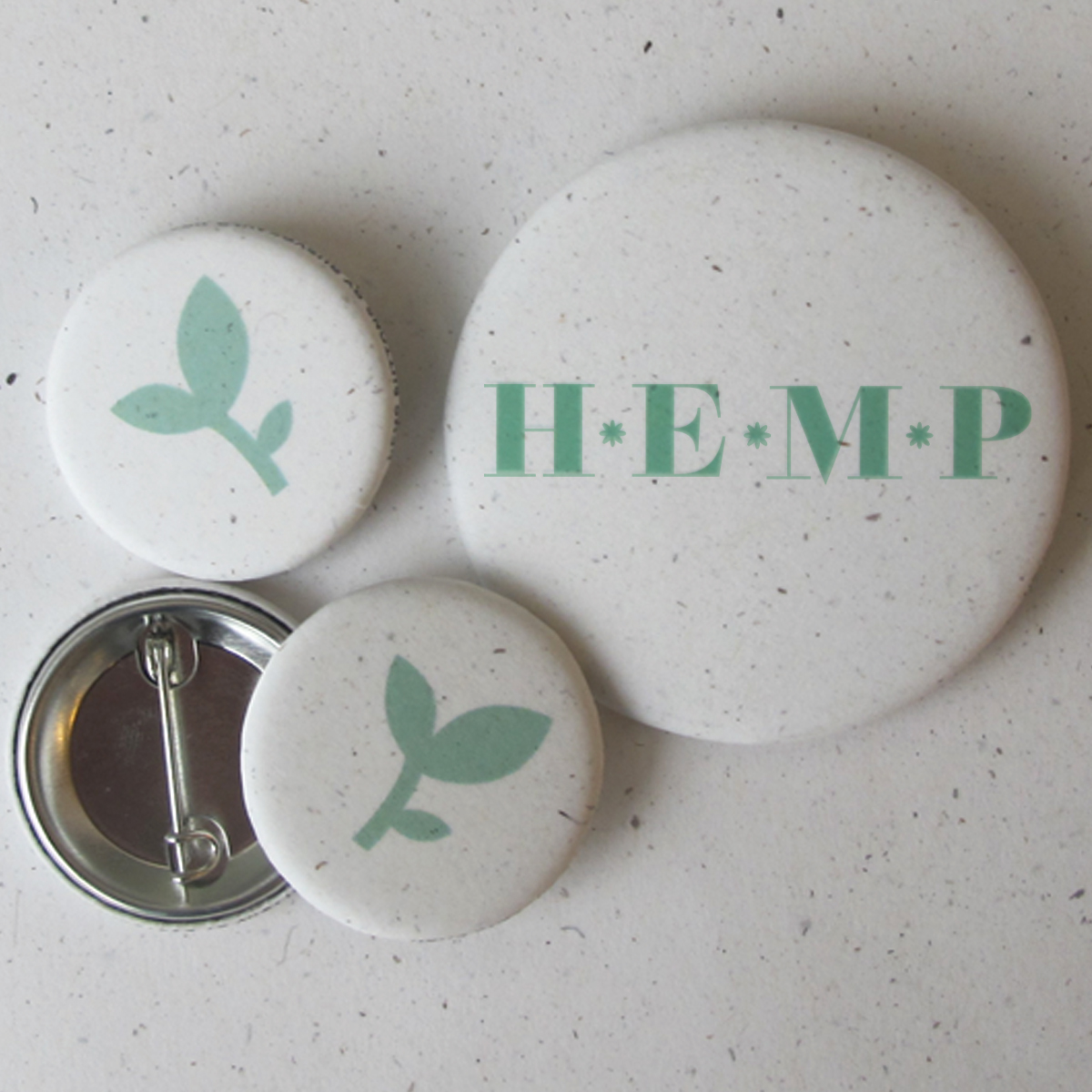 Hemp Paper FAQs
What is hemp paper?
Hemp paper is paper made from the cannabis sativa plant (aka industrial hemp fiber) rather than wood pulp from trees.

What makes printing on hemp paper so environmentally friendly?
Hemp paper products are widely considered more sustainable than paper products made from trees. Hemp based paper can be recycled 7-8 times, while tree-based paper can only be recycled 3 times. (source: evohemp.com) One acre of Hemp can produce as much paper as 4 -10 acres of trees over a 20 year cycle. (source: ministryofhemp.com) The production of hemp printing paper doesn't require the same chemical treatment that is needed to create tree-based paper. (source: nationalhempassociation.org)

Are your hemp products made in the usa?
Yes! Our hemp paper buttons are 100% Made in the USA.
Order Custom Hemp Paper Buttons >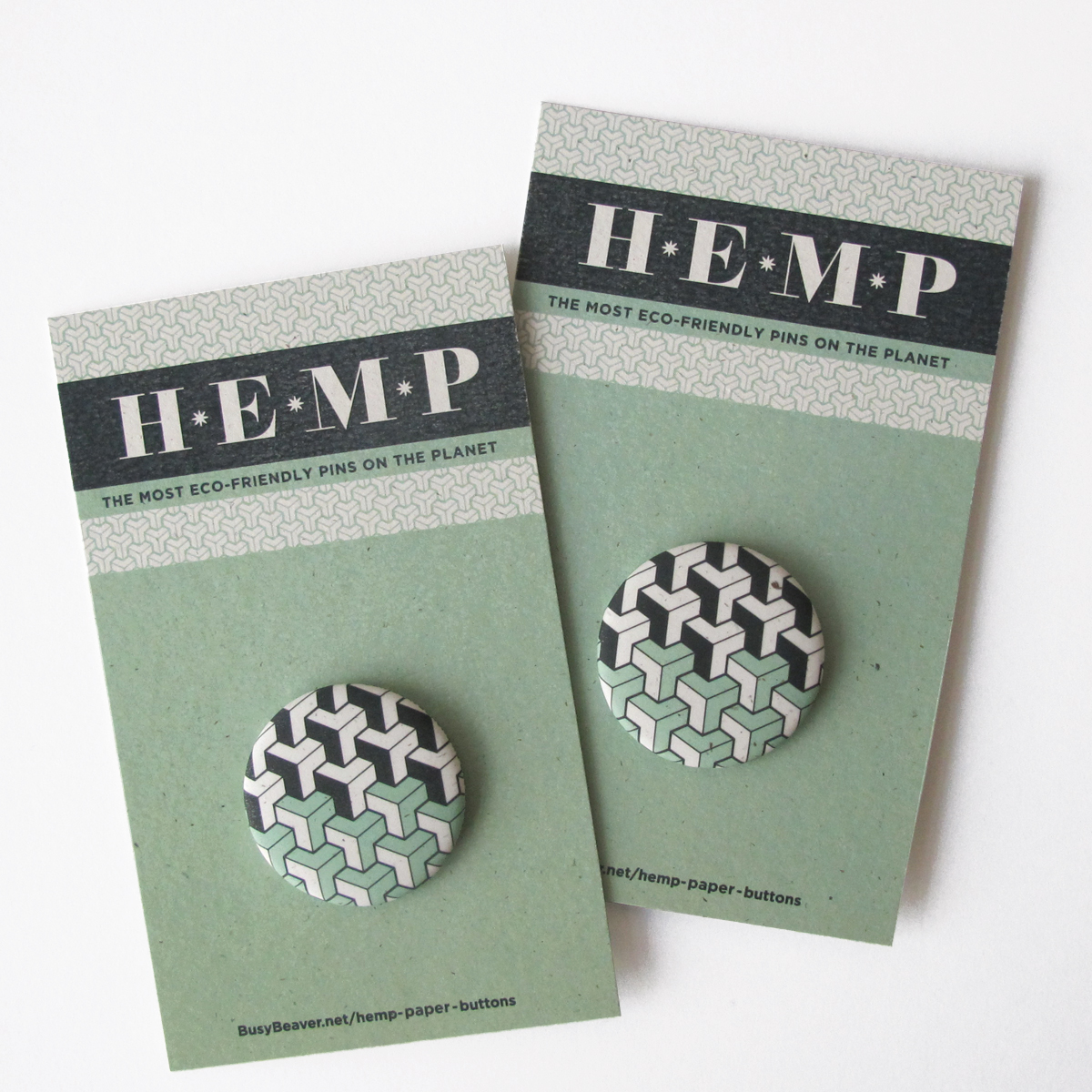 Get a Free Hemp Button Sample
Our hemp special finish option offers 4-color printing on a natural-looking paper with a smooth, non-glossy finish.

This truly unique finish offers an organic look with a smooth feel. Order a sample and we'll send you a special button pack so you can see for yourself.