Great merch from a great company
We've been creating band merchandise for over 20 years.
From Guided by Voices to Missy Elliott to Daft Punk, Busy Beaver has provided band merchandise companies with buttons and band pins since 1995. Record labels like Third Man Records, Fool's Gold, and Sub Pop know that buttons are the best way to spread the word, give the fans what they want and even make some money. And all three turn to Busy Beaver for custom band pins and more.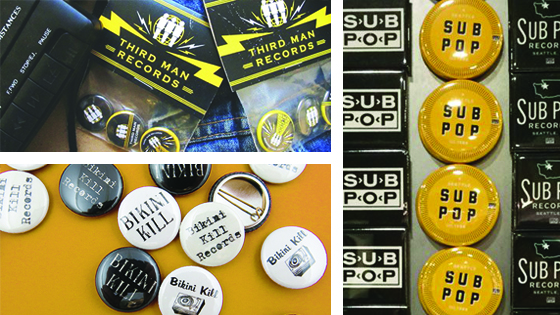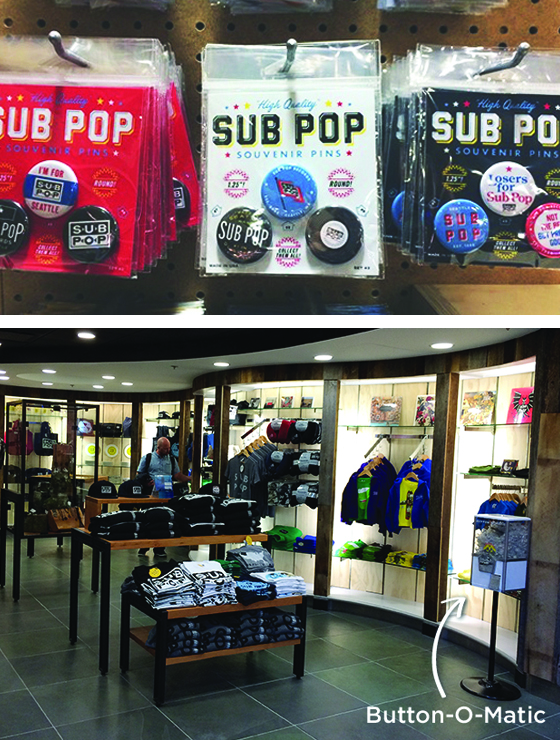 Stocking the Merch Table With Sub Pop Records
Founded in 1986, Sub Pop has introduced America to a cavalcade of alt-rock superstars including Nirvana, Soundgarden, Sleater Kinney, The Shins, Beach House and more. For the past 5 years, Busy Beaver has provided Sub Pop with custom band buttons, magnets and button packs for a variety of band tours, album releases and more.
"Busy Beaver currently makes the buttons/button packs and magnets to sell in our SeaTac airport band merch store and online in our web store," say Art Director Sasha Barr. What he values the most is the creative back-and-forth that helps translate a musician's work into eye-catching products. "They always help us make the coolest stuff," he says.
Sub Pop has made it their goal to make their bands' merchandise as unique as their bands' music. And when they need something fresh and new, Busy Beaver's custom options rise to the occasion. "I am really happy with the button packs Busy Beaver helped us create," says Barr. "It's not something they typically offer, but I asked if it was possible and they made it happen!" When it comes band pins and great merchandise for Sub Pop, Busy Beaver is anything but sub par.
Learn how other band merchandise websites sell their buttons >