Top candidates trust us for all their campaign buttons, stickers and more!
Hit the campaign trail with Union-printed political buttons manufactured by a woman-owned business in a green facility.
When it comes to political pins, nobody does it better than Busy Beaver. You don't have to make your own campaign buttons— save that volunteer time for canvassing! We're more than happy to be your political button maker. Whether you're running for city council or the Oval Office, Busy Beaver has got your political button needs covered.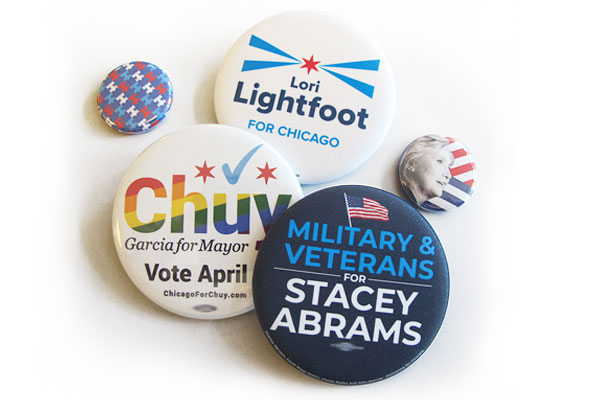 Request A Quote
Please fill out this form and we will be in touch within 2 business hours.
Our Products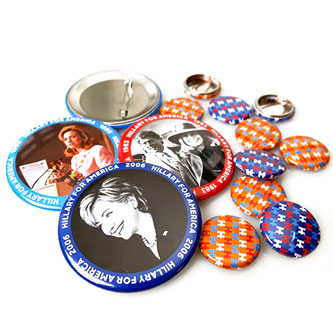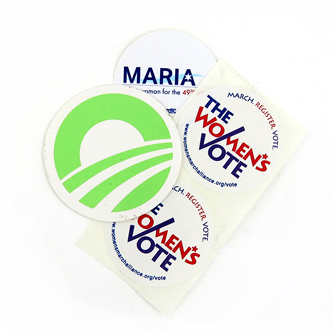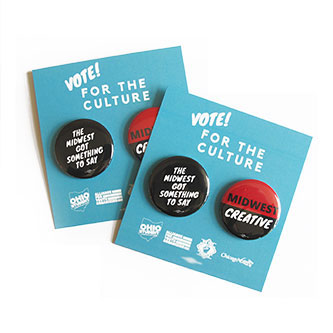 ---
Need other products like yard signs, mailers, fulfillment or e-commerce solutions?
Please contact us!
We're part of a community that works with campaigns, so we'd be happy to refer you to another vendor.
---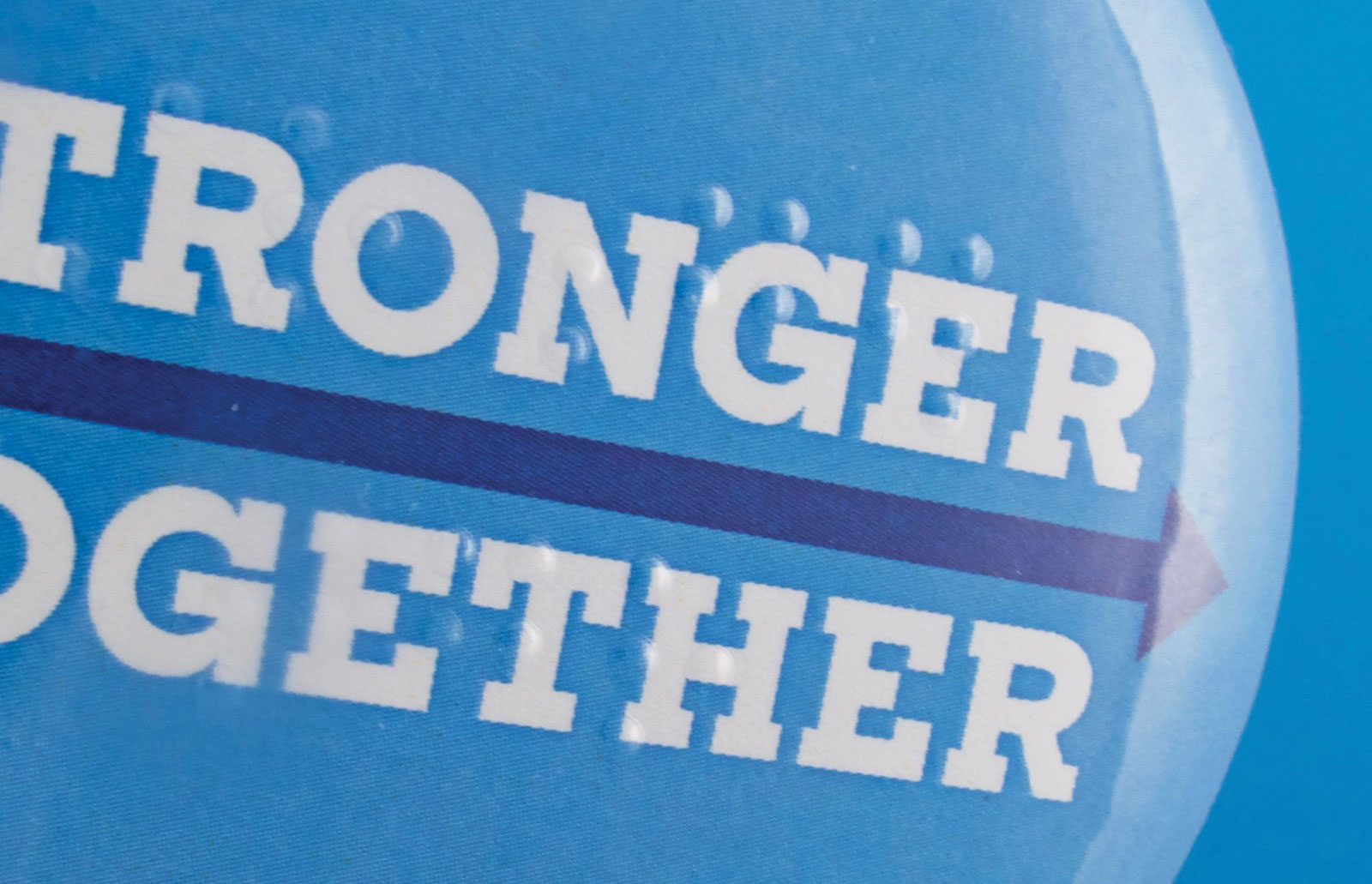 Introducing Custom Braille Buttons
Those who are blind or visually impaired can now read buttons! We create braille embossed plastic that covers the face of each button, creating an easy-to-read 3D pin. Our printing partner uses Unified English Braille standards and all orders are proofread. Please allow an extra 2 weeks for production.
Request a Quote >
Our Capabilities
Union Printing
We work with a union shop. Just let us know that you want the union bug/union label and where on the image you want it. We'll take care of it for no additional charge.

100% Made in the USA
Every campaign button is manufactured at our company headquarters in Chicago. Even our parts are American— our steel is from Gary, Indiana and our parts, machinery, and paper are made in Wisconsin.

Rush Services
If you need campaign pins in a hurry, we can help. Busy Beaver offers 24 and 48 hour rush options upon request. Even if it seems impossible, reach out, we're here to help you!

Best Customer Service
Our motto is "Service from a Friend": we offer the friendliest and most responsive Customer Experience in the industry. We take the time to fully understand our customers' needs so we're able to handle even the most complex orders.

Woman Owned Business


Busy Beaver is 100% woman-owned and is certified as a WBE, WBENC and WOSB business.

High Capacity
Busy Beaver produced 1 million limited edition, museum quality campaign presidential buttons for the 2016 presidential election. We can do this for you, too!

Green Manufacturing


We make our buttons with solar power! Buttons are made with US recycled steel and recycled and sustainably reforested paper. Our factory is heated and cooled with a geothermal power. We're within 100 miles of all our suppliers.

Professional Designers at Your Service
You've worked hard on your campaign's message. We'll work hard to turn that message into political campaign buttons. Need a logo or just want to just tweak a design for a special event? Contact us and we're happy to help.

⭐⭐⭐⭐⭐ Perfect 5-star rating on Google and Yelp
I stumbled, I bumbled, I dropped the ball(s) and still come out smelling like a rose. Thank you everyone for making me look like the hero with the client.
— Kevin, Campaign Merchandise Buyer

Swoon. All my button needs in one place. They move fast too. I work on political campaigns and they are my go-to-guys for schwag. They pump buttons out like you wouldn't believe!
— Becky, Grassroots Organizer



I loved working with them, and they have great ops and design folks on staff.
— Jake, Voter Engagement Specialist

I work with a lot of national political campaigns and non-profits. Things can be hectic and very fast-paced. If one of my clients needs items the next day, it's up to me to make it happen. Busy Beaver is always there to help; I know I can rely on them 100% for on-time delivery!
— Michael, National Sales Manager



---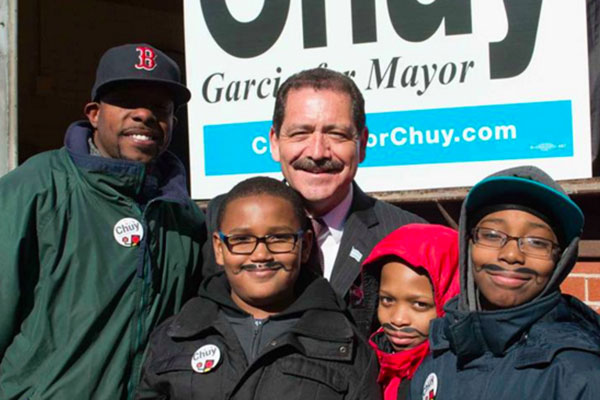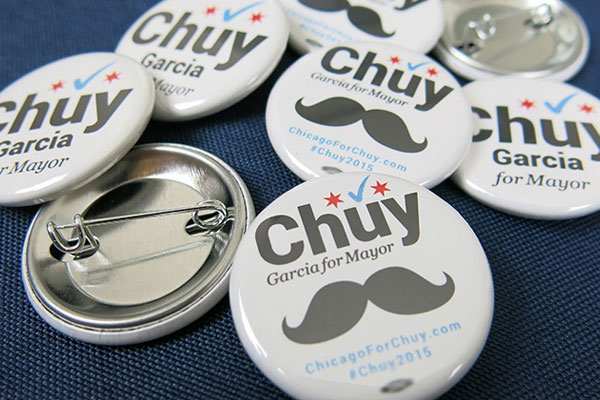 Customer Story: Buttons make a difference! Just ask Jesus "Chuy" Garcia
In 2015, as a mostly unknown politician, he forced incumbent Rahm Emanuel into the first mayoral runoff election in Chicago history. Chuy had only a fraction of the financial support of his opponent, but with the help of his grassroots supporters and custom political buttons he nearly won the election.
Garcia's campaign approached Busy Beaver Button Co. with an idea to create campaign buttons featuring Chuy's iconic mustache. His supporters loved the buttons and proudly wore them. In fact, so many people were asking for them that the campaign had to order weekly to keep up with demand.
But it wasn't just the cute mustache that had people demanding the pins. So many people believed in what he stood for and the Chuy buttons were the perfect way for them to show their support.
Make your own campaign buttons with Busy Beaver.
Request a Quote >
---
Customer Story: GoodWerk Use Buttons, Stickers To Reach Voters
Say hello to GoodWerk, working to do good. Okay—that's not their official slogan, but it could be with the steps they are taking to get the younger generation out and voting. GoodWerk is a Chicago-based PAC (Political Action Committee) with a mission of empowering young people in the political process.
It's imperative to get younger voters to the polls. The statistics from Pew Research Center show that in the 2014 Midterm Elections, only 20% of people ages 18-29 came out to cast their ballot. Which is 22% less than the National average. Trying to get to the core of this issue, GoodWerk set out to create a colorful, fun, youth-focused campaign that could spark interest in young, potential voters.
Since it's been proven that the best way to reach new voters has been person-to-person interactions, GoodWerk created the idea of the Action Pack. These packs hope to inspire the younger generation to promote the importance of voting through their own actions. The packs include colorful buttons and an enamel pin, collectible stickers, party horns (to celebrate on election night) and too-good-to-toss posters. Each Action Pack contains enough goodies to keep some for yourself and some to share among your community.
Busy Beaver Button Co. helped GoodWerk bring these Action Packs from concept to finished product.
"I'm used to designing things for the web, not physical products" George mentioned. "So during the whole process I leaned a lot on Busy Beaver for help and advice." George and his team recognized that talking to your friends about voting can sometimes come off as nagging, but having some bright and fun swag (designed by David Alvarado) makes it a little easier to bring up.
George also noted, "as a bonus, the materials then serve as reminders and resources wherever they go". The URL is on everything in order to keep people informed about the next steps to take from registration to voting day locations.
Make your own campaign swag with Busy Beaver.
Request a Quote >
Busy Beaver Button Museum: History of Political Buttons
The history of the pinback button started with George Washington. Special clothing buttons were made for the coat he wore to his inauguration. Metalsmiths then started making similar buttons as souvenirs. So many of these button souvenirs were created and distributed that people are still finding them in the ground with metal detectors!

Though George Washington wore "pre-buttons" in 1789, there wasn't much need for campaign items until the two party system began in 1828.

A Newark, New Jersey company called Whitehead & Hoag patented the pinback button in 1896. The first pinback campaign buttons were actually from that same year.

Presidential campaign buttons were made for the 1896 election between Republican, William McKinley and Democrat, William Jennings Bryan. Pinback buttons are now a staple of any campaign.

Here are a few of the great political button designs since 1896, courtesy of the Busy Beaver Button Museum: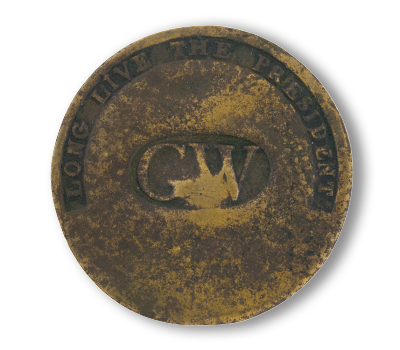 Because these George Washington buttons were worn decoratively instead just functionally, they are a precursor to the pinback button.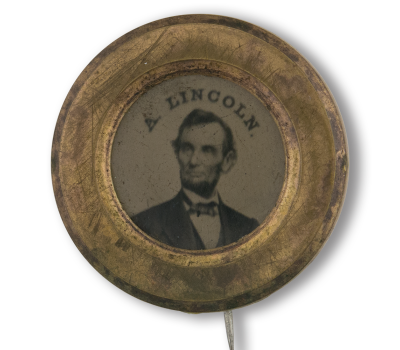 Considered a "pre-button," this 1864 Abraham Lincoln pin is made of brass and has a ferrotype. Check out the locking pin, it's similar to the pins we use today.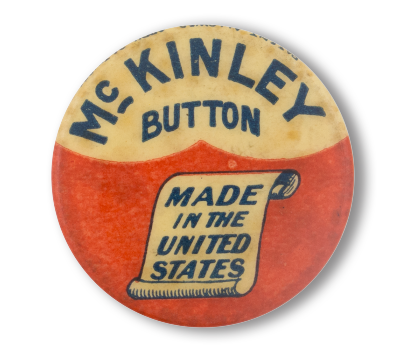 William McKinley item declaring itself as a "button". Since 1896, the button has been a staple in political campaigns.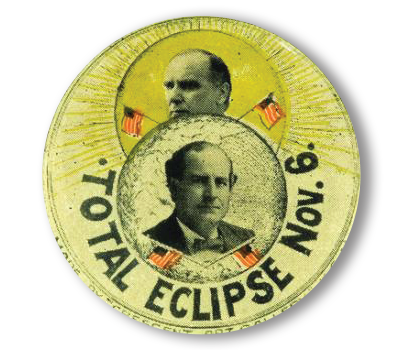 The solar eclipse in 1900 influenced an array of button designs where one candidate "eclipses" the other.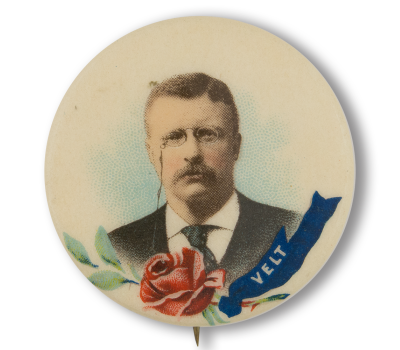 Theodore Roosevelt rebus button (rose + "velt").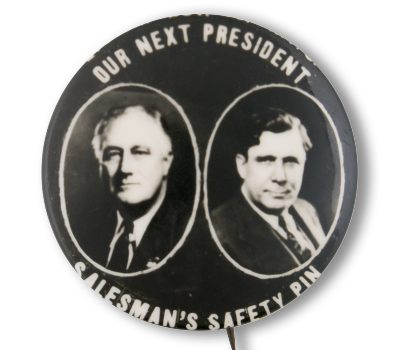 Franklin D. Roosevelt and Wendell Willkie ran against each other in 1940. Called a "salesman's safety pin" because it plays it safe and has both democratic and republican presidential candidates.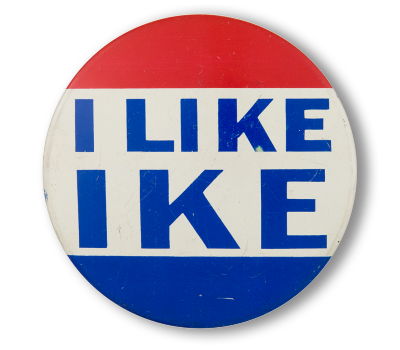 One of the most iconic campaign designs and slogans in American history. Supporting Dwight D. Eisenhower in 1952.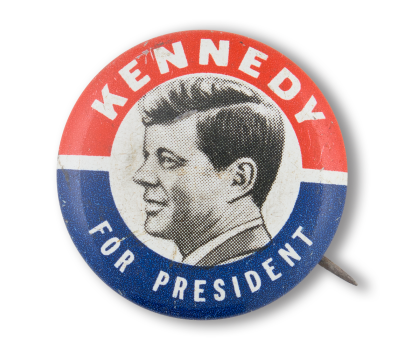 JFK delivered his famous "ask not what your country can do for you; ask what you can do for your country" line at his inaugural address in 1961.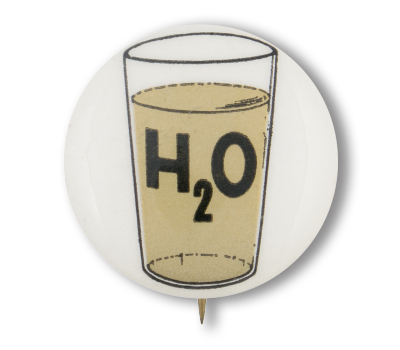 A clever design supporting Barry Goldwater in 1964. The glass is filled with a gold liquid plus the chemical name for water. Get it: gold water!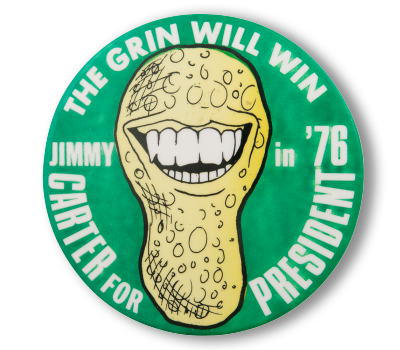 Jimmy Carter was a peanut farmer and known for his big smile. This type of imagery made him more relatable as a candidate. He became our 39th president in 1976.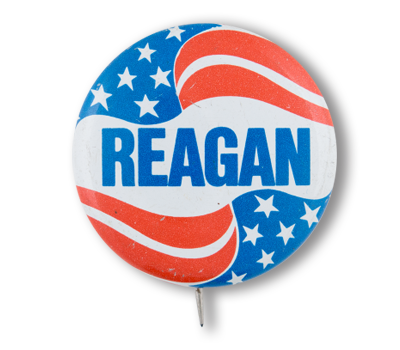 A good example of how buttons distill ideas. While Reagan's inaugural speech was 2,452 words, this button only has 1.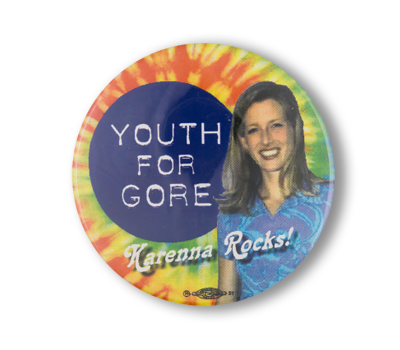 Karenna Gore is the oldest daughter of former Vice President Al Gore who was the Democratic nominee for President in the 2000 election running against Republican George W. Bush. In an attempt to reach young voters Gore helped her father's.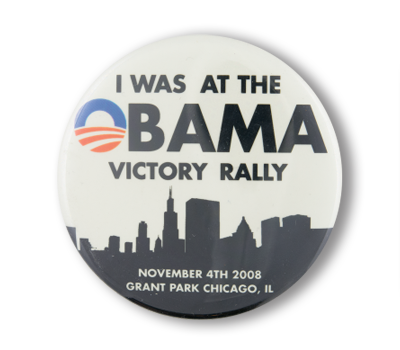 300 of these glow-in-the-dark "Glowbama" buttons were passed out for free at the 2008 Victory Rally in downtown Chicago. They are now collectables - one of only a few buttons at the event. Made by Busy Beaver.

TIME magazine takes a look at campaign button history.
Read the article >

A feature on the historical political buttons in the Button Museum.
See the video >

Ten sets of buttons from the button museum collection and their role in memorable political debates.
Read the article >