Order your custom enamel pins and packaging from a friendly and reliable woman-owned business.
Enamel pins are one of the most popular accessories right now. Cute and affordable, they're an easy go-to for artists and designers looking to expand their product line. Contact us today to get enamel pins made!
Request A Custom Enamel Pin Quote
Please fill out this form and we will be in touch within 2 business hours.
Custom Enamel Pins: The Complete Guide
So you want your own cool custom pins, but you don't know how to make enamel pins? No worries-- we're here to help! We've put together this comprehensive custom enamel pins guide to help you through the entire process.

And if you ever have questions, feel free to contact us. We're more than happy to share our expertise and help you get enamel pins made!
---
Step 1: Create an Enamel Pin-Friendly Design
You want to create a simple line design with areas of color. The lines in your design will become the raised metal parts of the pin. The color shapes in your design will turn into the actual colored, enamel portion of your pins.
Files should be set up as a vector, either an .AI or .EPS.
---
Step 2: Choose Soft or Hard Enamel Pins
There are two major kinds of custom enamel pins: soft enamel and hard enamel pins. Soft enamel pins are typically less expensive which makes them the most popular option among artists. Hard enamel pins, also known as cloisonné pins, have a jewelry-like finish with a smooth surface.
Both are created by stamping your design into metal. The stamping process creates recessed areas to hold the enamel coloring. After each area is carefully hand-filled with enamel paint, the pin is baked at a low heat to harden.
For soft enamel pins, the recessed areas are filled about 75% so if you run your finger across the surface of a finished pin, you will feel the grooves of the recessed areas. Hard enamel pins, however are filled 100% and then sanded down to create a smooth finish.
---
Step 3: Choose the Type of Fastener
The butterfly clutch, sometimes referred to as a military clutch, is one of the most popular styles of enamel pin fastener. Other standard options include a rubber clutch, magnetic back, and safety pin back. (images from lapelpins.net)
---
Step 4: Order Your Pins
Once you've decided on all of the details, it's time to request a quote then order from your lapel pin maker. With Busy Beaver as your enamel pin maker, once you place your order you should receive your custom pins in 4-6 weeks.

Pro tip: If you really want to trick out your pins, ask your enamel pin maker about any special options or pin enhancements. For example, Busy Beaver can help you create enamel lapel pins that glow in the dark or sparkle! Request a Quote >
---
Step 6: Make Your Pins Retail-Ready
Now you know how to make enamel pins, but do you know how to make them retail-ready? Busy Beaver isn't just your enamel pin maker, we can also help you with custom packaging!

You can choose from any of our custom packaging options— Flat Pack, Bag & Topper or Display Pack. The Display Pack is one of our best packaging options for those looking to retailing their custom pins. We'll pin your creations to a card and then place them in a cello bag. The Display Pack bags also feature a hang-hole, making them the perfect pack for hanging in a retail space. We can make your enamel pins retail-ready for any show, convention, or pop-up shop!
5 Ways to Package Custom Enamel Pins
The enamel pin trend is stronger than ever. Artists are designing eye-catching, humorous, and nostalgic custom made pins to be worn on lapels, jean jackets, and backpacks. But the creativity can extend beyond the artwork of the pin itself: creative enamel pin packaging will make your pins stand out and really seal the deal on your next sale. Since enamel pin packaging isn't very different from packaging your classic pinback buttons, we've come up with 5 ways to take your lapel pin packaging to the next level: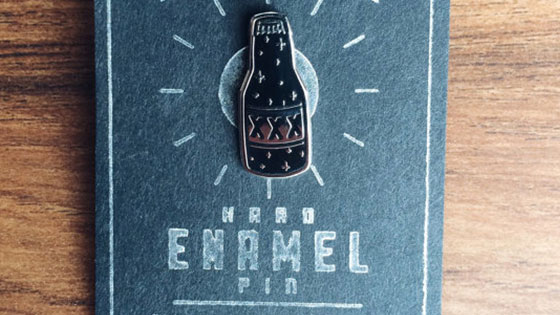 1. Create a Flat Pack
One of Busy Beaver's standard button packaging options, the Flat Pack, is an affordable and easy-to-design option for enamel pins, too. The standard flat pack size is 2x3", about the size of a business card.

Artist Luis Romero uses the Flat Pack style of packaging and primarily utilizes Instagram to announce his newest pin designs. He starts by dropping a couple images of the pins to begin pre-sales and then publishes a post of the pin design on its packaging to push that tentative buyer from, "Do I want this?" to "I need this now!"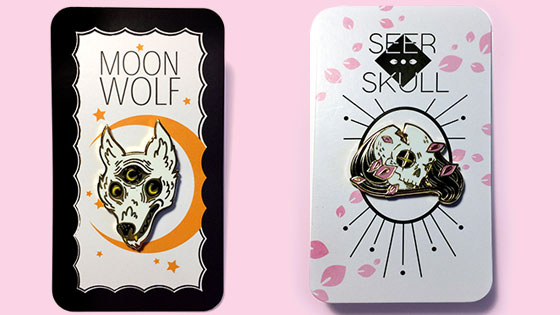 2. Round Those Corners
Even the slightest difference in your package design can attract new customers. Details like rounded corners on your backer card can make your pin packaging stand out from the other square counterparts.

Illustrator Nicole Goux utilizes these rounded corner backer cards for displaying her pins. The overall shape of the card lends itself well to the flowing lines of her illustration style.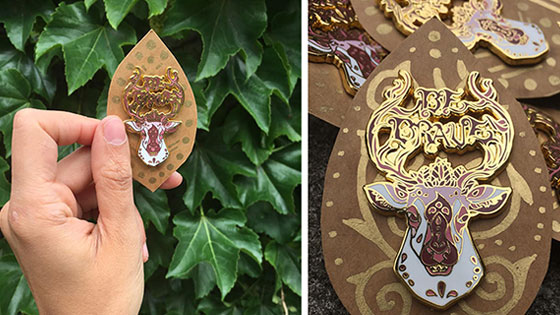 3. Make Limited Edition Packs
A great way to make each and every pin a limited edition is to customize each individual backer card. Instead of printing a batch of cards, use each backer card as a blank canvas to illustrate one-of-a-kind drawings.

Take one out of creator Ali Cantarella's book: since metallic inks can be expensive to print she instead created a backer card for her pins that she could customize individually with a metallic gold sharpie. Each one is different from the other, making them all unique pieces of art.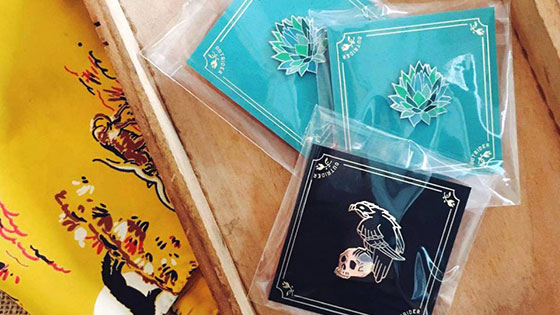 4. Bag Them
Branding and pin expert Ryan Lynch of Outrider Design packages all his pins on 2x2" backer cards with an adhesive cello bag to assure the pins to scratch each other on their way to and from shows. The cello bags add a layer of protection and give the product a polished look.
5. Design Your Own Pin Packaging
Do you have an idea for a new type of enamel pin packaging? Or do you want to customize the size and shape of our standard options? Contact us for a quote and we can help make it happen.
| | |
| --- | --- |
| | Make Your Own Lapel Pins and Packaging |
---
Enamel Pin FAQs
What advice do you have on how to make custom enamel pins?
Plan out your timeline. Enamel pins take about 4-6 weeks to turnaround and adding packaging can increase the production time.
How much do custom enamel pins cost to make?
There is a definite benefit in ordering enamel pins in bulk. Since each piece of art must be processed separately, price breaks go into effect based on the quantity you order per design. That means the more you purchase within a particular piece of artwork, the lower the price!

Prices can vary depending on size, quantity, and can be affected by special requests like sparkle or glow enamel, a special fastener outside of one of the standard options, or packaging. Soft enamel tends to be more cost effective than hard enamel. Reach out to us for a quote!
Are our custom enamel pins Chicago made?
Nearly all of our products are made in-house in our Chicago headquarters however we do not make the custom enamel pins here in the Beaver Dam. We work with trusted partners to fulfill your orders for you! We want to be the answer to the question when you ask "How can I get enamel pins made near me?" so we tried to make the process as easy as possible.
Can I get a digital proof for my enamel pins?
Absolutely! We recommend it, in fact. Digital proofs for enamel pins will be created after your order is in and paid for but don't worry, nothing will go into the production stage until you give your thumbs up on the virtual. This means if there are any errors or questions you have about the artwork, it can be spotted prior to production and adjusted until you are happy to move forward to the next stage.
Can I get a physical sample made?
Physical samples are available for an additional charge. Physical samples are a great way to make sure you will definitely be happy with the full order before you receive it.

Pre-production samples can add additional time to your turnaround, up to 2-3 weeks.
How to make enamel pin backing cards?
Backer cards, or as we like to call them, Flat Packs, are a great addition to an enamel pin order. Our standard flat pack sizes are 2x3" or 3x5" but we can work with what dimensions you have in mind!

We do printing on both sides of the card for no additional charge. However, if you choose to take advantage of this feature, just make sure to think about the placement of the text on the back in relation to where your pin will be attached. A hole will be punched through the card and the faster placed on the back, potentially blocking important visual information if not laid out properly. Including a mock up of where you want your pin to go is a great way to make sure our team has all the information we need to make your order perfect.