There a million blog posts and articles out there about how to get your business card to stand out from the crowd-- Don't get too complicated (but also be original), use an image (just not too many images), be clever (but not too clever). Clearly, standing out from the crowd is no easy task. But what if the solution for making a lasting impression could be found somewhere other than a 2x3" piece of cardstock?
Cards Against Humanity, the "party game for horrible people," is known for making impressions (remember last year's 12 Days of Holiday Bullshit?). Continuing that tradition, the CAH team recently created a set of contact info buttons-- "button business cards," if you will-- for each of their full time employees in an effort to disseminate their contact info without boring people to tears. We spoke with Cards Against Humanities' Max Temkin and Emily Haasch to get the scoop on the inspiration behind these unique buttons.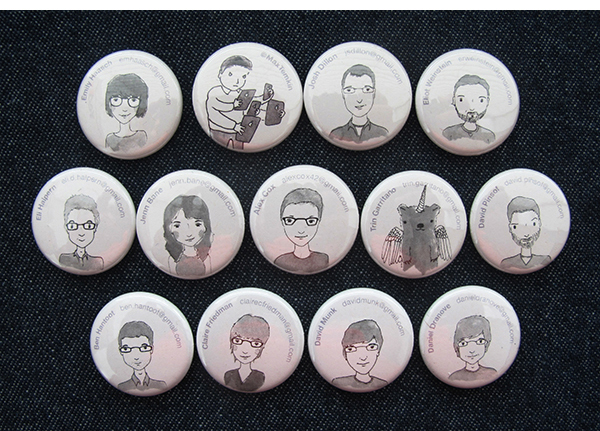 "I think this idea primarily came from my hatred of business cards. I hate carrying them around," Max explained. The team already had a set of watercolor portraits of each full-time employee that they could utilize. The paintings, created by CAH pal Jana Kinsman, "became a tradition that any new CAH employees got avatars by Jana," said Max. "And it was the perfect thing to put on buttons."
Before the idea for the "business card buttons," CAH's Events Manager, Trin Garritano, had been already been making 1" buttons that featured her contact info and a "Pegabear" illustration Jana made. Emily said that "once I saw [Trin's button], that seemed like the perfect solution for us." Max added, "Trin even kept her Pegabear, which confuses everyone. I love it."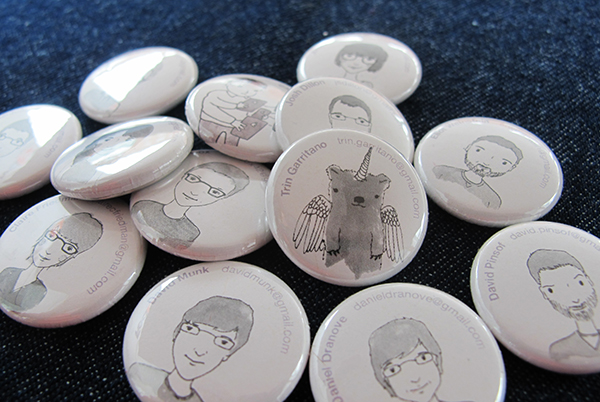 Cards Against Humanity has been incorporating buttons into their set-up at conventions and events over the past few years, so the contact info designs were a natural extension of that appreciation of the power of the 1-incher. Emily explained, "At many gaming conventions and events, there is a longstanding tradition of collecting and trading buttons and pins; you'll find people during the last or second-to-last day of PAX or Gen Con with their entire lanyards full of little treasures they traded, won, or bought."
She added that, "it's interesting to see people walk around with a picture of your face on their shirt/bag/whatever." Trin and CAH's community manager, Jenn Bane, run a small webseries that puts them in direct connection fans of the game, and Emily said that the pair often "have people finding them at conferences to specifically ask for their buttons!"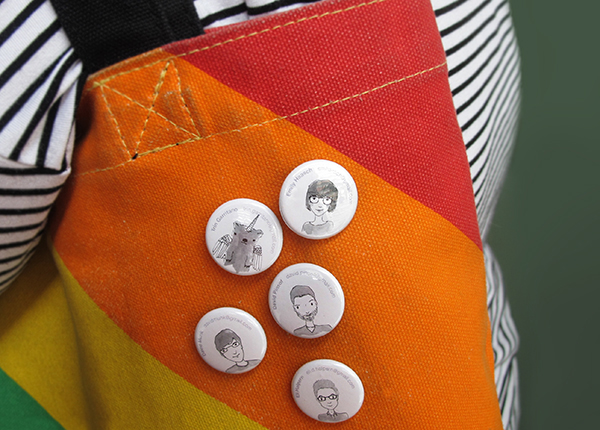 Max said that the when they hand out the pinback calling cards, "People are generally confused and then delighted when they figure out what's going on. "
"Confused then delighted" is probably as good as it gets in making a memorable impression, and it sure beats a 2 x 3" scrap of paper.
See how Harper Reed's newest venture, Modest, Inc., uses simple button calling cards to promote their brand's minimal-- and mysterious-- image.
Read More