There are so many ways Admissions departments can support incoming freshmen students and excite those already on campus. Buttons are a great opportunity to build connections among new students, let proud parents show off a little, help newcomers identity faculty and staff, and more. Check out these six simple ideas to promote school spirit and help boost involvement on campus for college orientation.
1. Start at the Open House
Before your new students have been accepted, it's very common that they will make their first visit to campus during an Open House Event.
DePaul University wanted to ease the stress of these potential student's first trip to their school by designing buttons for their current students. Sally Baker, Assistant Director of Undergraduate Admissions at DePaul University explains, "we used the 'Ask Me About DePaul' buttons when he would come to our house for visiting prospective students so it was easy for our guests to see which students were working as staff at the event.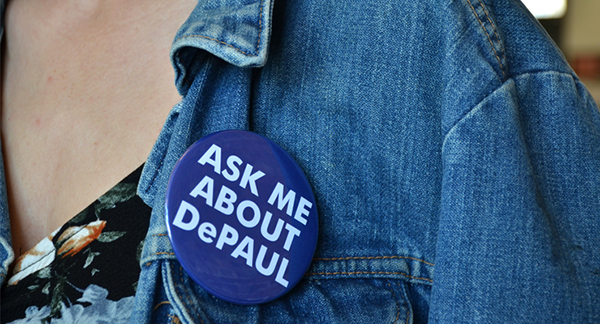 2. Orientation Give-Aways
Including buttons as part of New Student Orientation materials is a great way to give new recruits a chance to show their school pride before the academic year begins. Beyond using logos on the buttons, creative designs can illustrate the values that drew the students to your institution in the first place. Minneapolis School of Art and Design's Fall 2014 "Sweet Team"-themed orientation was the perfect opportunity to create some delicious button designs, and show off a silly sense of humor.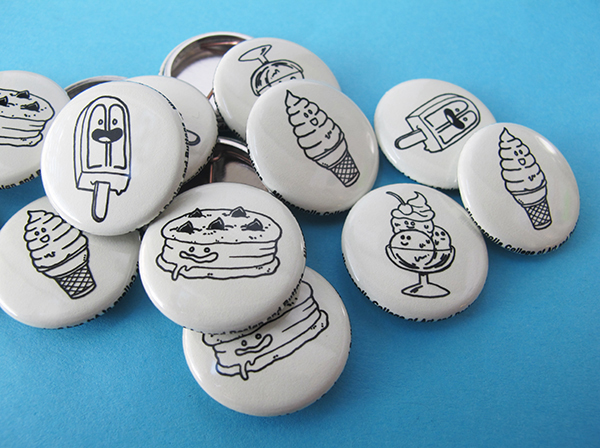 Bret Smith of the MCAD Student Activities office explained that in addition to designs that aligned with the college's creative vibe, the buttons served a dual purpose. The small takeaway was the perfect size to fidget with, helping to "calm the nerves of both students and parents."
3. Identify Resources
It can be difficult for students to identify who they can reach out to ask questions during those early days on campus or on orientation day. Figuring out who can help them locate their classes or point the way back to their residence hall goes a long way to making new students feel comfortable and supported. Identifying buttons worn by student leaders on campus like Resident Assistants, Orientation Leaders, Tour Guides or Welcome Center employees ensure that students feels comfortable asking questions and seeking additional resources from those around them.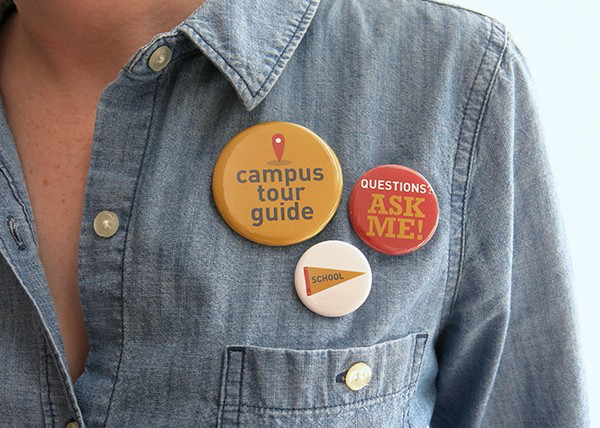 Making connections with faculty can be a key component to the orientation program for new students to lead to their success in higher education. Identifying the right professors early on can help students get on the right track as soon as possible. Identifier buttons help make faculty visible among the seas of new faces at meet and greets, orientation and department events.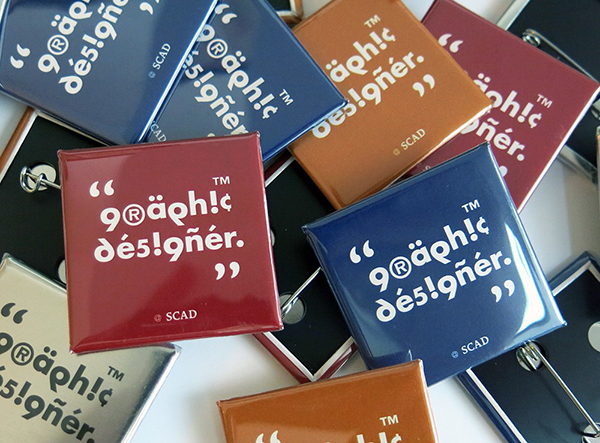 This design was created by Savannah College of Art and Design to promote their graphic design program.
Buttons for faculty, adjunct and visiting professors are a great opportunity to represent different colleges within the university. They can also give university freshman a chance to network with teachers they may not meet or interact with until later in their program. And a great promotional button will spread the word about specific departments or special programs on campus, like this design created by Savannah College of Art and Design to promote their graphic design program.
4. Make New Friends
Buttons can be an amazing tool for connecting students and help form communities on campus. International students, first-generation students, commuters, or transfer students can easily identify each other through particular designs. Making friends and finding folks with shared experiences are important to the college experience and buttons can make starting those first conversation-starting moments a bit less scary.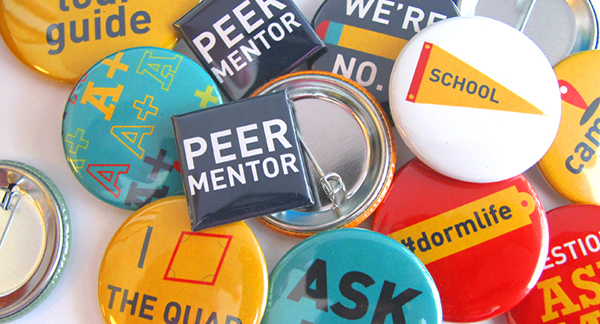 5. Proud Parents
Even with the plethora of mugs and car decals proclaiming "Proud (Insert Institution Name) Dad," buttons can be a neat souvenir for parents who have survived what may be their first university orientation. Sending a child off to school can be just as stressful on mom and dad as it is on the student, and once their child has settled in, sporting the button gives the empty nesters an opportunity to share their child's (and the parents' own!) success.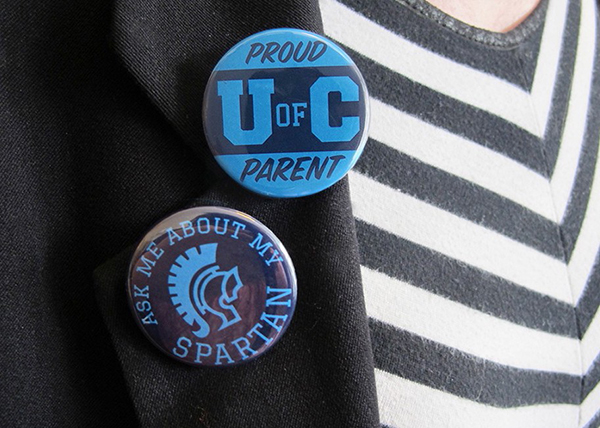 Student involvement makes for a rich college experience, and creating that sense of community begins with the Freshmen Seminar. Celebrate your dynamic student body with buttons that connect, engage and promote the qualities that make your institution special!
Read More