Over a year in the making, Busy Beaver is proud to announce the official launch of our very first zine, "A Very Brief History of Buttons." You may remember the zine from it's "soft launch" earlier this spring. Now that the full print run of 500 is complete, the zine is now available for purchase online.
The 24-page zine speaks to button enthusiasts, history buffs and anybody with an interest in how people express themselves. Written by Busy Beaver founder, Christen Carter, and Production Manager, Joel Carter, the zine is an illustrated tour through the campaigns, fads and trends that characterized the 20th century as expressed through pinback buttons.
Joel said that the zine project was inspired by the brother/sister pair's decades of interest in buttons. "With years of collecting, going to American Political Items Collectors events, and knowing Ted Hake, the country's #1 button expert, we came to realize that there are so many stories told through buttons."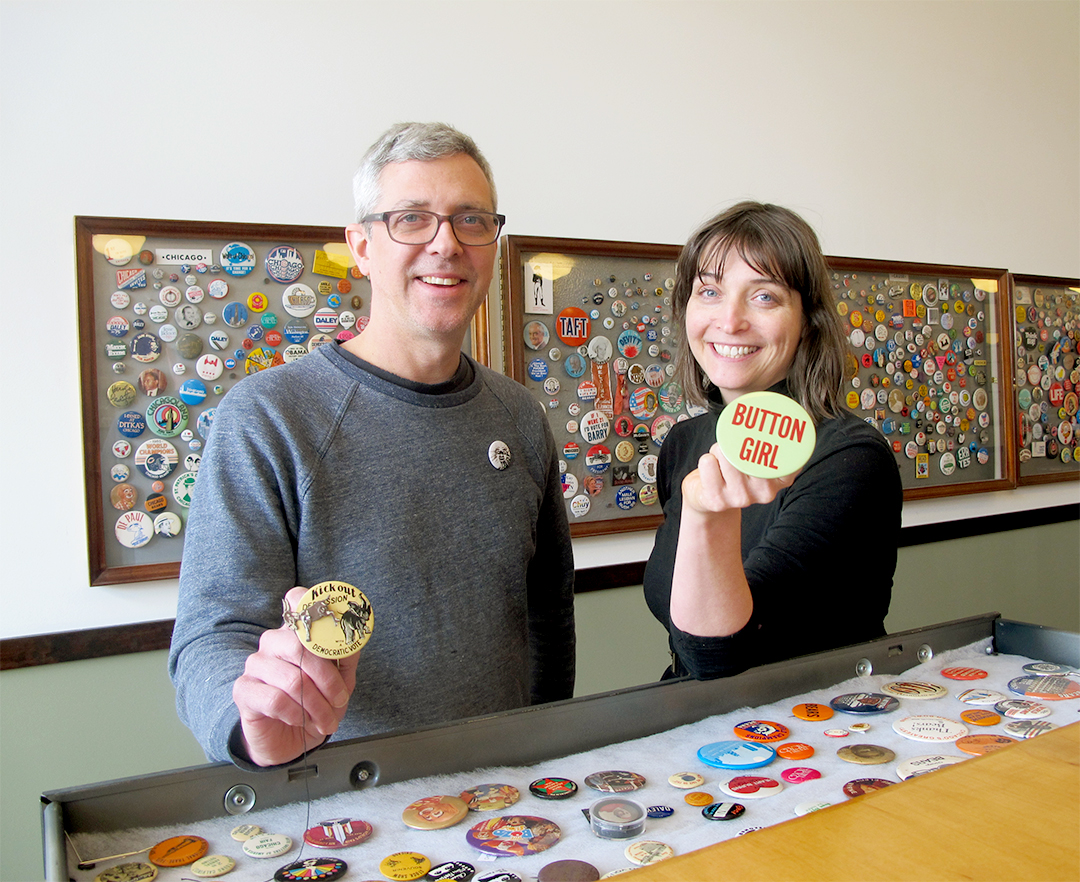 With thousands of buttons at their disposal, it was quite a process to curate the buttons that would be included in the zine. After selecting visually-interesting designs representing each era of the 20th century, Joel said that they "concentrated on the buttons that had cultural significance, too." Christen explained, "There's an evolution to the different ways that people express ideas that's also very telling [of the times]."
Joel said that as they came up with the collection to be included in the zine, "the next thing you know, it's a brief history of buttons, and a brief history of the United States, too."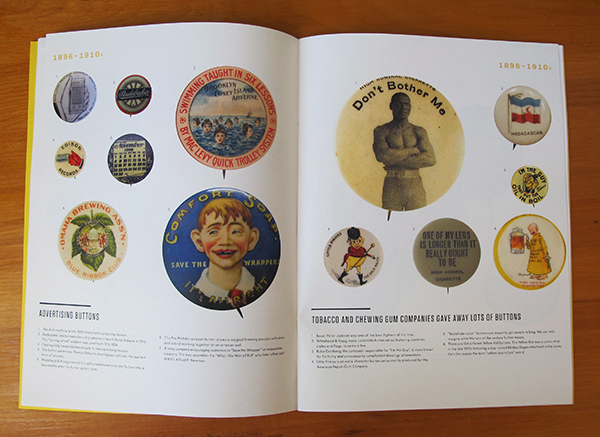 Overall, the zine illustrates how buttons give us a peek into people's lives-- they showcase ideas that people felt strongly about and the ways those ideas were shared with the world. "People make buttons to communicate," Joel said. "As a physical artifact, they have a permanence and mark a moment in time." As Christen put it, "They're fun little mile-markers for human understanding."
In addition to being available online, the zine made a splash at last weekend's Chicago Alternative Comics Festival and is now available at Quimby's bookstore and Bric A Brac Records here in Chicago. The zine will also be used in conjunction with our celebration of the button's 118th birthday next month.
As for future zine plans, Joel said, "I think we'll do a " I heart" and smiley face zine, and maybe a beer button zine" referring to three of the most popular button motifs from the Button Museum's collection. He added, "There are lots of possibilities!"
Read More