The Chicago art button scene adores Anders Nilsen for his installations at a private residence and Lula Cafe. Hold onto your pin-backs for his largest piece yet.
Pictured is the newest work by Nilsen at Ogilvy & Mather in Chicago, a composite of more than 10,000 custom one-inch, 1.25-inch, and 1.5-inch art buttons on a wall measuring 40 feet long.
Anders visited Busy Beaver Button Co. after hours, and individually die cut each button from a diagram of the Sun, Botticelli's The Birth of Venus, some Native American Petroglyphs, an 1884 ad for tobacco, and more.
Buttons were assembled on behalf of him by the skilled button-makers here at Busy Beaver, and each image is different.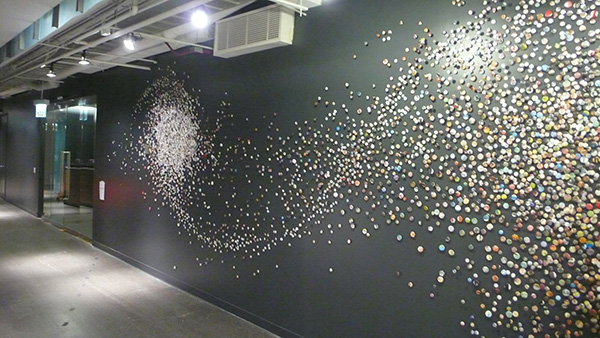 "This is Not the World and How to See it: A Short Idiosyncratic History of Visual Culture in 10,000 Small Round Shiny Fragments" by Anders Nilsen
Anders Nilsen writes about the experience in his blog,
The installation was kind of insane. It ended up being 45 hours over the course of five days, and I had people helping me four out of five of the days. And that was just the time spent actually putting the buttons up. Four people helped me the last day, Monday.
You can watch a time lapse movie of the entire button installation on Anders Nilsen's blog, The Monologuist, too. Click here for more info about Anders Nilsen.

<<Make 10,000 buttons for your wall at www.BusyBeaver.net
Read More