The CBD boom that's brought us lattes that chill you out and lotions that do more than just moisturize is reaching a fever pitch. Analysts have reported that just in the first months of 2019, people were searching the term "CBD Beauty" at a rate 370 times higher than before. As a result of this CBD fever, its projected that in the next ten years, we could see CBD beauty and skincare reach or surpass $25 billion as an industry. To put this in perspective, the entire beauty industry worldwide is around $167 billion.
While CBD products of any kind may seem like a dream to market and advertise, the hard part of doing so is following the law. This gets particularly tricky because laws change from state to state and no national guidelines have been set for the sale, let alone advertising of these products.
Because of this, stores that sell CBD infused products are taking a bit of a risk when they do so. Foods and beverages face the harshest penalties if they're found in violation, but CBD beauty and skincare products seem to be able to fly under the radar, with stores as big as Walgreens and CVS tapping in on the trend.
Online advertising spaces like Facebook and Google have completely banned the promotion of CBD products, and traditional routes like print ads or billboards aren't much better. Facing strict warnings from the FDA about what you can and cannot claim when advertising CBD, many brands are left wondering how they'll market their product.
Many companies have turned to branded merchandise such as stickers, lapel pins, buttons and apparel to stand out. Selling merch alongside their other products allows customers to sport their favorite CBD brand around town, granting these companies access to one of the most powerful (and unregulated) marketing tools around, word of mouth.
1. Plant People
Plant People is a CBD brand that just recently began dipping its toes into beauty and skincare. Founders Gabe and Hudson started the company to provide people with natural, plant-based alternatives to conventional medicine. Now, their successful line of tinctures, aka "drops", and capsules has expanded into balm that can be used anywhere for CBD powered pain-relief.
Not only have Plant People made the best of the CBD beauty trend, they've set themselves apart with adorable merch.
Continuing on their theme of sustainability and plant based goodness, Plant People sells a recycled cotton and PET fiber "Plant Person" tote bag as well as a classic green "Plant Person" dad hat.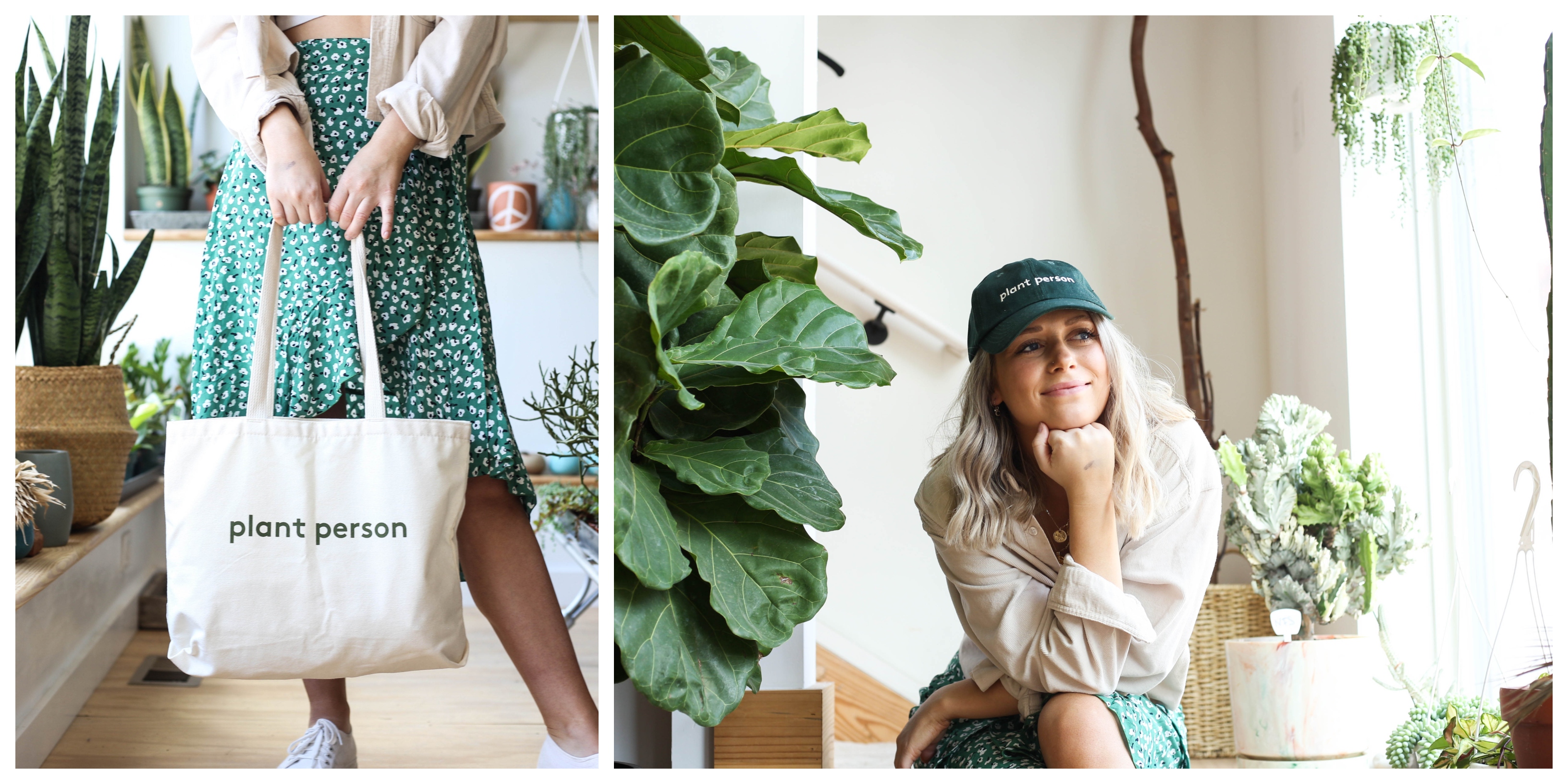 2. SVN Space
SVN Space is an online collection of articles, shop-able products and experiences aimed at women looking to explore the full range of cannabis. Aside from their educational resources, SVN Space has a large online store of hemp-focused products.
SVN Space not only brings together CBD and hemp products from a wide range of brands, they have some of their own merch to help you use all of these CBD beauty goodies.
Their "Gaia" Rose Quartz Facial Roller and "Surf Fin" Gua Sha Stone stand out, both of which come in small sachets complete with "I (heart) hemp" rose quartz buttons. Both of these quartz products can be used to apply serums, oils, balms and other skincare CBD beauty products. The button accompanying these beauty tools ties into a series of three t-shirts sold by SVN Space that also tout the "I (heart) hemp" slogan.
3. Herbivore
Herbivore is a clean beauty brand focused on using plant-based ingredients in all of their facial "potions", mists, masks and "body polishes". Only one of their current range of products features CBD: their "Emerald" Deep Moisture Glow Oil. The Instagram-worthy packaging and color of this oil has made it a hit with beauty junkies and brought Herbivore into the CBD beauty conversation.
"Emerald" might not be the last CBD skincare product we see from Herbivore, the brand has quickly established that they're a go-to source of CBD and cannabis related swag.
The "Emerald Shop" is a completely separate part of their website that also features a 'Wellness Shop'; a selection of 'vessels', a Kush candle, ashtray, and their own cannabis/hemp leaf pin. These items don't feature the Herbivore logo or a catchy slogan, yet they do intrinsically link the brand with a CBD and cannabis-friendly image. Perhaps this is a wink to their Emerald die-hard users hinting at some more chill products in the future.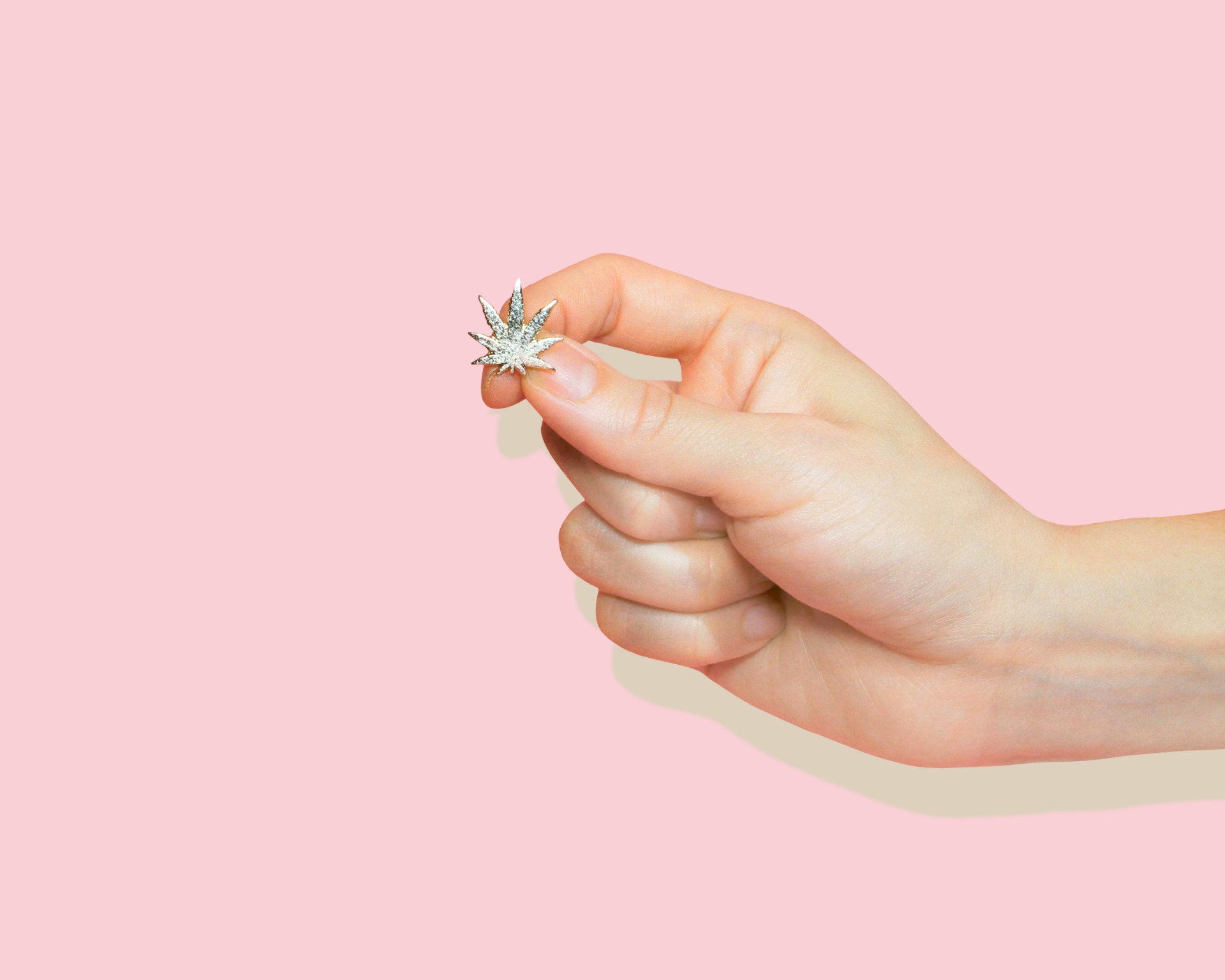 4. Lord Jones
Lord Jones, self-proclaimed producer of the "World's Finest CBD Products", is known for their "High CBD Formula" and recognizable logo.
While they sell a range of CBD goodies including tinctures, capsules and 'confections' (think sugar coated gumdrops and perfectly packaged chocolates), Lord Jones gets a lot of attention for their topical products which include body oil, lotion and bath salts. Their High CBD lotion specifically is a favorite among bloggers and celebrities alike.
Playing on their posh vibe, Lord Jones sells a slew of t-shirts and tank tops with vibrant versions of their iconic logo. Be it a classic relaxed fit shirt, or a tricked out muscle tee, any of their merch is sure to make you want to have one of their classy balms on your bed stand.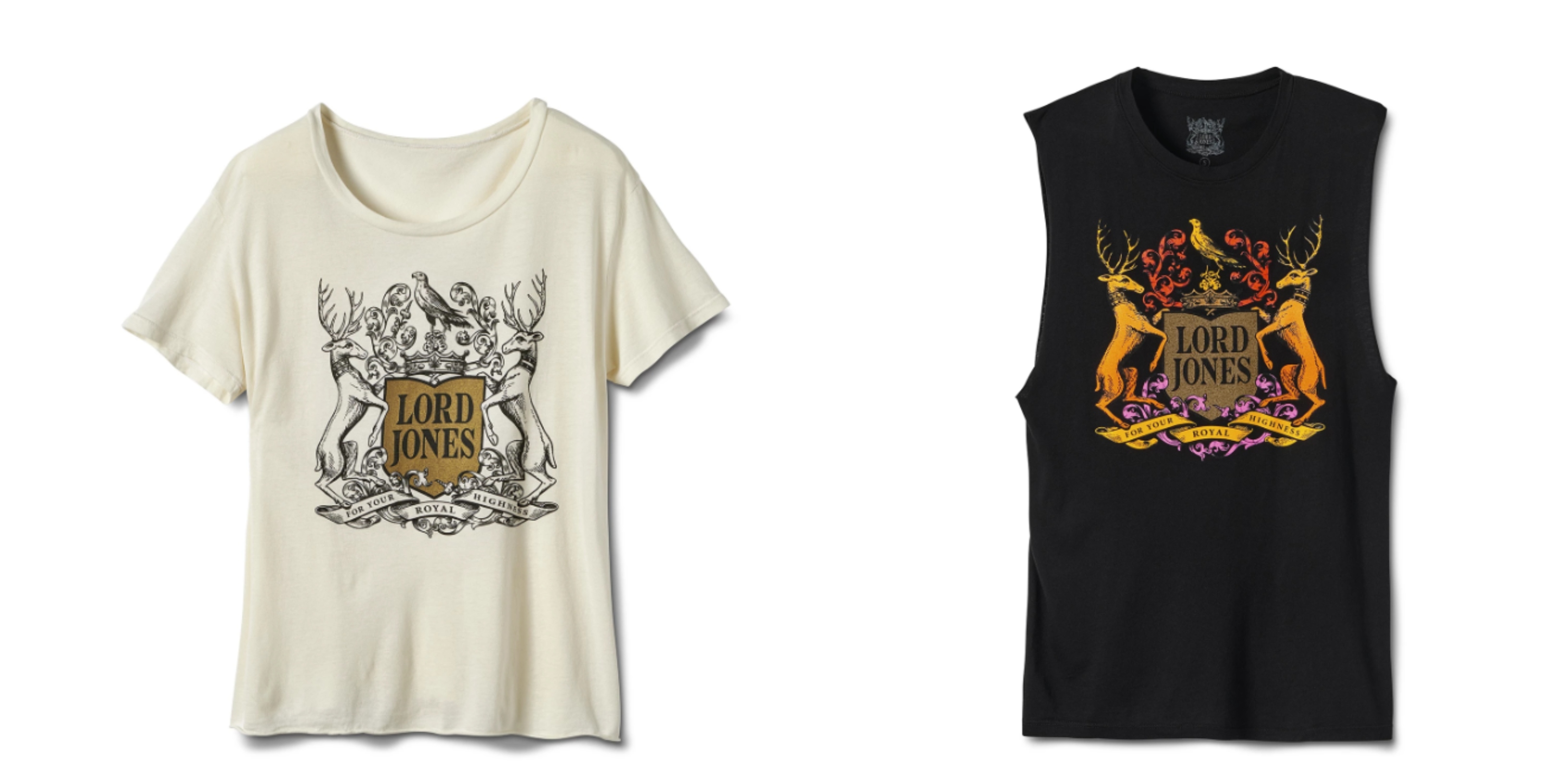 5. Cannabliss Organic
One brand that isn't new to the CBD beauty scene is Cannabliss Organic. All of their skincare features broad-spectrum CBD as well as some other unique plant compounds that founders Melissa and Nick are obsessed with.
Cannabliss has a huge range of CBD skin care including: a facial cleanser, lotions, oils and even a cult favorite lip balm.
Cannabliss sells a classic style tote bag featuring their logo and hemp leaf inspired pattern, as well as a smaller makeup pouch with the slogan "Live Blissfully"; a perfect place to stash your CBD beauty go-to's (and yes, they're made of hemp).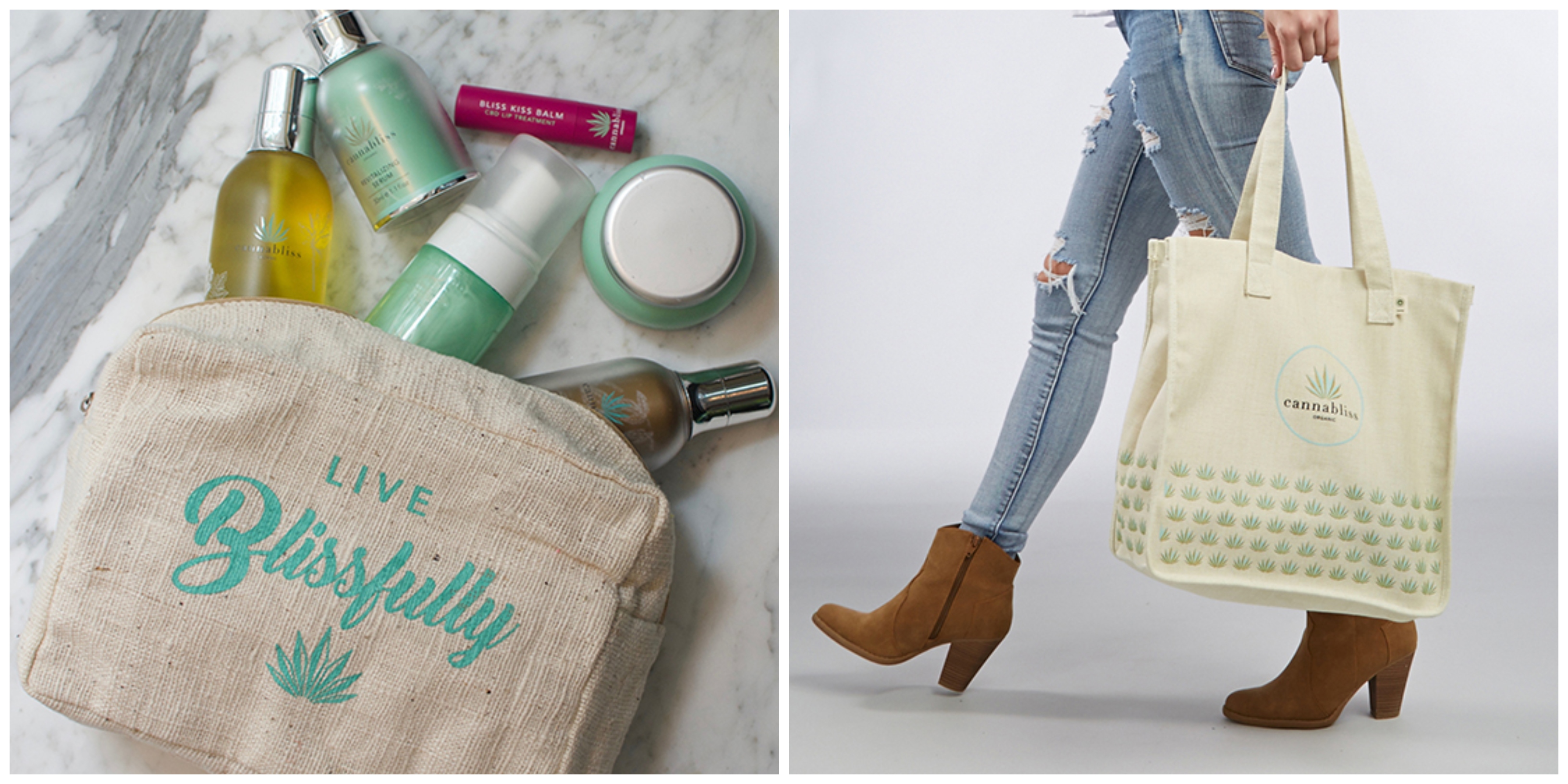 | | |
| --- | --- |
| | Feeling Inspired? |
Read More