Buttons are just another accessory. Like earrings, a scarf, or a hat, they all add something to one's outfit. They're the ultimate way to show off your interests and spread a message. Buttons can and should be a part of your everyday life, and the folks at Busy Beaver can attest to that. Want some inspiration on how to incorporate buttons into your daily outfits? Look no further, we're the professionals.
—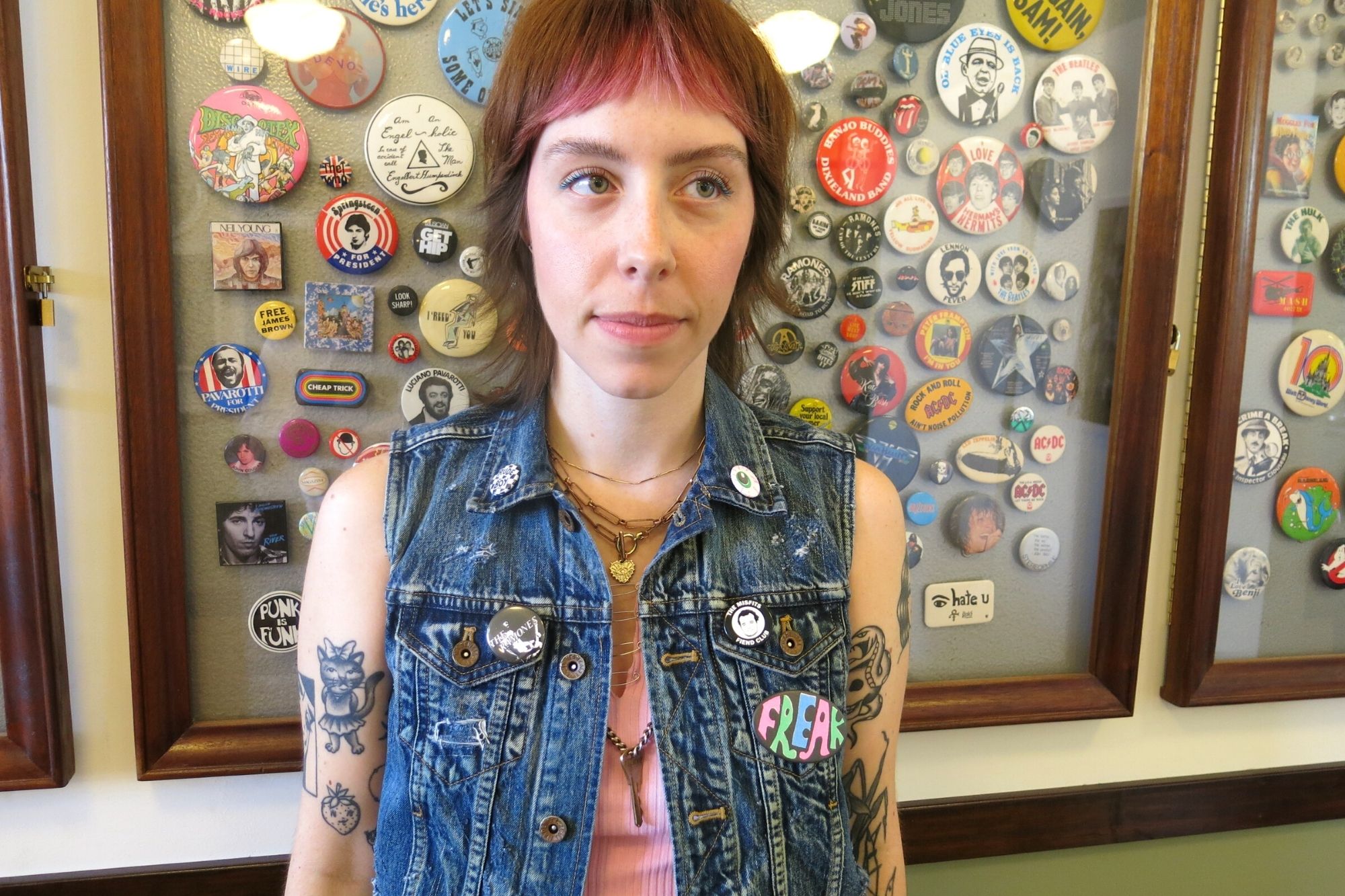 Gotta Love That Blue Jean
Buttons were made to be on denim. The classic jackets and vests are a staple, and I have personally dabbled in adorning my denim bucket hat with buttons. It's like chocolate and peanut butter– it just works so well, and always delivers. Buttons were also made to be on bags, go ahead cover your backpack, there's nothing wrong with sticking with traditions.
Matchy-Matchy
Nothing makes me happier than when I match my buttons to my outfit, or when I match them to each other. Having your buttons work with your outfit is awesome. I have some go-to combinations (love my classic eyeball and skull). A few 1" buttons always look great together, I love creating a constellation of them across my lapel. Maybe keep all of them within the same theme, have a consistent color scheme, or complementary special finishes.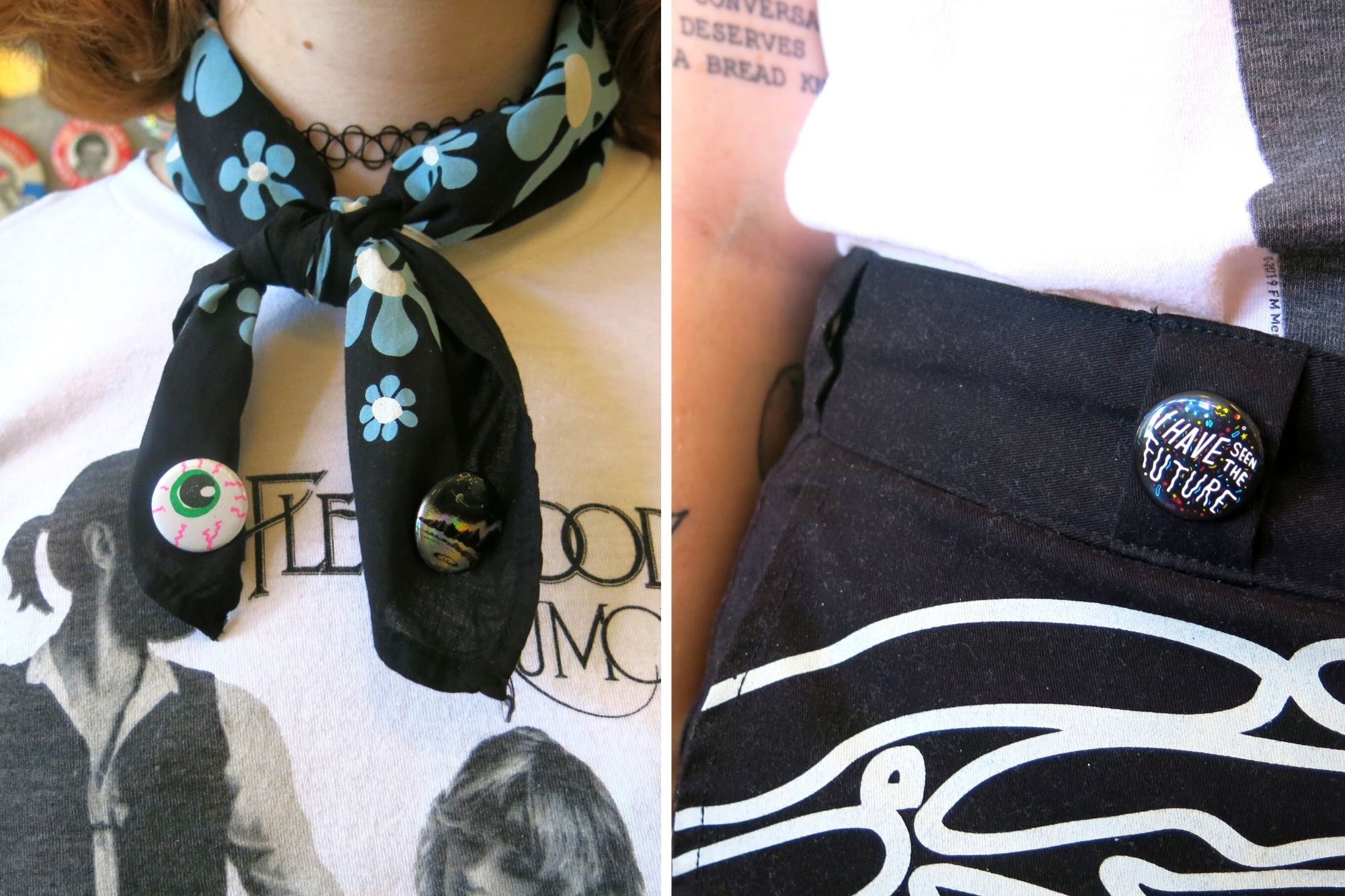 Surprise & Delight
Put buttons in unsuspecting places! Put them on your belt loops, or one of my favorites is putting them on the edges of your shirt collar. Perhaps, have your buttons become makeshift cufflinks. Buttons could mean the same to you as your grandma's trusty brooch. Have your button be a stand-in for a bolo tie! The options are endless, and a great way to stand out.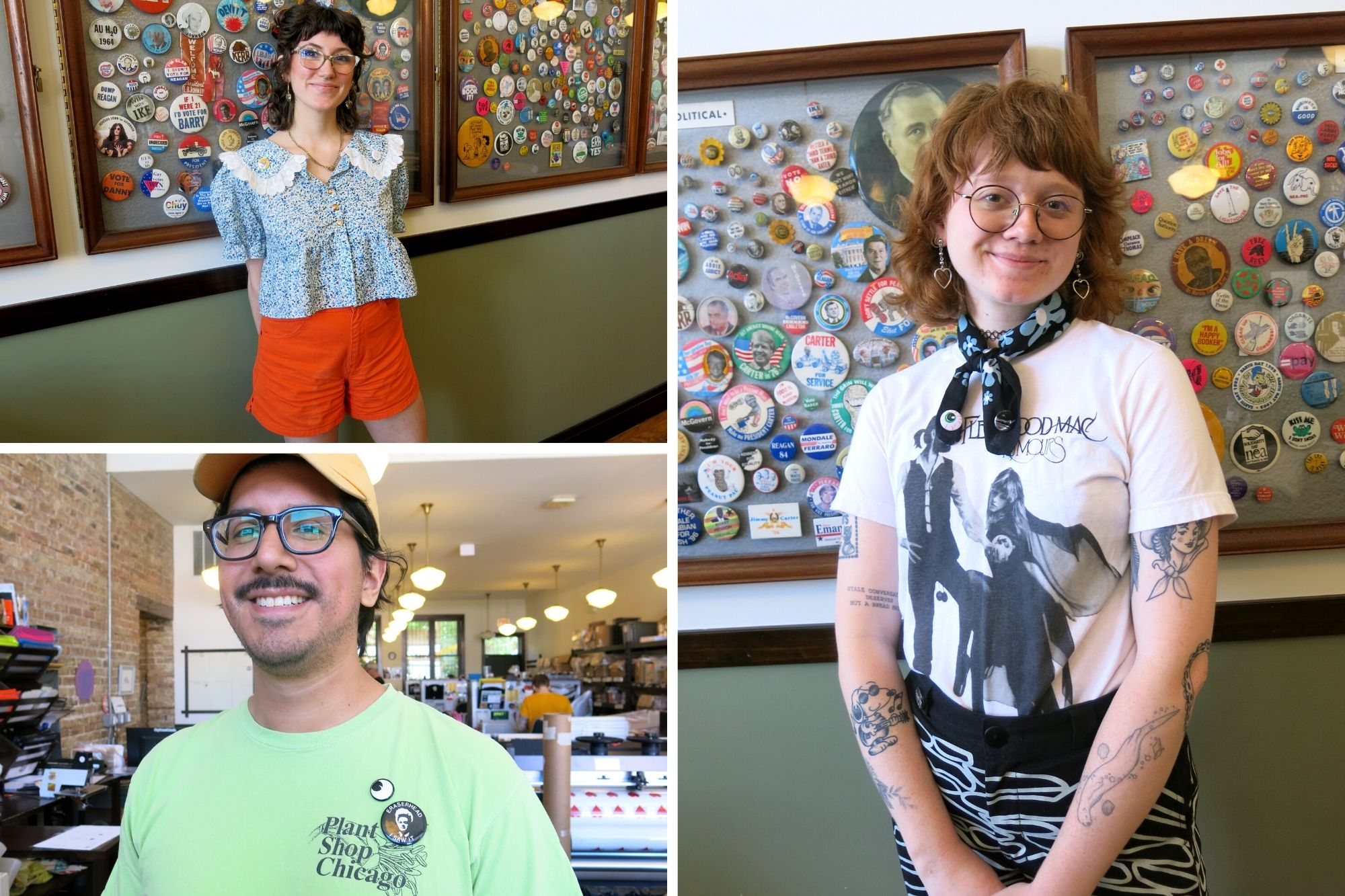 Be Bold
Maybe frame your outfit around one statement button. How about one trusty 3"? No need to overwhelm your lapel. Or, on the other hand, form a bunch of buttons into a pattern across your sweater, make them the highlight of your outfit. Let your buttons take up space, no need to hide them away.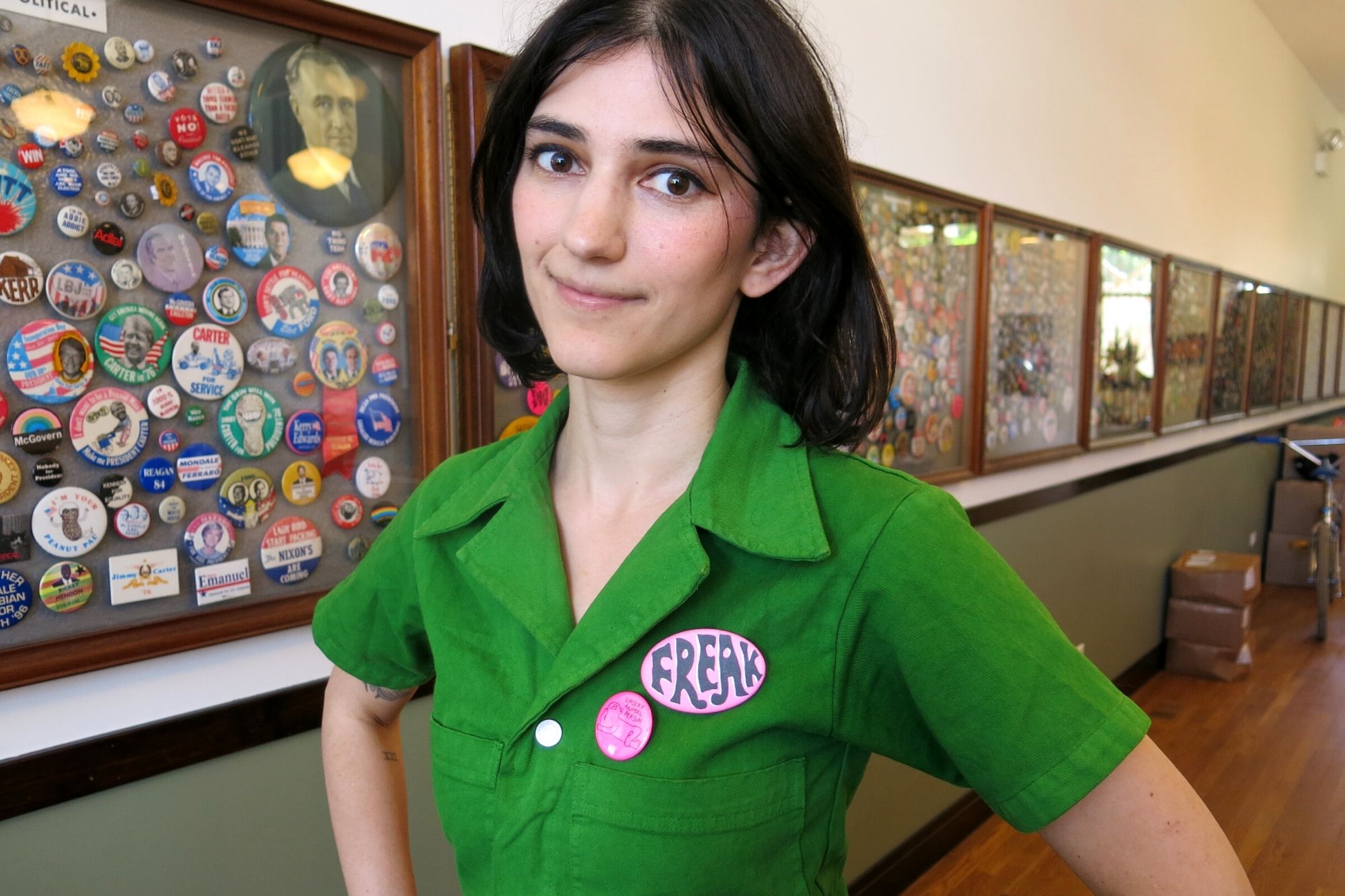 Think of the Color Wheel
Go back to art class and channel your knowledge of complementary colors. Who says red and green is just for Christmas??
Not Just for Looks
Make your buttons useful, have a rip in your shirt where you would usually use a safety pin? Wouldn't a button look so much cuter? A classic 1" button would do a great job! Think about the functionality of a button, they're hardy and can withstand more than you would think.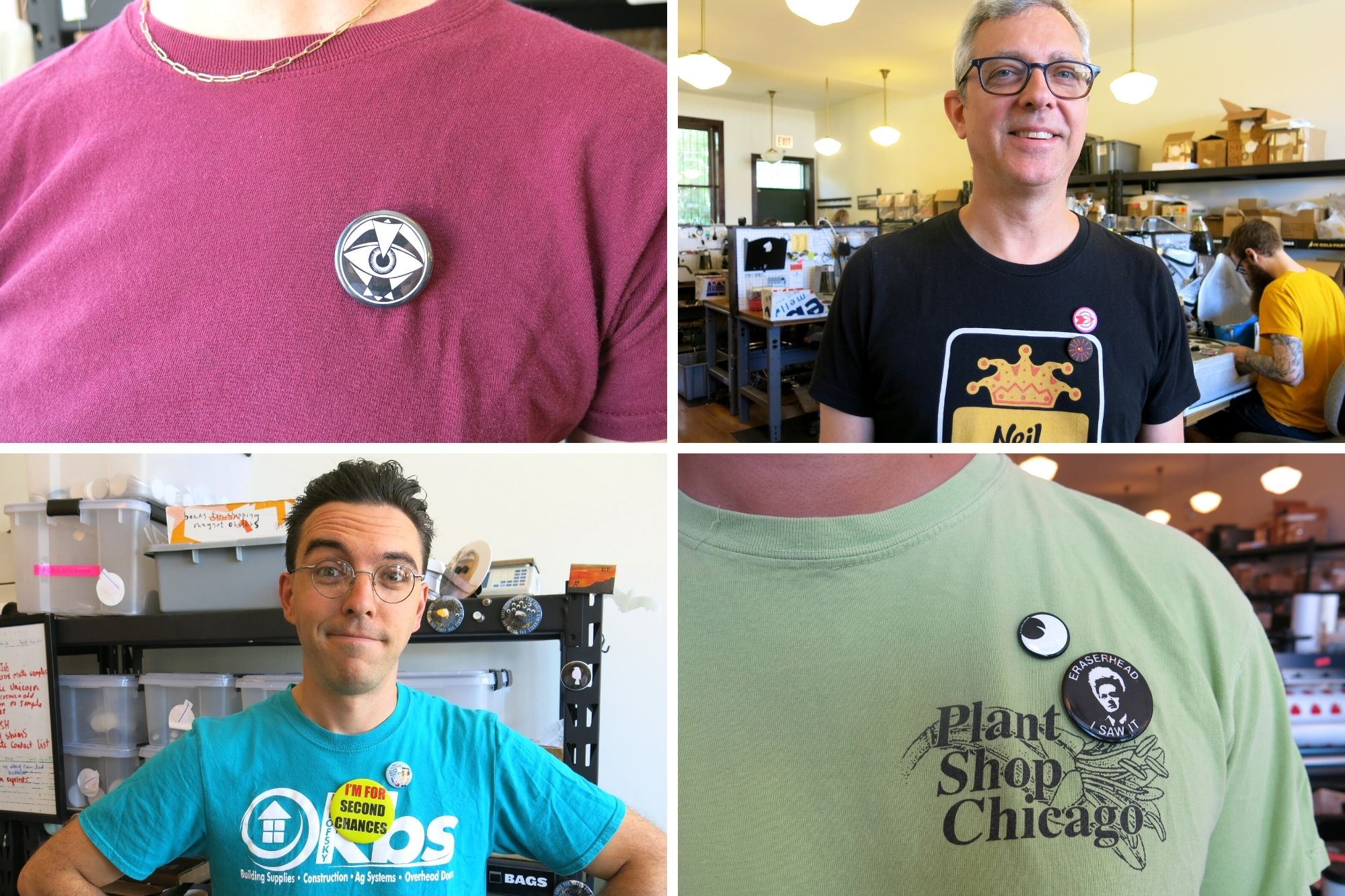 Let 'em Talk
Buttons speak louder than words, so let them speak for you! There's nothing better than a cheeky button. They usually get the conversation going and easily add an aura to your outfit.
The More the Merrier
Liven up your lapel! Wear 'em on both sides? Sure, why not! The options are endless and there are no rules. There's also no reason to change your buttons everyday, maybe you have your old reliable, something that becomes a part of your everyday look.
—
No matter which way you wear your buttons, it's always a reflection of you. Depending on what you gravitate towards, your own personal style shines through. If it's something you designed or just something you thought looked cool, you made the decision to put it on, and that's one of my favorite things about buttons.
Read More