If there's such a thing as the perfect promotional item, it may just be the 1" round button. Versatile, inexpensive and infinitely wearable, these tiny pinbacks are a marketing powerhouse. In our quest to showcase some of the most fun and creative uses of 1" buttons, we present Anna Hrachovec of Mochimochi Land. As a creator of an adorable world of knitted creatures, patterns and books, Anna uses 1" buttons to promote her tiny creations, and as merch in it's on right.
Read our interview with Anna for more on Mochimochi Land, and how she uses buttons to promote her work—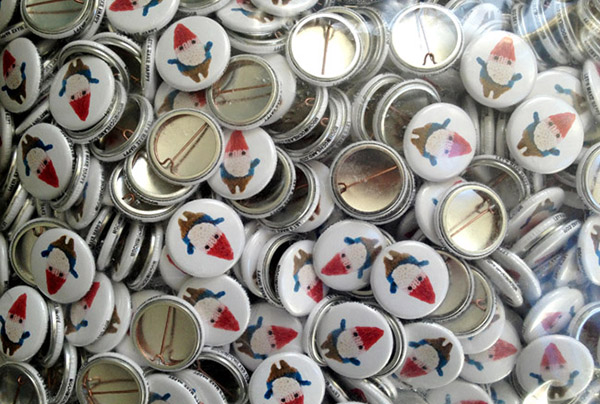 Can you tell us a bit about yourself, and Mochimochi Land?
I'm an artist and designer living in Chicago, and I specialize in knitting cute little creatures that live in a colorful, squishy place called Mochimochi Land. My passion for characters started when I was an exchange student in Japan as a teen, and I discovered that Hello Kitty and Rilakkuma were loved by adults as much as children there. A few years later, I started knitting toys as gifts for my friends. As soon as I embroidered eyes onto the first blobby monster that I knit, I knew I had stumbled upon a new calling that combined both of my passions.
Mochimochi Land is both the name of the place my creatures inhabit and also the name of the project that has taken over my life since I started knitting toys seven years ago. In that time, Mochimochi Land has taken the form of books, sculptures and installations, and animations. I share many of my designs with the knitting community via patterns (which is the primary way I make a living), and so Mochimochi Land also grows all over the place with their help.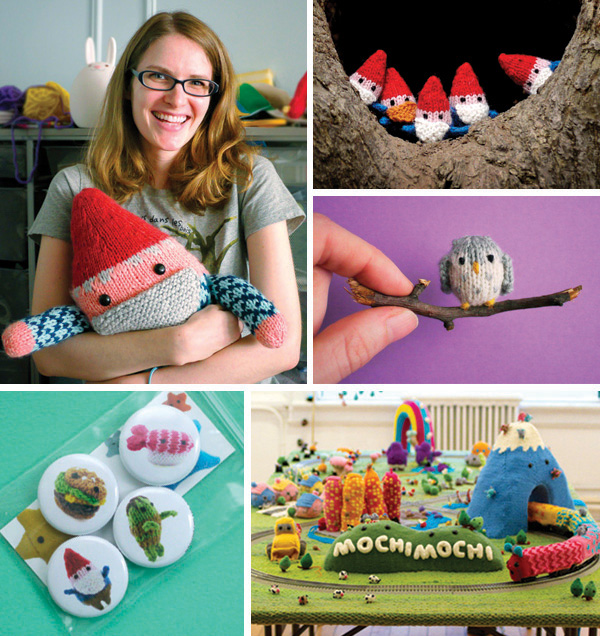 What was the inspiration behind your 1" button designs?
I wanted to highlight my "tiny mochis" (miniature knitted characters) in way that gets across instantly, so that's why I went with a simple photograph of each character on a white background. The 1" buttons turned out to be a great size for this, and since the buttons are tiny and my characters are tiny, it's a perfect fit. I chose to leave text off of the button face and instead put my website and my slogan ("Let's make happy") onto the rim of the buttons for a more subtle promotion.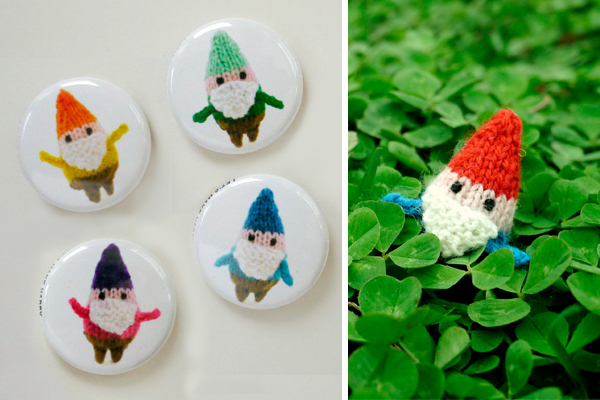 How do you use your buttons?
I use them both as a promotional giveaway and as a product. The tiny gnome is a kind of mascot for Mochimochi Land, so I order those buttons by the thousand to hand out at events and include with orders from my online shop. (Once in a while I'll also get a hundred "one-off" buttons of a different design to use as a special shop promotion.) I also group the buttons into sets of four (I have a set of gnomes wearing various colors and an assortment set of tiny creatures), which I package up with my tiny business card in a tiny zip-lock bag. I sell these on my website and at events.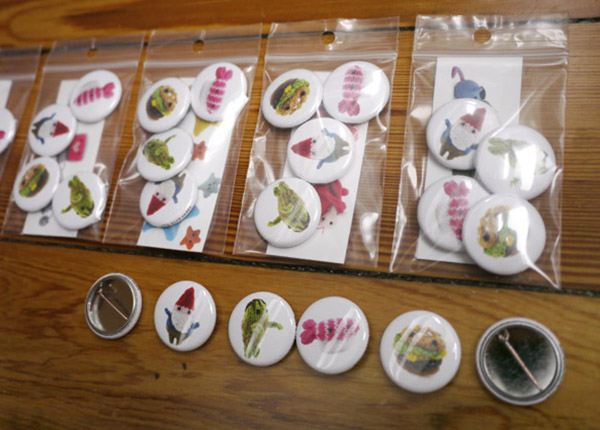 What have people's reactions been to the buttons?
I get such happy reactions from people! The buttons are awesome because they're inexpensive enough to use as a freebie, but they're cool enough for people to also want to buy them. My customers are primarily knitters, so they often have knitting bags that the buttons get pinned to for everyone to see.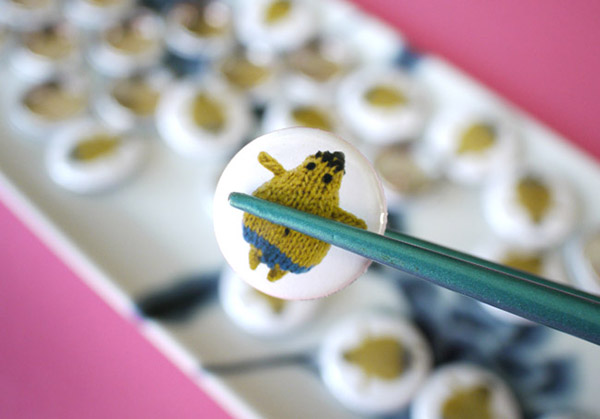 Read More