What's so unique about Chicago's Off Color Brewing? "We are awesome and all other breweries are less awesome," says co-owner Dave Bleitner. "Why, you ask? I dunno." Like a confident shrug bottled and fermented for maximum enjoyment, Off Color Brewing's slacker approach to beer making is part of their charm.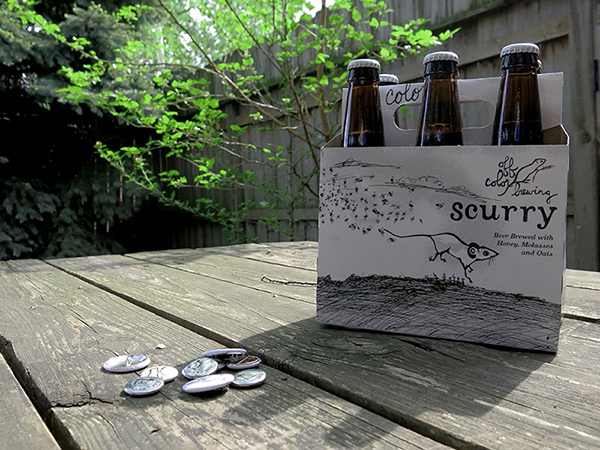 The 4-year-old brewery makes funky, experimental beers in Logan Square in a building inhabited by 15 tanks, about a dozen beer-making collaborators, a puppy named Hops, and some sneaky mice.
"The mice are the only mammals that spend more time at the brewery than us, so we thought they should be included in our marketing materials," explains Dave. "We don't like them because they steal our grain, but fair is fair."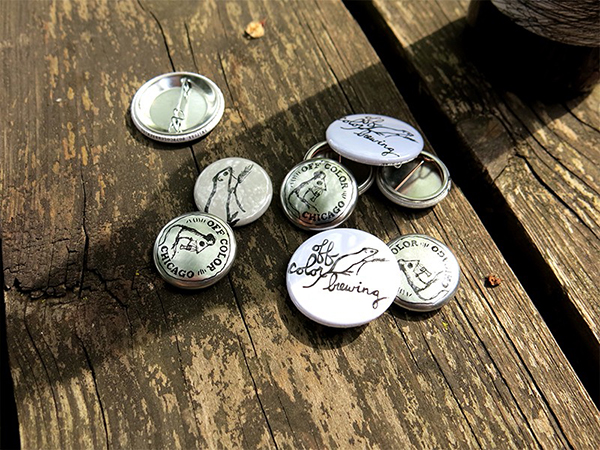 Embracing the nature of beer making is what Off Color Brewing is all about. From the happy accidents that happen when experimenting with new brews, to the friendly mice that steal the grains, the team's relaxed, go-with-the-flow attitude comes across in everything the small business does, including their branding.
The mice inspired the design of Off Color's logo and appear on the labels of brews like Troublesome, a gose-style beer with a mild, lemony tartness, and Scurry, a dark honey ale. The label designs feature black-and-white, hand-drawn sketches of the brewery mice and other animal friends created by illustrator Nikki Jarecki and graphic designer Tim Breen. It's Nikki's mischievously adorable drawing style that brings Off Color Brewing's off-color personality to all their bottles and merchandise, including one inch promotional buttons from Busy Beaver which match the brewery's bottle caps.
Custom buttons seemed like a natural choice for brewery merchandise. Dave had seen other microbreweries' buttons on the lapels and backpacks of craft beer fans, and learned many had worked with Busy Beaver. "Plus you are right down the street," he adds. All the better.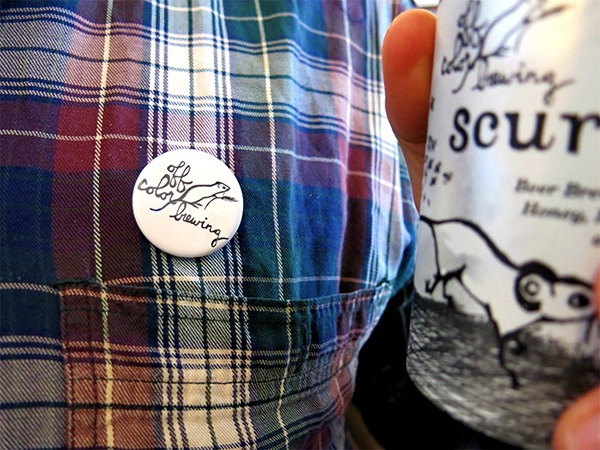 Besides picking up a custom button at their bottle shop at 3925 W. Dickens, buttons have been a great way for Dave and his team to promote their business and grow their tribe of fans at special events like the release of their Wari Ale at The Field Museum. The second beer they've created exclusively for The Field Museum, Wari is styled after an ancient Peruvian drink called chicha de molle that's made from purple corn and molle berries. How did this historic collaboration come to be? "We have some friends over at the Field Museum because they like animals and beer and stuff and we like animals and beer and stuff." It's only natural.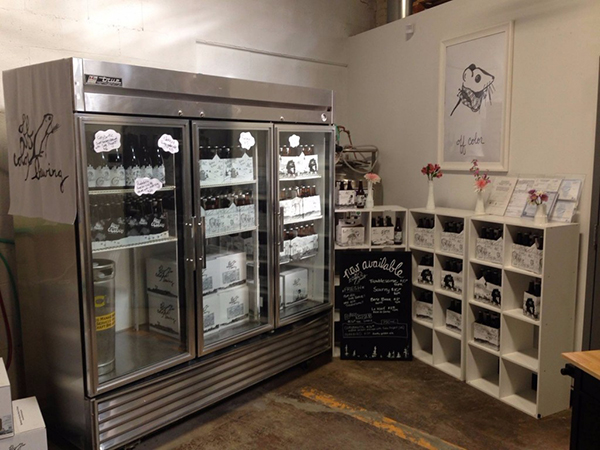 "We are always coming up with new ideas for beers," says Dave. "We have expanded our wild, sour, and barrel aged program and are now frequently offering special, limited brews packaged in 750 mL Champaign bottles." Chicago Craft Beer Week in May is a perfect time to track down Off Color's crafty brews, fall in love with a new variety, and celebrate your fandom with a one-inch custom button. Then everyone will know you are a craft beer aficionado with exceptional taste. Or not. The buttons look cool regardless.
Read More