Pin on a picture of yourself to keep communication friendly.
With face masks being the "new normal", we're all having to relearn how to communicate effectively. How do you convey warmth and friendliness when you can't show off your smile? Vanderbilt University Medical Center and Children's Hospital found a creative way to remain friendly and keep patients at ease even with new mask requirements: photo buttons! Inspired by their button project, we came up with 5 ways photo buttons can help you navigate this new world of mask wearing.
1. Wear a photo button of yourself when meeting someone new

It's your first time meeting your partner's sister at the socially distant BBQ. She's never seen your face before but you definitely don't want to take off your mask. This is where custom picture buttons come in! Show her what you look like under the mask without removing it. This way you can make a great impression without taking off your mask. You'll keep your partner and their family safe as well as introducing yourself in a fun, memorable way! Everyone will be saying what a clever idea it was and ask how they can get their own personalized photo buttons.
2. Show off your smile safely
Despite her best efforts, Tyra's technique on how to 'Smize', or smile with your eyes, has not reached everyone. Most of us still smile with our lips. However, to keep the people around us safe, we've all been covering up our smile with a mask. Sometimes, I've forgotten I'm wearing a mask and reflexively smile when someone speaks to me, later realizing "oh no, my mask hid that!" So how do you let people see your glowing grin these days? Picture Buttons! Custom photo buttons are a safe way to show off your pearly whites while still following protocol.
3. Reassure your students
Some of us are being called back into the workforce. To keep everyone safe, masks are going to be an essential. For students that may need to return to school, they may find this a little unnerving. This is definitely not how they have experienced school in the past. We keep calling what we're living in the "new normal" but for younger people it may not feel that way. One way to remind them that there is a friendly face under the mask is for teachers to wear photo buttons. While we're not back to normal, at least a familiar face (even if it's just on a button) may give them a sense of ease.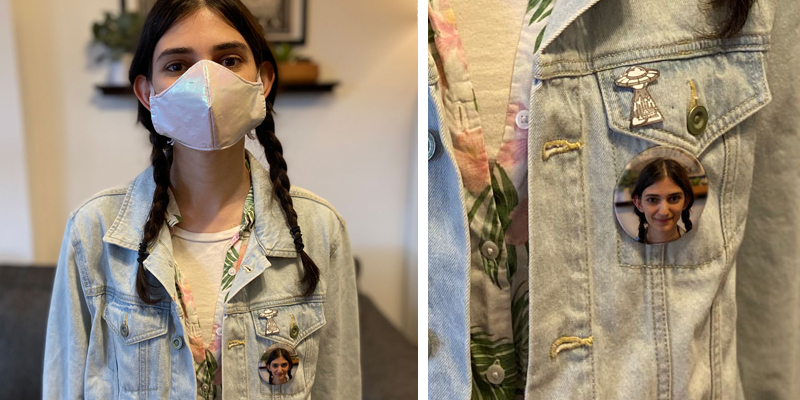 4. Meeting your Tinder Match

Dating is always rough, but try it during a pandemic! Meeting organically is near impossible so a lot of people are relying heavily on apps like Tinder to connect with new people and arrange safe hangouts. Picture this: the two of you arrange a safe, six feet apart picnic in the park and you both show up wearing masks. Are things going well? Are they having fun? It's a little hard to tell with the mask and while you're not going to take them off, it's stressing you out! While picture buttons cannot cure the ever-present awkwardness of a first date, they can definitely alleviate the weirdness of wearing a mask on a first date. You may not be able to meet "face to face" but at least you will get to meet "button to button".
5. Buying alcohol
This one is for the 21 and older crowd only. We may not be ready to go back to the bars yet, but plenty of us are just as happy to drink at home or share a beer on a patio with the neighbor from six feet away. With photo button pins you can confidently hand over your ID to the cashier without risking cross contamination and making everyone uncomfortable by lowering your mask at the counter. Simply point at your personalized photo button as the cashier reads the ID. Can you really say you experienced 2020 without being ID'd with a mask on?
Mask wearing is the new normal and photo buttons will help keep communication fun and friendly. In a world where we are asked to keep our distance they make a personal connection not only possible, but most importantly, safe.
Read More