You want to spread the message and have limited time and resources during a campaign. Let your supporters help you! Not only will these items help create awareness, but they will also give your supporters some buy-in and objects they will cherish for years to come.
When supporters are willing to publicly back your campaign it's really compelling to those around them who aren't quite sure who they will vote for.
Many of these products can also be used as fundraisers – sell them to keep your campaign running!
—
1) Buttons
The classic campaign item! They have been around helping candidates spread their message since 1896 – it's tried and true. Inexpensive enough to give away or else use as a fundraiser. We suggest selling them for $5, which can bring in about $4.50 per button or so for your campaign! Let our design studio help adjust (or create!) your artwork to be as effective as possible. We like the 3 second read rule! People should be able to get the gist of what the button says within 3 seconds.
2) Bumper Stickers
Bumper stickers get a lot of eyes on them! You can reach thousands of people for about 40 cents. Take that, billboards!
3) Yard Signs
The third most classic campaign item. When undecided voters see who their neighbors (especially the ones they like) are voting for, it can be compelling. We really like the polybag 16"x26" style. They roll up so they are easy to transport or mail. They are waterproof and printed on both sides. And they are recyclable! At 1,000, they are roughly $4 each. If you need less than 1,000, a double-sided laminated poster board is a great option. At 500, you're looking at around $3 each. Finally, the corrugated plastic signs are another option. Especially if you want them to be around for a long time. At 500, you can expect to pay between $5-$7 each. There are lotsa sizes and options – we're here to help you decide on what's best for you!
4) Paper Stickers
Great giveaways for when you set up at an event. People can wear them for the day. Kids love them - even if they can't vote yet, they can still spread the word! Paper stickers are about 7 cents each when you buy a roll of 1,000. If you want 3,000, they go down to approximately 4 cents.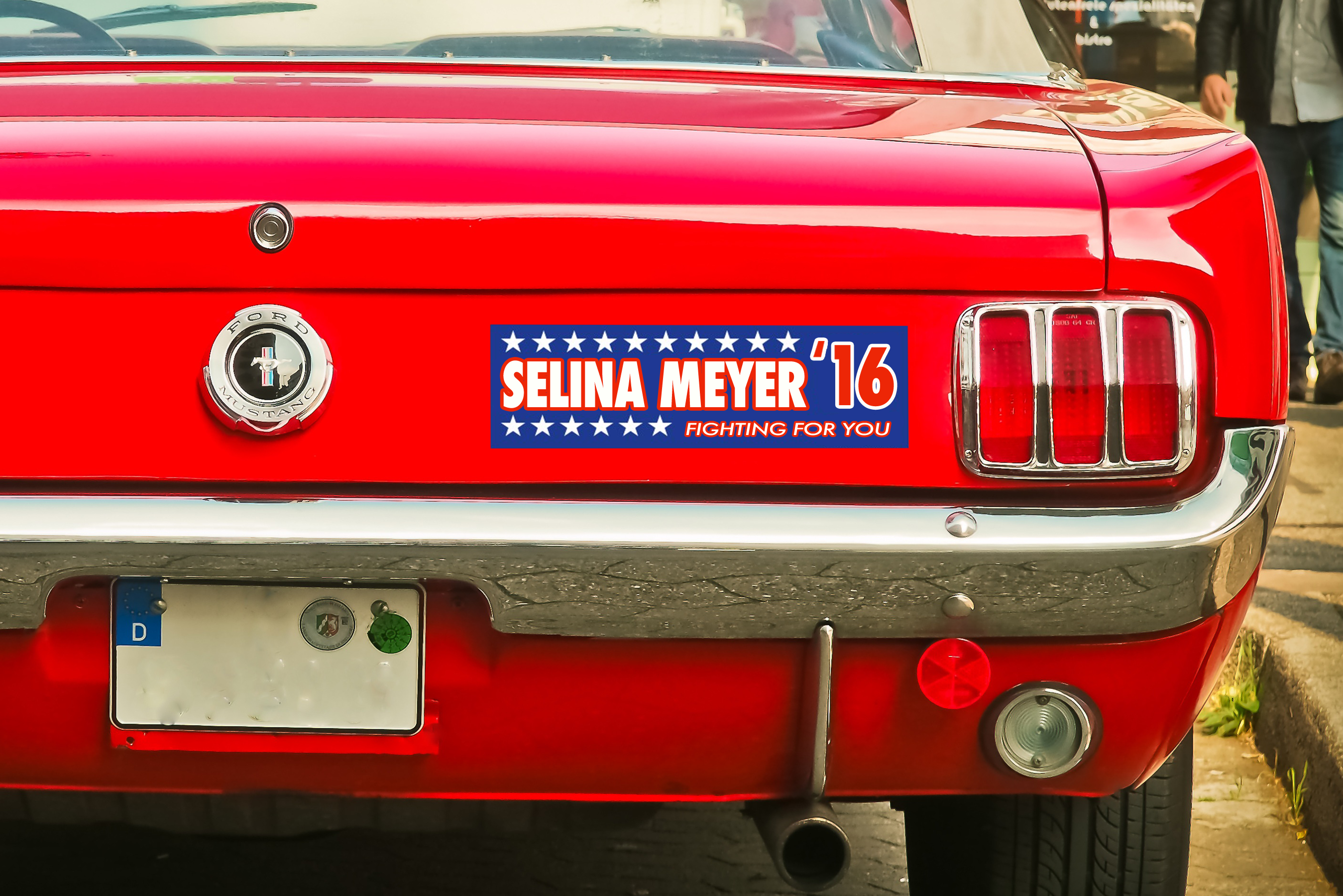 Bumper Sticker Example
5) Vinyl Stickers
You can create custom shapes that match your design. Great for laptops and water bottles or even on your car, bike or motorcycle. If you want your message to stick around and inspire for a while, it's a good one. I'm still holding on to my Build Back Better sticker because I just like the sentiment.
6) Sticker Sheets
These have been popular with the younger set! You can include straight forward designs (maybe the same artwork as your buttons) and also a key message. An image sticker that encapsulates your message adds a little interest, too - possibly an American flag?!
7) Signs/Posters
Great for people who want to put something in their windows (house or car!). Especially if they live in a pedestrian - friendly area. They can also double as Rally Signs!
8) Door Hangers
Sometimes people don't answer their doors, but you can still reach them by leaving a paper door hanger with your candidate's name, a key message and a more detailed description of what they stand for.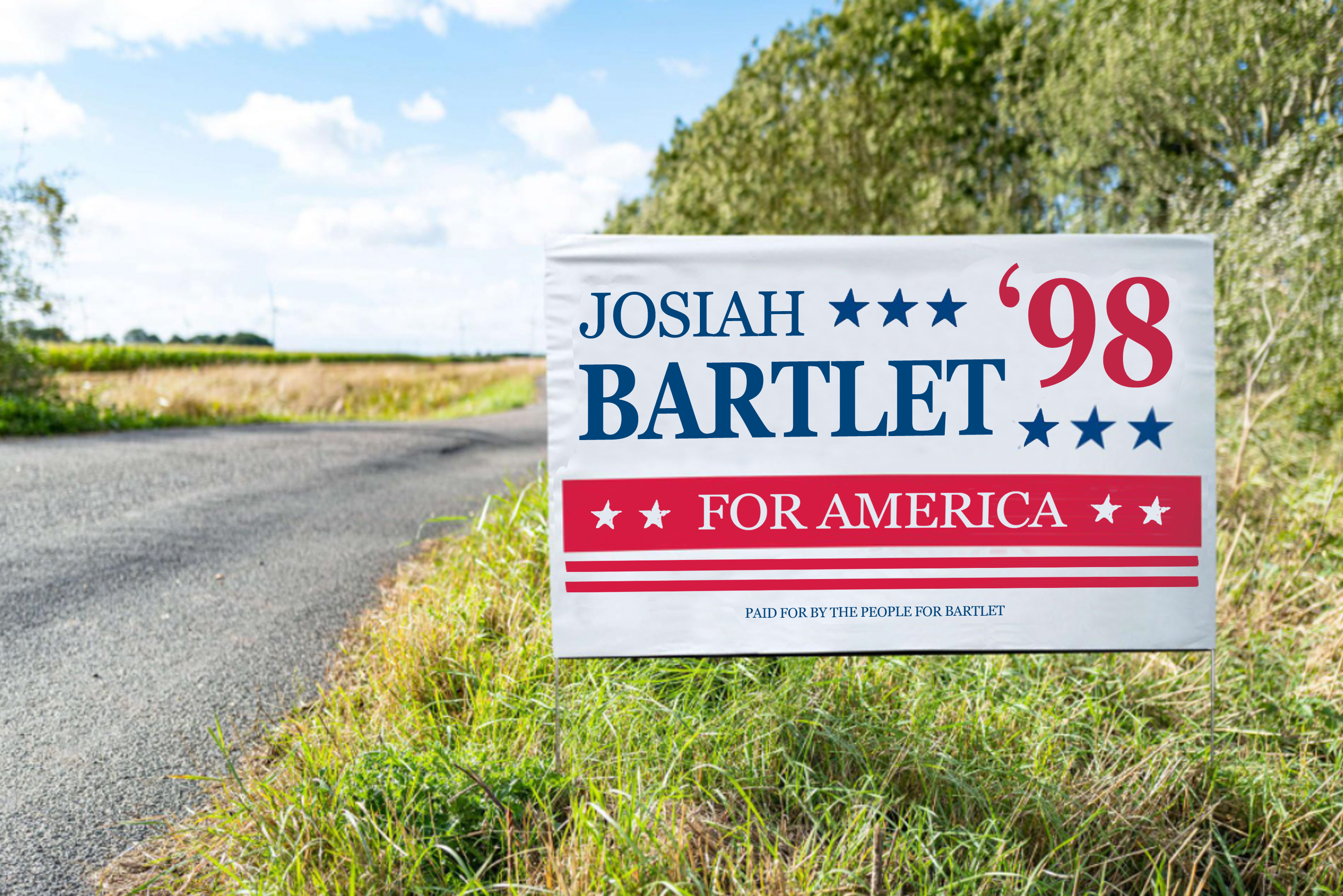 Yard Sign Example
9) Adhesive Notes
Post-It Notes are an incredible invention - so versatile! You can write a small customized note in addition to your candidate's information on doors, garages, fences, cars, mailboxes, you name it! As an example, 2,500 sheets that are 4"x5" and grouped in 50 run about $1.75 per pad (3.5 cents each note).
These can also come in custom shapes, which is extra eye-catching!
10) Paper Hand Fans
It can get hot during campaign season! Help the people stay cool! And spread the message, they won't forget what a life saver you were on that very hot day. At 500, they cost about $2 each.
11) T-shirts
Great for campaign workers to wear at events like a fundraiser or county fair. Also, you can sell and make roughly $12 per shirt (cost in the ballpark of $8 and sell for $20) or use as incentives for people who sign up for your mailing list.
12) Magnets
Flexible magnets are inexpensive (around 30-45 cents per unit for a business card size) and give you some space to share how you will help change your community. They will remember every time they open the fridge!
—
Request A Quote
Need some help coming up with great campaign merchandise ideas? Let us help inspire you!
Complete this form and we will reach out to you within 2 business hours to chat all things campaign swag.
Christen Carter (Founder and President of Busy Beaver and broker for political campaigns)
We have been able to work with so many great candidates over the years, it's really satisfying for us to help campaigns spread their message and make their deadlines for events or fundraising. I have huge admiration for those who work so tirelessly to improve their communities and the lives of the people in those communities.
Read More