Many of our customers have been loving enamel pins lately! They're super customizable and we also offer packaging for them. One of these recent projects was with Chris Toombs from the Scripps Institution of Oceanography, and we collaborated on this pin pack together! The design was so sleek and they turned out great, so here's a peek at the man behind the pin with another installment of Tattle-Tales! Enjoy my conversation with him.
ED: What is your position at Scripps? How long have you been there?
CT: I am the art director within the communications team for Scripps Institution of Oceanography at UC San Diego. My job is to pair pretty pictures (a.k.a. high quality photography and appropriately branded graphics) and compelling videos with my team's incredible stories about the science and scientists at Scripps. I manage all the printed marketing materials that come out of the directors office, coordinate with our web team on the visual design of our website, manage all our photo and video assets, and design the swag. I have been at Scripps for almost five years.
ED: What was your dream job as a little kid?
CT: Marine biologist. When I was a kid I thought that meant driving the submarine. I have a vivid memory of putting blankets up around my bunk bed to black everything out and using small electronics from around the house as my navigation tools in the dark ocean abyss. Turns out you have to be a different kind of smart to be a marine biologist so I took a turn down the creative path.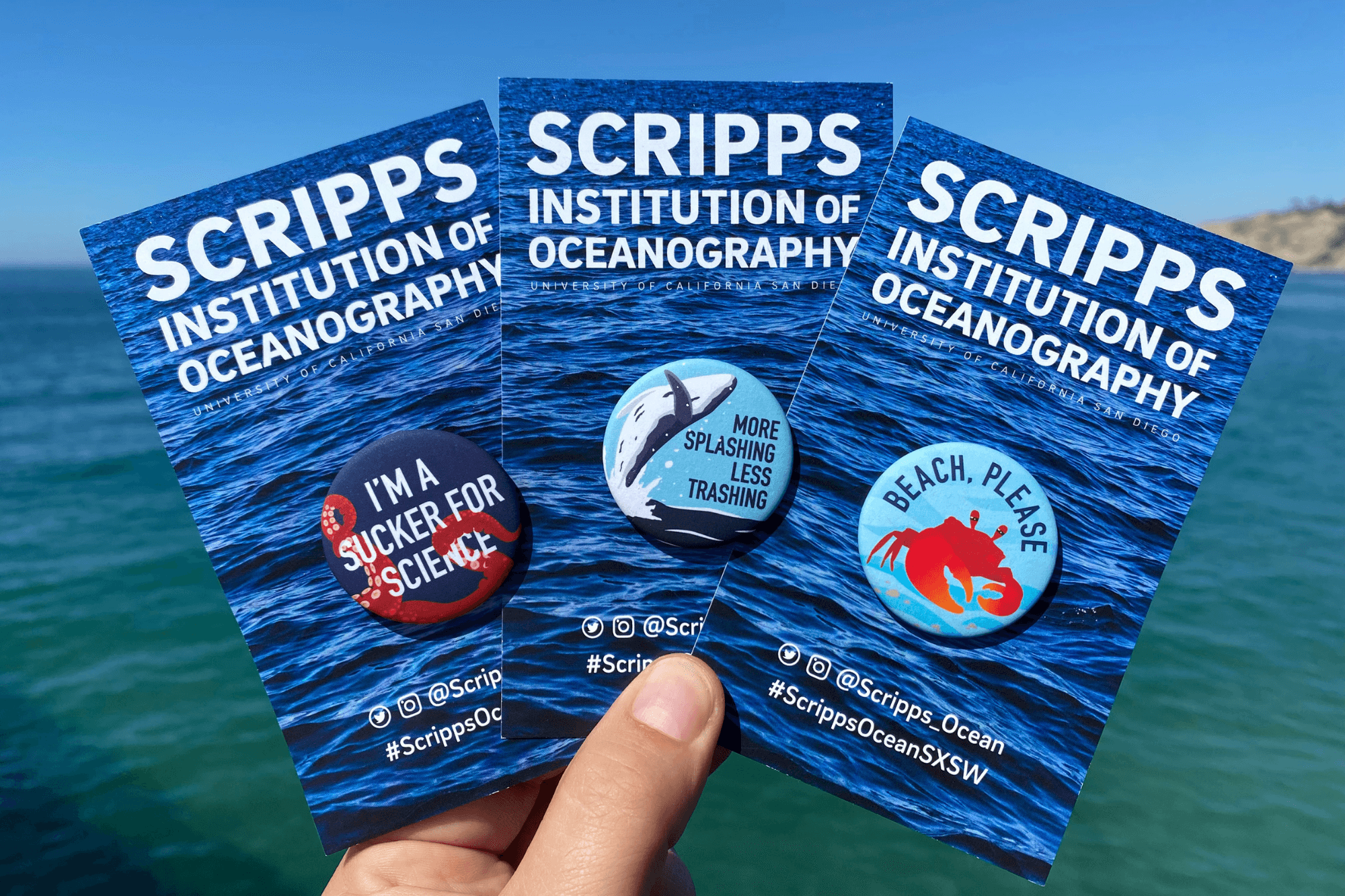 ED: How did you end up at Scripps?
CT: Coming out of college with a degree in graphic design I worked in advertising and marketing agencies. Our director of communications worked at the first advertising agency I worked at. We both left that agency and worked at other places for a few years. When she got the job at Scripps I reached out and asked if they ever hire freelancers. I happened to send the right email at the right time and they needed someone while their art director was out on leave. About a year later I found out the art director was retiring. Eventually the job opened up and after a few rounds of interviews I was hired.
ED: What is your favorite ocean creature and why?
CT: Phytoplankton, which is not really a creature but a group of aquatic plants. They are microscopic but they are so abundant in the world's oceans that they can be seen from space. They produce roughly half of the oxygen we breathe. Some species are bioluminescent and can glow in the dark. Look it up, it's pretty incredible! There is also this super tiny subculture of artists that arranges them into intricate patterns. The process dates back to the late 19th century when artists would display them as curiosities under a microscope at parties.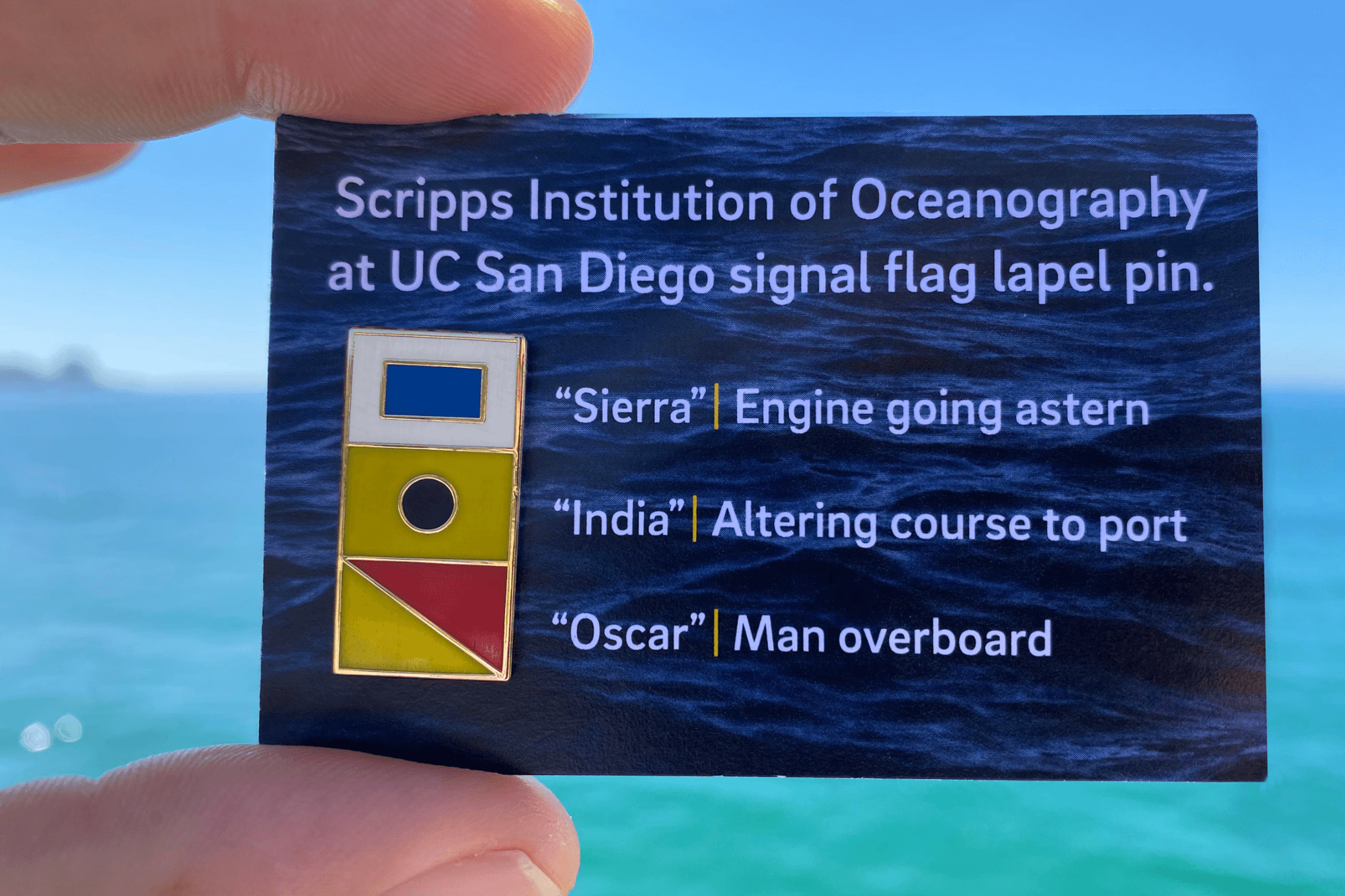 ED: How did your team use the enamel pin packs we made together?
CT: Our Director's Office uses them as mementos for high-level visitors. We are known for our fleet of academic research vessels, so we landed on the nautical flags to acknowledge that legacy. The average person probably wouldn't understand the pin, but if you are visiting Scripps and receiving one of these pins you'll know the meaning behind this design choice.
ED: What is good design in your eyes?
CT: To me good design is something that takes the functionality, aesthetics, and the audience into consideration when being crafted.
ED: What do you love most about your job?
CT: The people. My team is small but mighty and a lot of that might come from the passion and consideration they have for other people and their stories. It's a special place to work and I'm regularly reminded of that. The location is a pretty close second.
ED: Who are some of your biggest creative inspirations (in and outside of work)?
CT: Growing up in Southern California the DIY surf, skate, and custom car cultures played a huge role in my creative adventures. Old timers like Ed Roth and Rick Griffin were some of the early inspirations. Those evolved into people like Steve "Espo" Powers and Shepard Fairey. As I got more into the technical side of design I started to appreciate people like Aaron Draplin and Jessica Hische. Because of the academic environment I work in, inspiration inside of work is more curated. I tend to look at brands like NASA for data visualizations, Patagonia for videos, or the Surfrider Foundation for apparel.
ED: Why did your team choose to make enamel pins for this project? I know that we've also made buttons together in the past!
CT: As much as our Director's Office loves the cheeky plastic-free buttons we made, they needed something more formal for their audience. The gift also needed to fall into a specific budget range since many high level visitors can't accept gifts over a certain dollar amount. The hard enamel pins with a simple card back hit right in the sweet spot.
It was so great learning more about Chris and a big thank you to him for taking the time to speak with me! I can't wait to work together more in the future!
Read More