Our customers are truly the best! It is a joy for the team at Busy Beaver to work with all sorts of companies and individuals. One company we recently collaborated with was heritage boot brand, Thorogood. We had the opportunity to work closely with their Creative Lead, Brad Will, on some unique sticker packs. We had such a fun time with Brad that we asked him to take part in our customer interview series, Tattle-Tales. Check out our conversation below to learn about Brad's childhood aspirations, his take on creativity, and the songs you might catch him humming at any moment's notice.
ED: What is your position at Thorogood? How long have you been there?
BW: I currently hold the role of "Creative Lead" at Thorogood, and I've been part of the team for an exciting 6 years.
ED: Have you always worked in shoes/work-wear?
BW: Not at all! Before venturing into the footwear industry, I've had diverse experiences working in several ad agencies, a bank, and even an e-commerce selling office furniture.
ED: What's your go-to shoe/favorite style?
BW: For my everyday wear, I've been sticking to a casual shoe I've cherished since the 90s, which are some checkered slippers. But when it comes to work, my favorite style is the Thorogood 814-6201, a classic black Mac toe boot with a comfortable crepe wedge outsole.
ED: What was the use for the sticker packs we made together?
BW: The sticker packs were created by the fantastic team at Thorogood, with Anna's brilliant designs. As for me, I handled ordering them and creating the art for the card in the packs. These awesome sticker packs are sent out to everyone who registers their new boots with us, and we estimate that we've already sent around 10,000 packs, meaning almost 30,000 stickers have found their way into the world!
ED: What did you want to be when you were little?
BW: Back in kindergarten, my very first dream was to become an announcer at a race track. It might have had something to do with a toy of AJ Foyt I had at the time. And believe it or not, I also aspired to be a Magician at one point!
ED: What is good design in your eyes?
BW: In my eyes, good design is all about evoking emotions and inspiring action. It's not just about being just pretty, but about creating a connection that resonates with people.
ED: If you could design your own pair of custom shoes, picking out every single detail, what would they look like? Brad provided us with a sketch of said shoe.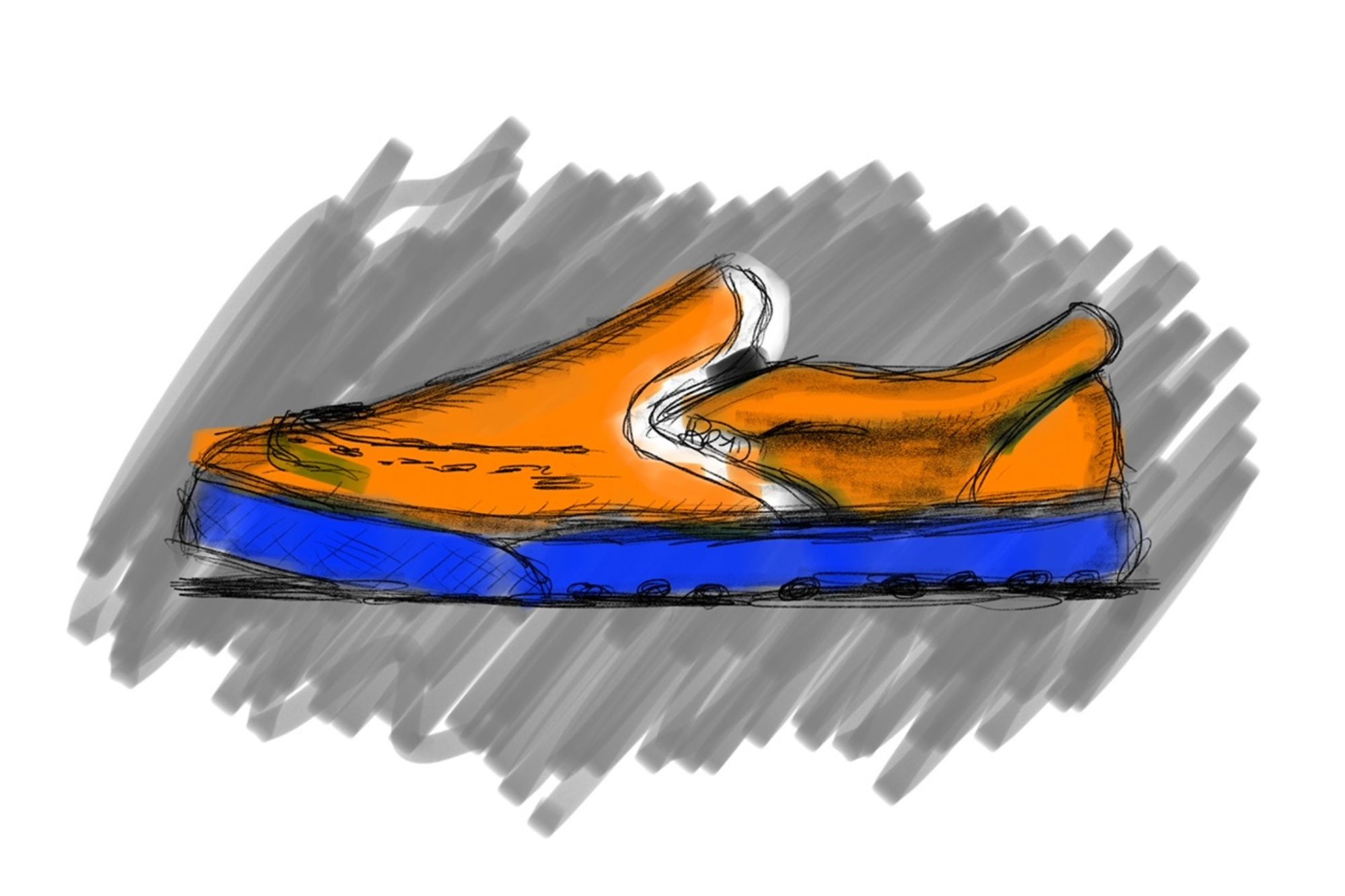 ED: What do you love most about your job?
BW: The best part of my job is taking on new challenges. Whether it's solving design problems or facing the ups and downs of daily life, I enjoy finding creative solutions and making a difference.
ED: Favorite song of the moment? Favorite kind of music to work to?
BW: It's tough to pick just one favorite, as I have a very diverse taste in music. However, if I were to guarantee a smile and singing from me, here are five songs:
Hanson - MMMBOP (such a beautiful song about life)
Unity - Operation Ivy
Laid - Better than Ezra (James Cover)
Starships - Nicki Minaj
And She Was - Talking Heads
ED: What current brands do you admire?
BW: I'm a huge fan of Volcom, Birdwell Beach Britches, and Jeep. Volcom nails it with their products, Birdwell's license plate patch has a fun connection to my name, and Jeep, despite its quirks, holds a special place in my heart as an iconic brand.
ED: What inspires your creative work?
BW: Everything around me inspires my creative work – my life experiences, the people I've met, insightful conversations, and fellow artists. I'm fortunate to have a supportive circle, even when my ideas venture into the unconventional. Creative work is all about problem-solving, drawing from life's wonders, both good and bad, and applying those experiences to create something truly remarkable. And, well, sometimes a touch of good old-fashioned Bullshit doesn't hurt!
Thanks again, Brad for taking the time to chat with me! If you're in the market for some new work boots, you know where to go!
Read More