Podcasts are one of the most accessible ways people tell stories nowadays, so it only makes sense that the medium itself has turned into a business for a lot of people. And as with any business venture, you have to make it sustainable. Enter buttons, the perfect way for podcasts in any genre to promote their message and mission past the speakers of their listeners.
From true crime to chats to true ladies, these four, diverse podcasts have used buttons in a variety of ways. Borrow these ideas for your own podcast, because they seem to be working!
Inside Jokes Make the Best Buttons
Every Thursday you can gather your best true-crime-loving friends, pour some fine glasses of Merlot, and pin on the six Wine and Crime official pinbacks as you tune in to heard comedy trio of Amanda, Kenyon, and Lucy delve into that week's crime stories theme.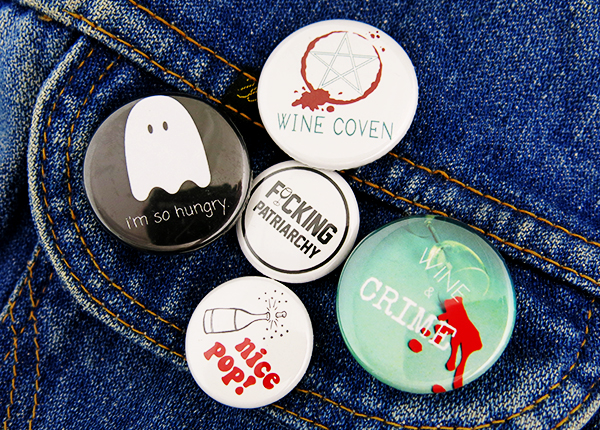 The six designs, which can be found in their online shop, feature long-running inside jokes made in the show. The Wine Coven, the name fans of the show have given themselves, are truly invested in the community and the buttons are a physical extension of that online camaraderie. Plus,why wouldn't you want a button with the podcast's tagline, "Nice Pop!"??
Encourage Donations
WBEZ's Nerdette Podcast brings the listener into a safe forum for nerding out and powering up, which is exactly what the show's creators Greta Johnsen and Tricia Bobeda emphasized with the release of their Power Up Bag and Topper. The button pack was part of the Nerdette swag that was a too-good-to-resist incentive available for a limited time when you made a donation to the podcast.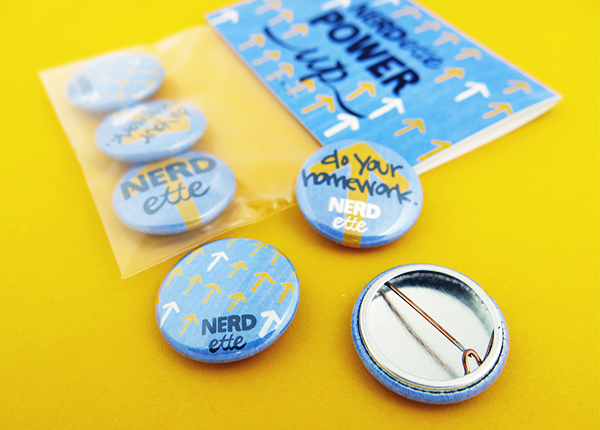 The button pack includes three 1 inch round buttons, two with the name of the Podcast and one that reads "Do Your Homework". "Do Your Homework" calls back to one of the show's most popular segments where guests share a thing they love and the hosts then ask listeners to follow in the guests' footsteps and try that thing.
Integrate Buttons into the Story
Creators Skip Bronkie and Zack Akers paved a new path for podcasts with the creation of Limetown. Upon its release in 2015, listeners had a difficult time discerning if the town and namesake of the podcast were based on factual events or if it was a work of fiction.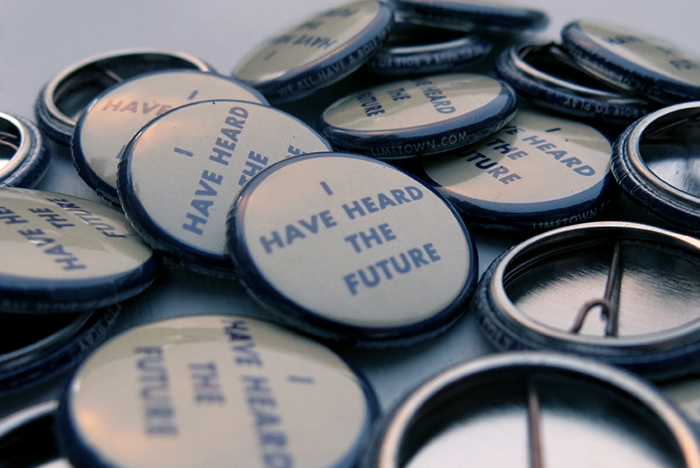 In their 5th episode of Limetown, the writer Dan Moyer pushed the boundaries of podcasting by injecting a piece of our real world into the fictitious audio tale. Within the episode, the button reading "I have heard the Future" was commissioned to be made as a small piece of propaganda. A pretty meta idea considering the button is actually used to spread the word about the podcast, is shown in promotional artwork, and was included limitedly in preorders for the prequel novel.
Live Show Giveaways and Memories
Call Your Girlfriend, the podcast started by the "long-distance besties" Ann Friedman and Aminatou Sow, encourages strengthening friendships (especially woman-to-woman) with conversations about politics, workplace dynamics, business shop talk, and of course their sparkling ideology "Shine Theory." Shine Theory, as described by Ann and Aminatou, is the concept and practice that women should "shine" together instead of competing against one another, that uplifting one another aids in the success for everyone involved.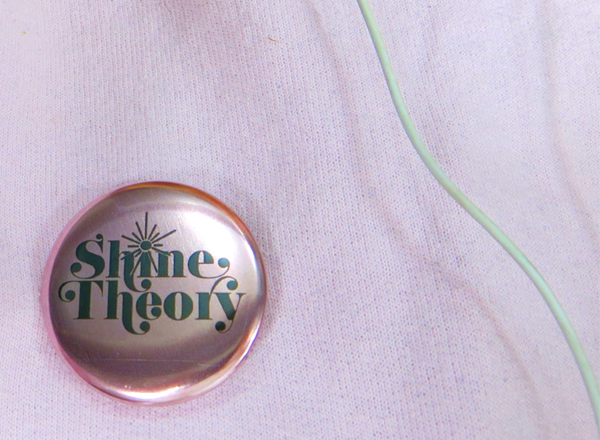 These limited edition pink, metallic finish, Shine Theory pins were giveaways at a few CYG live shows, but they also served as something larger. These personal mementos remind attendees that they are part of an amazing, supportive community.
Read More