It's February of 2004 and the secluded research facility known as Limetown in White County, Tennessee erupts in disarray. Emergency services are called to the remote location and yet none prevail past the gates due to the heavily guarded interior. Days later, the security team has mysteriously vanished.
"The gate to Limetown was left open. What the world discovered was the complete disappearance of every man, woman, and child in Limetown."
Ten years later American Public Radio host Lia Haddock asks the question once more, "What happened to the people of Limetown?"
If you're familiar with the latest podcasts to hit the iTunes' airwaves, you'll recognize that the above introduction is indeed a piece of the fictional story of Limetown created by the trio: Zack Akers, Skip Bronkie, and Dave Yim. Although I wouldn't feel too bad if you felt duped; after the first episode release in July of this year, many listeners quickly ran to Google, eager to verify if this was infact a real scientific facility nestled away in rural Tennessee.
Creator Skip Bronkie comments about taking traditional methods of story telling and bringing them to the modern era with a sci-fi twist:
"Limetown is trying to push podcasting beyond the ample amounts of traditional non-fiction journalism into a world of world-class fictional audio drama. Limetown is sort of a throwback, but also hopefully a sign of things to come in the podcasting industry."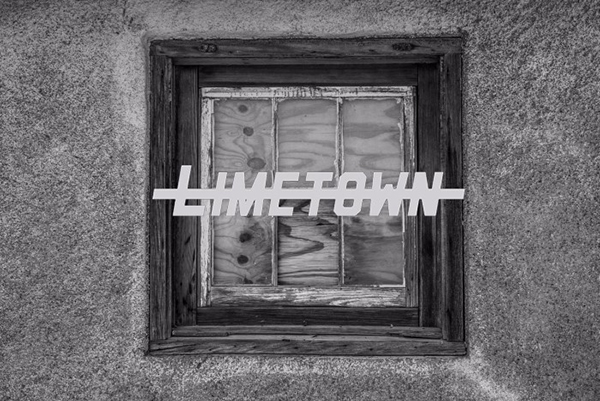 This ambiguity of real or fake became one of Limetown's most enticing elements that writer Dan Moyer pushed the boundaries of in today's release of Episode Five. This latest episode incorporates a lead scientist within the town who commissioned a series of buttons to match the original GM 1939 World's Fair Button "I Have Seen The Future." The newest chapter in the Limetown tale brings a piece of our real, tangible history into the fictional, audio realm of the podcast.
The idea to include a real-life token in Dan's writing came from his hobby of antiquing:
"The pin came about like this -- in addition to writing scripts, to pay the bills, I buy and sell various antiques, with an interest and focus on New York history. I was at an antique show and saw the original pin (given out at the 39 worlds fair at the entrance of the General Motors exhibit) and I really fell in love with it. Graphically, I just found it compelling. So I started looking for them, buying them on eBay whenever I could. I give them out to friends as gifts for birthdays and stuff. I have one I wear on my jacket. And I always wanted to put it in a script. I love that scene in the Truman Show when he sees Natasha McElhone's pin that read "How's it going to end?" It reminds me of that. So I threw it in! Hopefully it won't upset the antique pin market and I'll still be able to buy them cheap…"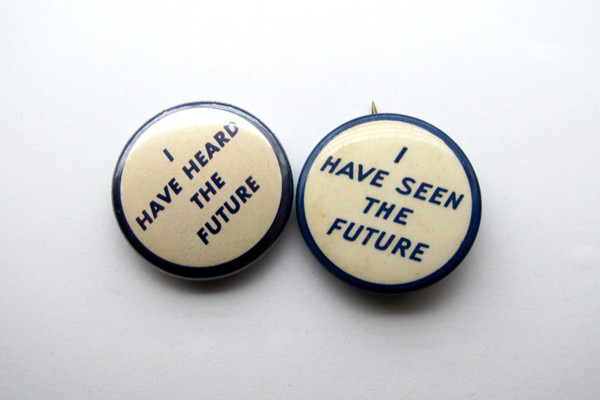 The play on words of the buttons created for Limetown, "I Have Heard The Future", perfectly capsulizes the show to its core and creates an intriguing visual for listeners to fixate on. Keep your eyes on Limetownstories.com for a merchandise shop to open soon—these buttons will be included in every order!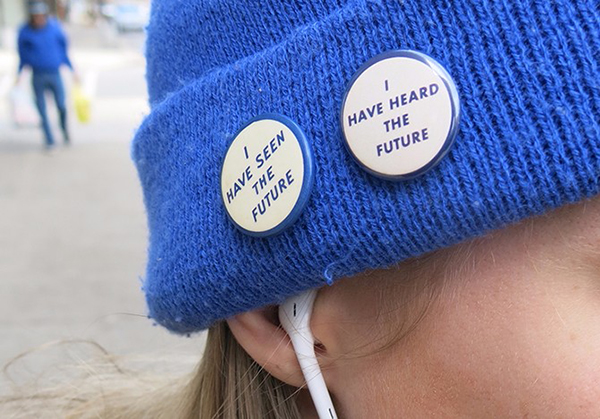 Start wearing your Limetown badge proud to help other's recognize that you too are learning the secrets to of this abandoned town.
Learn more about creating custom podcast merchandise.
Read More