Gold has always had associations of class, timelessness, achievement, luxury, and prestige. Lucky for you, we have three different techniques of achieving this elegant ware so you can get the most bling for your buck!

1. 24k Solid Gold Buttons/MagnetsPrice: $$$
Great to use for:Having a solid gold button is special— it's like finding the golden ticket in your candy bar. Businesses have used solid gold buttons to help with promotions, raffles, and to give that overall high-class aesthetic.
What you need to know:That's right, these little nuggets are 100% 24k gold buttons. These beauties are only available in our 1 inch round size and can be used for black or full color designs. Your artwork will be printed on a clear sheet, and laid over the metal of the button. Everything white in your design will then be completely see-through and the gold metal will be showing through. When designing for a gold button, bold is always better. A thick black print design will contrast nicely with the gold metal.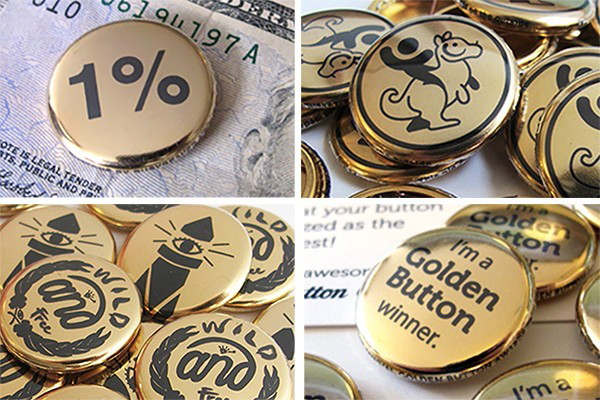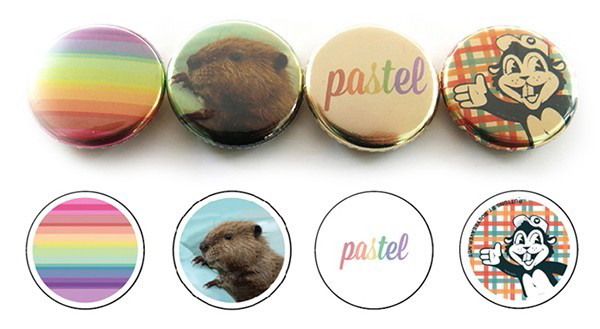 When considering a full color design, keep in mind that the gold of the button will alter, and darken the colors from your screen to pressed button.
2. Fake Gold Metallic Buttons/MagnetsPrice: $$
Great to use for:This option is also known as our Full Color Metallic finish and is a great way to cheat the system and get that metal shine on your buttons for less than the solid gold option.
What you need to know:When beginning the design process, know that you will be adding a special CMYK formulated background color as the background of your design. Don't worry, we'll let you in on this formula: 0% Cyan, 22% Magenta, 77% Yellow, and 0% Black. You're more than welcome to tamper with these values as well to create any shade desired for your pinback.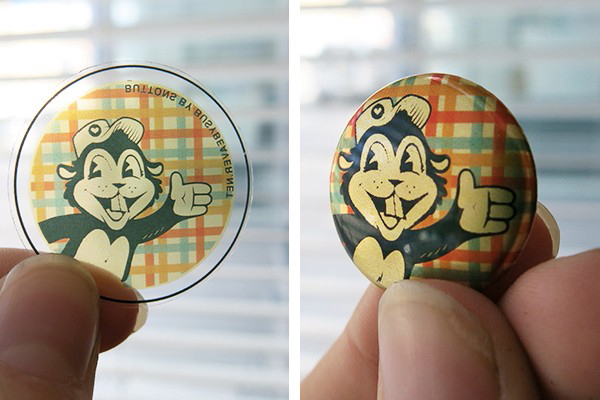 3. Gold Paper Buttons/MagnetsPrice:$
Great to use for: Gold paper buttons are great for large promotions. In 2014 a run of 24k gold buttons and Paper Gold buttons were used as hand-outs for their the outdoor public art experience known as "Folkestone Dig." The 24k gold buttons were a limited addition, but to make sure no one felt left out of the experience, a much more cost effect route of Gold Paper buttons were also distributed at the event.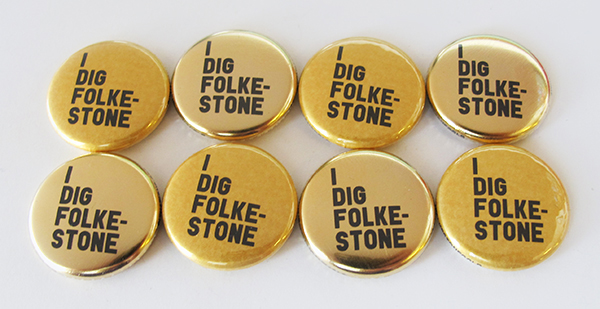 A black only design works best on our Gold Paper
What you need to know:These buttons are made differently from the two above. With our gold paper option, your artwork is printed directly onto our gold paper. This paper has a goldenrod color undertone, but is coated with a shine to still give you that golden feel. With this choice in gold, it can be designed for any shape or size.
If you consider these options before placing your order, you'll be golden Ponyboy!
Read More