At Busy Beaver, we pride ourselves on working with customers to make their craziest button ideas a reality. Even so, when Kristina Taylor reached out to us in September, her request was one of the more unusual: Help her propose to her boyfriend, Kumar.
Kristina explained that the request came out of the couple's first date story-- After meeting at a bar down the street from Busy Beaver, their very first kiss happened in our entryway. "We walked from Scofflaw to Marble," Kristina said, "And he pulled me under your store for a kiss. Since that date, we always joked about kissing in front of a button store!"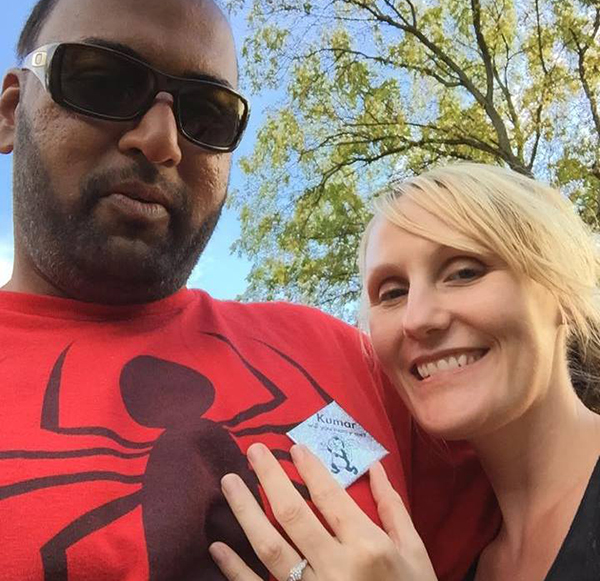 Kristin and Kumar's relationship developed into something more serious and after a few years together, the couple began talking about marriage. Kristina said that Kumar "kept saying I should propose to him." She decided that was exactly what she wanted to do and set to work planning the perfect proposal. "I was trying to think of a creative way that was also sweet and incorporated some of our history together, " Kristina said. She kept coming back to that first date and first kiss, and "that was what made me think of using a button and having the Busy Beaver logo proposing on it."
Kristing called us back in September and pitched the idea of designing proposing beaver on a 2" sparkle diamond button (a diamond-- get it?). Kristin and Busy Beaver's designer, Natalie, worked together to prefect the Beaver down on one knee holding a gold ring, with the button to be presented inside a jewelry box for the full effect.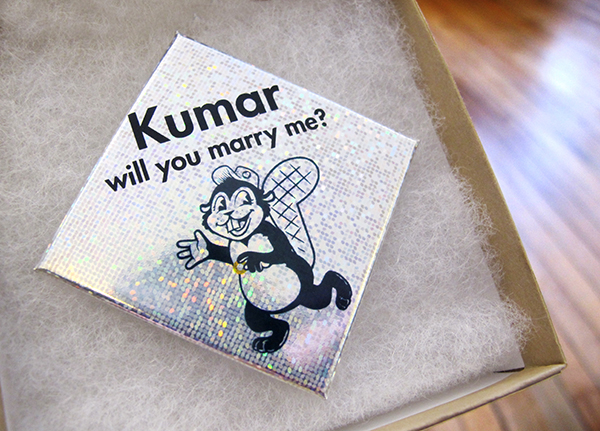 "My plan was to casually mention stopping for a drink at Marble and then take him over to the front of your store and proposing." Kristin's designs were foiled, however-- but in the best possible way.
"He beat me to it!" she said. Kumar surprised her with a proposal to her in front of Kristin's family. "Luckily, I had been carrying the button around with me, just in case I could find a good time or think of a casual reason to be near [Busy Beaver]." After Kumar proposed, Kristin pulled out the button and presented it to him.
"He laughed when he saw the button," she remembered. "He was surprised that I had actually been thinking of proposing... and cuouldn't get over that I had contacted Busy Beaver and that you had been so helpful in making the button. He wore the button all day and sent pics to his friends and family."
"He said yes!" isn't a common subject line for work-related emails, but I can report that the Beaver crew were all thrilled to hear back from Kristin that the button got her the answer she wanted, even if Kumar technically asked first.
Kristina said, "It was very fun and I cannot thank you enough for helping me with the design of the button. We both got diamonds that day!"
Read More