Coming up with a wedding reception seating plan is no easy task. Creating a mix of people who will have something to talk about at each table, all the while making sure that your single friends don't accidentally end up sitting at a table full of distant cousins. Once all the arranging is over, you then have to figure out how to actually get people where they're supposed to be. That's where escort cards come in!
Buttons can be a great addition to escort cards for any wedding. Instead of using something that'll just end up in the trash at the end of the night, buttons are festive and wearable and become instant keepsakes.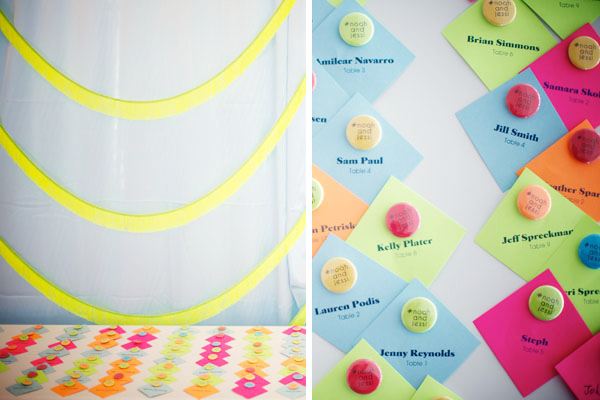 Neon escort card buttons from Noah + Jessi's wedding via Brooklyn Bride.
One of the most cost effective ways to create button escort cards is to make button flat packs. Our single 1.25" round button flat pack is a great option for this, but packaging options can be customized to just about any card/button combo you can imagine, so feel free to contact us with your ideas!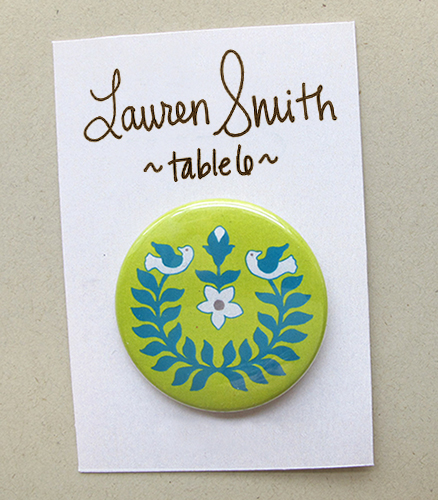 With our standard flat packs, each button and backer will be the same. To make the identical packs into individual escort cards, simply leave space in your backer design so that guest's names and table numbers can be hand-written on each card. Bonus points for using a calligrapher with fancy handwriting! Since our minimum run is just 50 packs, larger wedding can even mix up a few different combinations—50 green packs, 50 red packs, 50 yellow packs.
One note: We often have customers ask about creating individual buttons with each guest's name. This is a possibility, but because the nature of our production is to work in bulk, making buttons that are each different is more costly. Individualized backer cards are a bit more cost effective, but if either option is something you're interested in, feel free to contact us for a quote.
Not sure what to do for your button or backer card design? Here's a few of our favorite tips--
1. Think of the button as a wearable keepsake.
Buttons that your guests will want to wear at the wedding and beyond will have the most staying power. Look for designs that match your personality, but would also be something your friends and family would want to pin onto their favorite jacket. That way they'll take you with them everyday and think about how great a party you threw!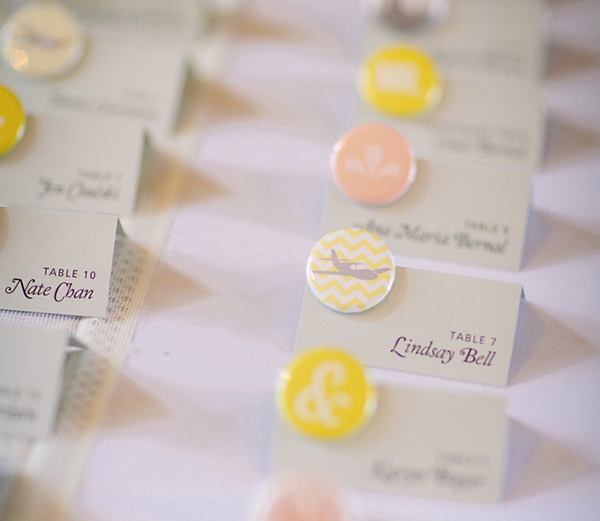 2. Match Your Style
Buttons are great for weddings because they're little blank canvases. The design can express whatever feel you're going for on the big day, whether you're getting married in a field or a cathedral. Old photos, new photos, clip art, custom illustrations, patterns, designs, the sky's the limit on the artwork you use. (Need a little creating what you want? Our design services are a great option, too.)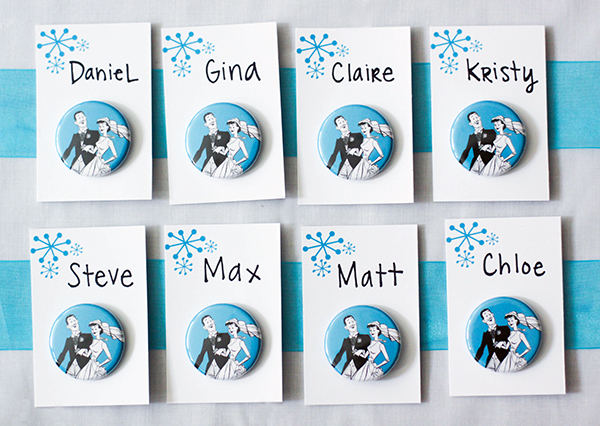 3. Get Clever!
After the ceremony, before the reception-- that's when guests will be searching out their escort cards. Give them something to talk about in that down time. Clever button designs or interactive ways of handing them out give your guests something to do while they mingle.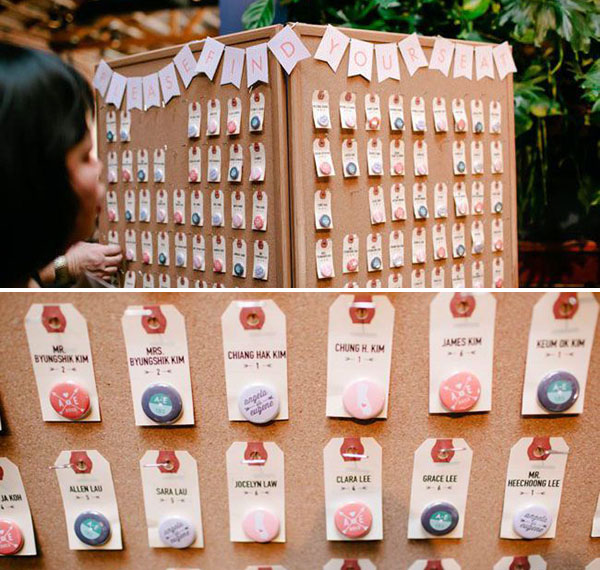 Fun escort card display via Green Wedding Shoes.
Feeling inspired? Start your custom packaging order now or contact us with your ideas and we're happy to help come up with options that work for your vision and budget.
Read More