Angela Wator believes that everyday is occasion for a party. This belief soon turned into the foundation for her new business, Bash Party Goods. Bash, an idea that sprung from Wator's love of throwing a good shindig, quickly evolved it into a distinctive, colorful line of paper party goods. The line includes custom plates, napkins, hand-cut confetti, pinatas, straws, and cups, but extends even further to include classic party essentials like candles, balloons, dinnerware, and even custom buttons.
In Bash's second year, Angela teamed up with stationery friends Anne and Kate, as well as Elaine Frei of Luft Balloons, to embark on a new a brick and mortar adventure. In a fortunate coincidence, Busy Beaver was moving down the street, just as the group of gala-loving ladies decided to search for a space. A few signed papers, and a fresh coat of pink paint later, the creative ladies opened up a unique studio and event space in Busy Beaver's old shop: The Festive Collective.
We caught up with Angela to hear more about how her passion for parties has evolved from home-business to beautiful storefront:
2017 has already been a big year for you with the opening of your new event space. Can you talk a little bit about how you got the idea to form your own line of party goods?
I've been throwing crazy parties for as long as I can remember, and I could never find paper party goods that I liked. Entertaining is a huge industry, and yet the products available in party stores were still basically the same items that had been around in the early 80's. Two years ago, I decided I was sick of waiting for someone to design plates I would want to buy, and I took matters into my own hands.Five months later, my entire dining room was filled with boxes of of paper plates, and everything took off from there!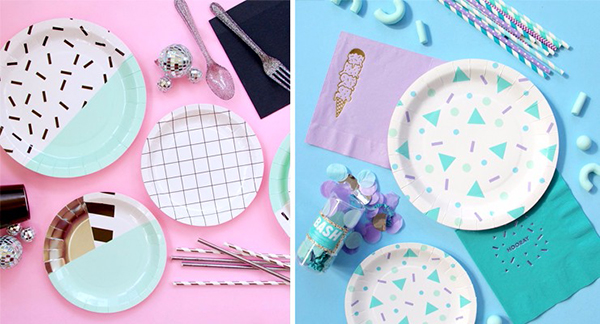 How did you meet the other parts of the Festive Collective (Anne & Kate and Luft Balloons) and how did the idea of a storefront come to mind?
I met Kate at the National Stationery Show, and Elaine emailed me over the summer and introduced herself. During a coffee and pie meeting with Elaine, and she mentioned she would love to split a photography space with Bash. A few days later, I met up with Kate, and she mentioned that she was also looking to move her studio/office outside of her home. I desperately needed more warehouse space for Bash, and I had always wanted to have a storefront for my Chicago customers to visit, so it seemed like a perfect fit for all of us! I couldn't get the old Busy Beaver building out of my mind, so we decided to move in and make it happen.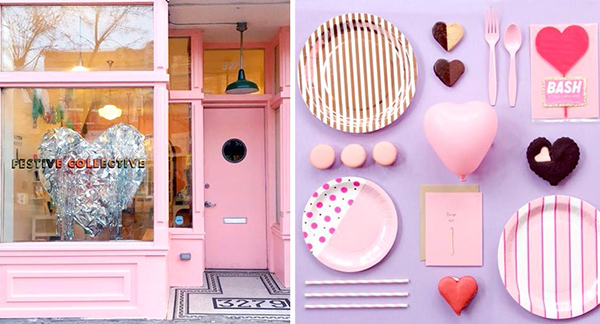 Can you tell me a little bit about your background? Be it creative, festive, or both?
I studied illustration in college, but I've always explored a ton of different creative outlets, from fashion to interiors. I worked as a freelance designer until I fell into a career as a visual merchandiser, and I instantly fell in love with creating retail environments. It's easy to slip into autopilot when you're only concentrating on one type of design, and when you're working with a constantly evolving space like retail, you have to crank out new creative solutions on a daily basis. It's a bit exhausting, but it beats being bored!
How do custom made buttons fit into the party aesthetic you're creating with Bash?
I think of buttons as the perfect modern party favor. I love going to events in the neighborhood and walking away with a fun button pin, and it's awesome that a tiny one inch circle can remind you of a great night for years to come. I have a friend who used to design special buttons for every little party I threw, and it's super special when I see someone still wearing one of them.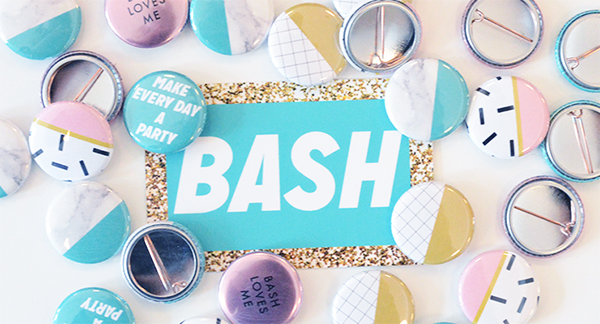 I am curious: in the eyes of Angela Wator, makes a good party?
For me, it's all about creating an environment that is drastically different from the day-to-day world. I like to hide a bunch of weird little details and surprises throughout the space so people start exploring. Everyone acts differently when they feel out of their element, and I think that's where all the real fun happens. I once threw a full-blown surprise funeral (casket, floral stands, and all) for a friend who was moving to Milwaukee, and it was one of my favorite parties ever because the mood was so, so strange and surreal.
What do you all have planned for The Festive Collective and Bash Party Goods in 2017?
So many things!!! I'll be leading some creative and crafting workshops at Festive Collective starting in February, and the space is also available to rent out for events. Aside from that, we have a ton of big plans for collaborative installations. We're also hosting rotating charity drives where donated items are traded in for discounts to the shop, and we really want to get involved in our awesome community from the beginning.
We're releasing our first collaborative Festive project for Valentine's Day- a gift that is available for same-day delivery through UberRush features Luft balloons, a screen-printed valentine from Anne & Kate, and the special Bash Valentine button pack! We're planning on releasing more fun delivery packages like this throughout the year.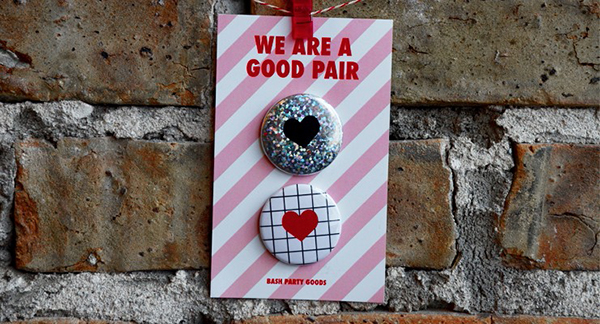 Bash, meanwhile, is going to keep branching off in new directions- we introduced our first gift wrap and stationery line last year, and we will continue exploring new categories in 2017...including, of course, more custom pin buttons!
—
Bash Party Goods and The Festive Collective officially opened their doors last month and have already been filling their calendar with events. If you're looking to learn from the party experts (and if you're curious what the ol' Beaver Dam looks like now) take a look at the workshops available at The Festive Collective's website.
Read More