Matthew Hoffman thinks you are beautiful, and chances are he has found a way to tell you this. He coined the message 'You Are Beautiful' as a standalone work of art in the Windy City 14 years ago and the inspiring phrase has spread throughout the globe via stickers, billboards, murals, art installations and custom buttons ever since.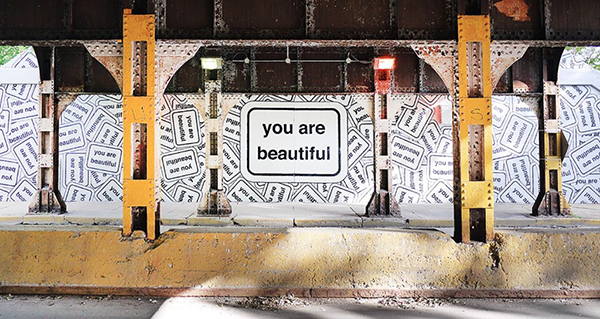 photo courtesy of you-are-beautiful.com
Although the slogan has been shared in surprisingly creative ways, Hoffman finds that the distinct, versatile appeal of personalized buttons is a timeless vehicle for sharing his vision.
"[Buttons go] great with everything," Hoffman says. "You can put them on your messenger bag, your vintage jean jacket, or your favorite comfy T shirt. In other words, you can put them anywhere, and reuse them to your heart's content. It makes it the perfect little addition."
When it comes to presenting his statement in just the right way, Hoffman relies on Chicago-based Busy Beaver to deliver custom buttons consistent with his brand and worthy of his message. The results are always— dare we say it —beautiful.
"I love that you can print on clear material, and let the metal of the button show through. Black and silver, that's all we need," Hoffman says.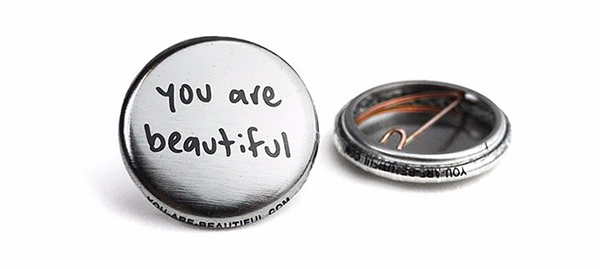 photo courtesy of you-are-beautiful.com
Hoffman has Busy Beaver to thank for getting those three powerful words on buttons at all: it was Busy Beaver who pioneered the idea not long after You Are Beautiful's inception.
"Busy Beaver sponsored a big You Are Beautiful art show, and brought a thousand buttons for us. To that point, we had never done buttons," Hoffman says. "They were so wildly popular (every single one was gone on opening night) we obviously put in an order for them. Since then, we've worked through three or four designs, and printed a bunch of shiny buttons."
To say that the You Are Beautiful message has caught on in the past decade would be an understatement: more than three million stickers have been printed in 100 languages throughout the world, and the words have a continuously inspiring effect that transcends geographies and cultures. Some of the installations that feature You Are Beautiful are permanent works of art, and others, while temporary, have been manifested in unforgettable ways. For example, a 2005 project for Reed College in Portland coalesced with hundreds of people standing together to form the phrase from a bird's-eye view, spanning 250 by 500 square feet.
Others have traversed the globe with Hoffman's stickers and custom buttons, attaching and photographing them to more exotic locations than the gnome in the movie Amélie. These stories have generated flurries of press about the project, but Hoffman cares most about the personal way in which they affect the individuals who interact with them.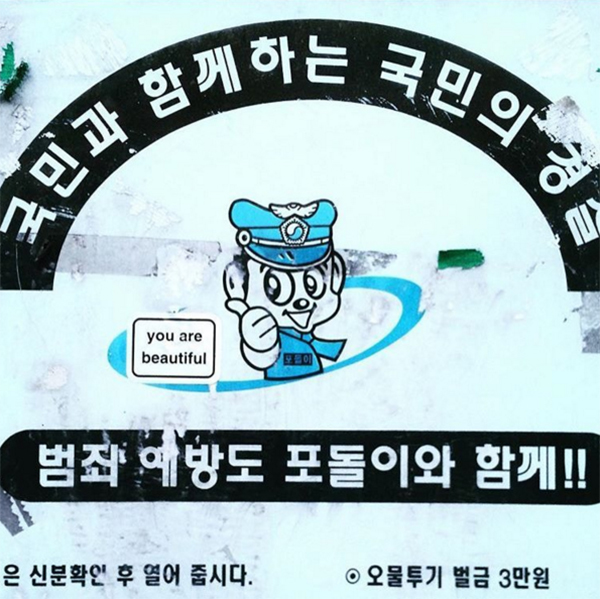 You Are Beautiful Sticker photographed in Seoul, Korea. Courtesy of instagram.com/yabsticker
"It is so rewarding to hear about the journey of a sticker or a button, to learn who the giver and receiver was, and to know more about the interaction," Hoffman says. "Sometimes it's a small little thing, but occasionally that experience can be life-changing. It feels good to know we've done something small that is able to give forward like that. It makes it all worth it."
It's evident that giving back is of the highest priority to Hoffman. Not only does it inspire his message; it affects with whom he chooses to do business. Busy Beaver's mission and community investment makes the local company a natural choice for Hoffman.
"I love Busy Beaver," Hoffman says. "You can tell that they care. To know that they're a fellow small business in Chicago, employing people and turning people's art into products — I'm not sure how you can get better than that. There's a lot of trust there, because you know they're going to work hard on making your stuff look good."
Read More