Last June the Shedd Aquarium welcomed the newest member of their dolphin family: a Pacific White-Sided Dolphin male calf. After six months of acclimating to his new home, it was time to give this calf a name. The team at the aquarium came up with two Hawaiian names—Makoa (meaning fearless) or Kolohe (meaning rascal)— but deciding between the two names was a task the Shedd Aquarium decided to leave up to the public.
The Naming Contest kicked off December 9 th with a special broadcast from ABC 7 News. The network also hosted a live "dolphin cam" the entire week of the contest to allow viewers to see the personality of this unnamed little one. The public was urged to vote online and to proudly share their decision on social media with the hashtag #NametheDolphin to let everyone know if they're on #TeamMakoa or #TeamKolohe.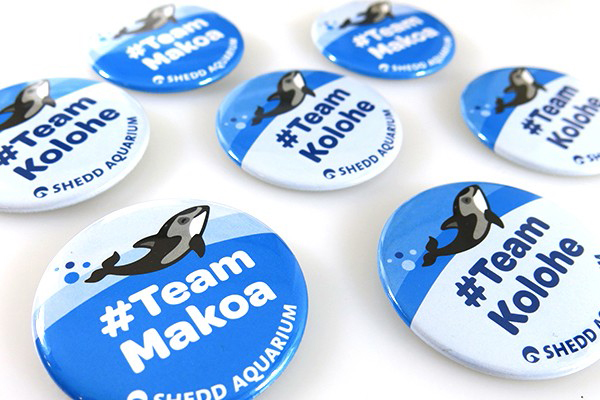 Inside the aquarium, a different technique was used to vote. Staff members of the Shedd were encouraged to choose the button with the name they thought best fit the little flipper's personality. The buttons became a talking point not only around the water cooler, but also among the community of aquarium goers as they learned about the contest.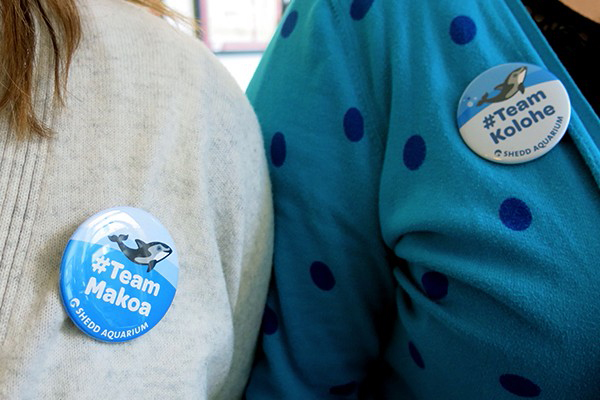 "They are fun for our staff—since there are two names, we had two different buttons made. It has been fun for our staff to "pick sides" and predict the winning name," said Haley Donahue, Marketing Communications Assistant and the Shedd.
At the end of the week-long contest, over 3,500 individuals had cast their vote online and by an overwhelming lead the dolphin calf had a name: Makoa.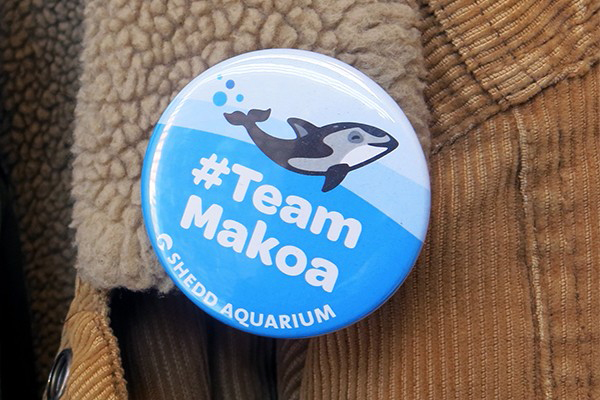 The Shedd Aquarium has used buttons in the past as promotional handouts for guests or designed a special button to build buzz around new exhibits. The aquarium also takes advantage of the use of buttons not only to be marine related but also topical. Such as their button for leading up to the Pride Parade which read, "Toadally Proud." Using these dolphin buttons as a device to decide on a baby's name shows the aquarium's ingenuity and cleverness...and how darn cute that Makoa is!
Feeling inspired? Learn more about custom museum merchandise today!
Read More