Not only is gun violence prevention one of the most polarizing issues in America right now, it's also one of the most ubiquitous. According to Everytown for Gun Safety, "everyday 93 Americans are killed with guns, and hundreds more are injured". With that kind of magnitude, gun safety and gun violence prevention are issues important to every community in the US.
The organization, Everytown, is a "movement of Americans" working to make safer communities in America through common-sense gun safety laws. The organization is starting conversations about gun safety and anti-gun violence all across the country.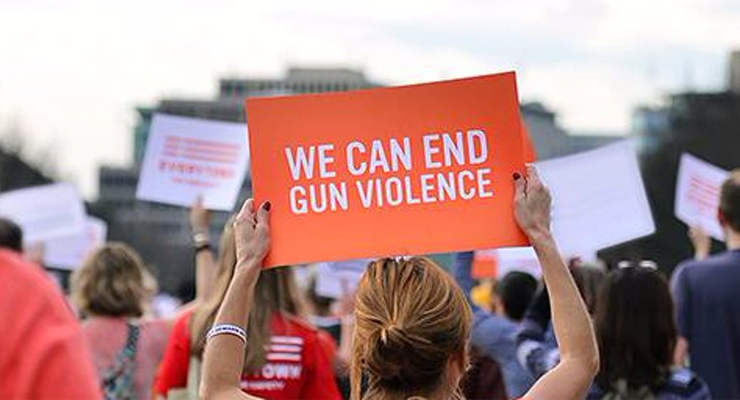 photo: everytown.org
We talked to Sophie Yan, Everytown's Manager of Cultural Engagement, to learn more about how the organization approaches a historically sensitive subject through events, lobbyist campaigns, and even buttons.
Busy Beaver: Tell me more about how Everytown was originally formed and what is the organization's mission today.
Sophie: Formed in 2013, Everytown is a grassroots movement of Americans working together to end gun violence and build safer communities. More than 3 million mayors, moms, cops, teachers, survivors, gun owners, and everyday Americans have come together to make their own communities safer. Together, we are fighting for the public safety measures that respect the Second Amendment and help save lives.
Busy Beaver: As you know Sophie, at Busy Beaver we believe that sharing your opinion through a button can help start conversations. How does Everytown start conversations?
Sophie: Though gun extremists are loud, we are louder. We introduce to Americans the simple concept of gun sense -- that we can do more to keep our families and communities safe.
Additionally, research shows that we are not alone. Polls consistently show that more than 90 percent of Americans - including an overwhelming majority of gun owners - support criminal background checks on all gun sales. We are the majority.
We also start conversations that acknowledge other facts and figures, including: our gun murder rate in the U.S. is 25 times that of other developed nations. And of course, wearing a pin can start the conversation and help remind others that we do not have to accept this uniquely American problem as our new normal, and that there is more we can do.
Busy Beaver: Equipped with this knowledge, how can America use facts about gun safety to "disarm hate?"
Sophie: Hate affects most marginalized groups in this country, and when it comes armed, it can be deadly. The rate of hate crimes in our country reminds us that it is far too easy for hateful people to get guns in our country. There are nearly 300,000 hate crimes per year in the United States, 8,000 of which involve a gun – more than 20 each day. And with a reported increase of hate-fueled attacks and rhetoric targeting the most marginalized in our society in recent years, the time to disarm hate is now.
Busy Beaver: How does Everytown work with lawmakers to pass common-sense laws and policies that save lives?
Sophie: Everytown is a non-partisan movement of Americans demanding that our lawmakers prioritize public safety over the gun lobby's agenda of "guns everywhere, for anyone." We continue to visit statehouses across the country, to let our lawmakers know that we are concerned about guns being forced into sensitive areas such as schools and parks. We vote for laws and politicians that support common-sense efforts to reduce gun violence, and strengthen our gun laws.
—
Gun violence in the United States is something worthy of our conversation and time, which is why we asked Everytown for Gun Safety to curate our 2017 Button-O-Matic Series. Our hope is that the series of buttons will help further the gun safety conversations across America. Starting conversations to make change is something Everytown for Gun Safety and Busy Beaver strongly believe in and being a Chicago business, we hope this artist series sparks change within our own communities.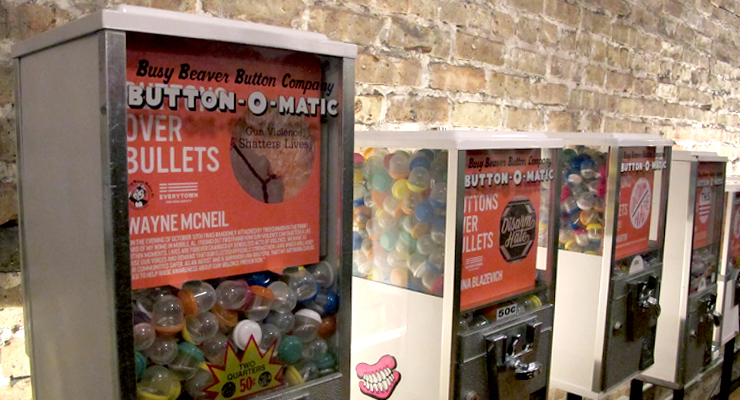 Find out the 7 ways you can act and be involved today, to get the conversation about gun safety started in your community.
Read More