Reduce, Reuse, Recycle. Three important words to live by. It's easy to apply these tenets to office paper and lunchtime soda cans, but how do they relate to your marketing efforts?
Not every promotion can be done online or through social media; sometimes the best way to get the word out is by giving away branded items. Giving out small gifts is one of the easiest and cost effective ways to get noticed at trade shows and events. But with custom products comes concerns about how the manufacturing of those products will affect the environment. No one wants their tradeshow giveaway to harm the planet!
So how can you make sure that your custom products are made in an environmentally friendly way?
As the world's only solar powered and geothermal button factory, Busy Beaver has years of experience making buttons, magnets, and packaging in an environmentally friendly and sustainable way. We've gathered info from other custom product manufacturers and included some of our own practices to bring you the Ultimate Guide to Eco Friendly Swag:
Tip #1: Pick the Right Giveaway
Which product you choose to customize can affect how green your promotion will be.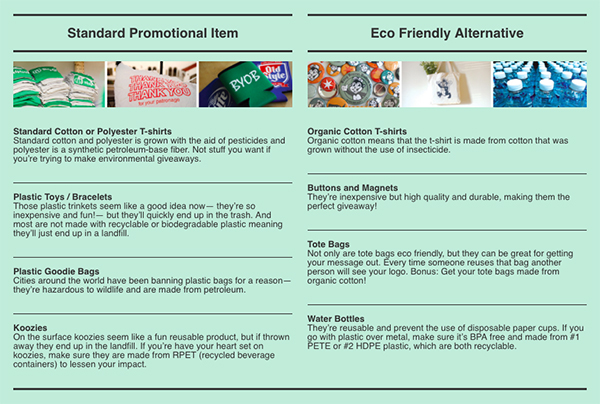 Tip #2: Ask the Right Questions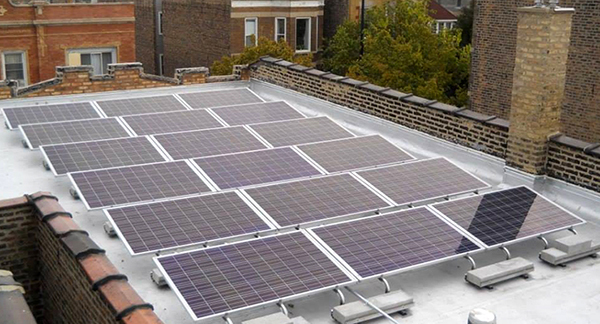 Green manufacturing is such a wide umbrella: it can mean anything using recycled paper to actively minimizing natural resource use. A lot of companies claim to be green, but some are more eco friendly than others. Here are a few questions to ask the folks making your swag to insure that they you're getting eco friendly giveaways:
What is it made of?
If green is your ultimate goal, you'll want to consider products made from post-consumer, organic, recycled or naturally compostable material. The goal is for the item to be reusable, but if it does end up in the trash pile these materials will make the products easier to recycle. Many t-shirts and totes can be made from organic cotton and even certain plastics and metals can be recycled— Busy Beaver uses button parts made from recycled steel, for example— so just be sure to ask your manufacturer about their materials.


Where is it made?
We all strive for local, but most folks don't have a button factory in their neighborhood. If you can't find a resource in your town, another thing to consider is whether it's made in the USA or overseas. Some energy will be expended in shipping if you're in Arizona ordering buttons from Busy Beaver in Chicago, but it's far fewer resources than ordering buttons from a company that produces them in China.





How is it made?
Does the manufacturer utilize green energy tactics like solar power or geothermal? Do they make efforts to reduce production waste? Even something as simple as buying their materials locally will make the manufacturing process more environmentally friendly. Ask your manufacturer what steps they take to ensure that their processes are as energy efficient as possible.
Tip #3: Think About Reach and Longevity
Is there a way to extend the life of your campaign? Get creative and think of ways to use your sustainable giveaways to spread reach beyond the day of the event. Wearables are an easy solution: a branded t-shirt or button worn on a jacket will reach more than just the person wearing it.
And be sure to include your website url or a QR code. Having that printed on the giveaway will direct folks online. Your online campaign will reinforce your original message without any further physical materials.
Read More