Image resolution can make the difference between a crisp, clear image and blurry, pixelated buttons. If you're new to all this resolution mumbo jumbo, here's the deal: resolution, in a nutshell, is how many dots of information your image has. High resolution means lots of info/lots of dots (and usually a large image). Low resolution images have less visual information so they're small and great for viewing on screen, but won't work as well to print as buttons.
Busy Beaver asks for artwork that's 300 dpi resolution (DPI = dots per inch) and at least as large as the button you're making (so 1" x 1" image for a 1" button). Why is this so important? Check out these examples to see the difference between printing high and low resolution images.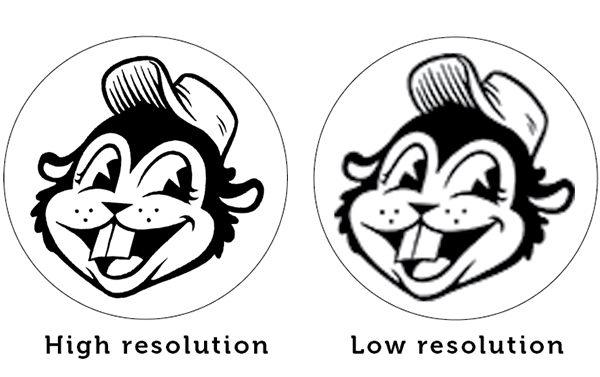 The Beaver up there wants to be on a 1.25" button. In the example on the left we used a high resolution image, and you can see that it looks great. The example on the right was made using a smaller, low resolution image, which turned out pretty pixelated and blurry. Definitely not the beaver we want to print.
When it comes to resolution, photos can be a bit more forgiving. Here's an example featuring the Beaver hanging out at a recent party.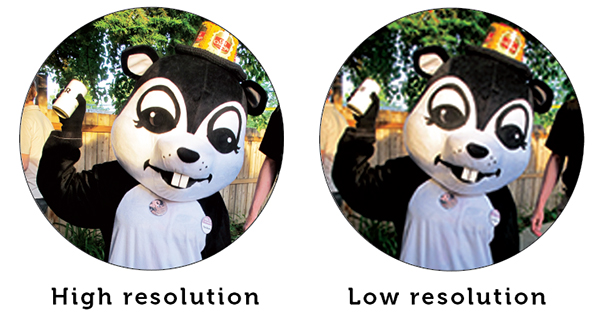 The example on the left makes a great looking button-- the photo used was high resolution so the image is crisp and clear. If you look closely at the example on the right, it has a softer look to it. The photo used in the second image was lower resolution so while you can still tell it's the Beaver partying down, the quality isn't quite as high. Small, low res photos can work but will be a little lower quality than a high res photo.
If the only artwork you have to make your buttons is low res, never fear! Graphics can be recreated using our design services, or you can try switching to a smaller button size. If you're unsure about something, you can even email us your artwork at orders@busybeaver.net and we're happy to offer suggestions for how to make your buttons their best!
Read More