It's almost Table Season! Comic artists across the country are gearing up to sell at comic conventions, art fairs, and zine fests. But in the sea of vendors, how do you get noticed?
I've reached out to some folks in the comic and art world that are constantly reinventing their table space for conventions. These artists have been there and done that and are happy to share what they've learned.
Plus, I've added a few tips from my own experience. (Not only do I manage Busy Beaver's social media, but I'm also a comic artist from Chicago who's been exhibiting my work nationally, plus Canada, for the last 3 years).
So whether you're a seasoned pro or you're looking to apply to your first convention to sell your comics, check out these 7 tips from comic experts.
1. Make Your Table a Storefront
Since most of these comic and art shows require you to pay a table fee, you might as well make the most of your investment and utilize the table space as your storefront or comic shop. I suggest synchronizing your table's appearance so it compliments your artwork or the vibe you're trying to relay.
A good place to start would be to find a tablecloth that helps your work stand out. You'll also need to consider how your books or prints will be displayed. Generic bookstands are easy to come by on Amazon. I've personally customized my own stands by painting them to match colors in my brand and they get the job done to advertise my comic books for sale. Or, you can take your table's look to the next level like comic artist Luke Howard and create "thematic" book stands.
"I want the stand itself to emphasize something about the book," says Luke. "So for my book Talk Dirty To Me from Adhouse Books, I usually use some kind of phone design that holds the book up. The book is centered around this character trying to get a job at a sex hotline, so the stand itself supports that theme.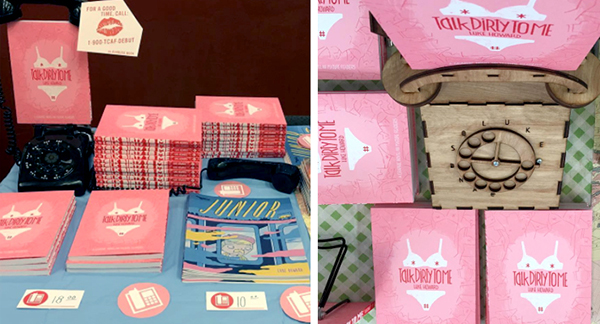 Luke Howard's "Talk Dirty to Me" table set up.
2. Your Table is Your Portfolio
Conventions are a time to show new people, other creators, art directors, comic book buyers, and publishers exactly the type of work you're currently making and to give them a taste of what direction you're planning to move your artwork. Creating a unique line of different items like books, prints, zines, mini comics, buttons, or stickers gives patrons an idea of how your artwork will look and feel in each medium.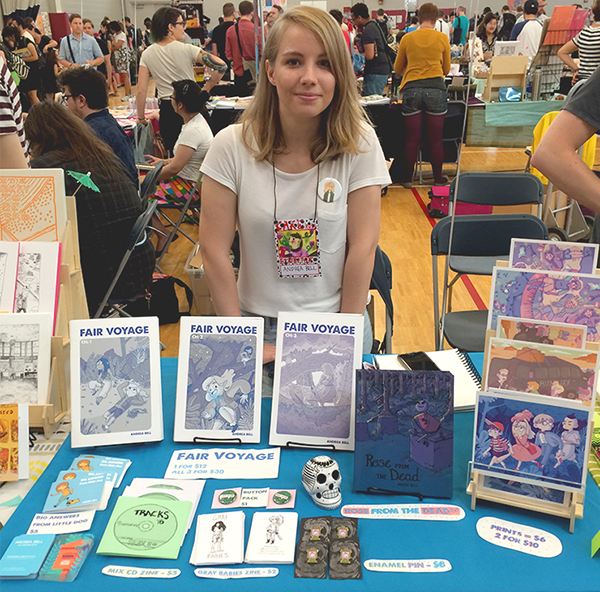 Ashley Erickson of Cloverkin, a.k.a the friendly blonde elf you'll see at comic conventions across the US, compares using your table set up to that of arranging your portfolio. "Similar to a portfolio, quality over quantity," she says. "It all depends on your end game of what you want to get out of conventions: money, recognition, or jobs. Each of those things would have a different sort of arrangement based on what you need to get out of it."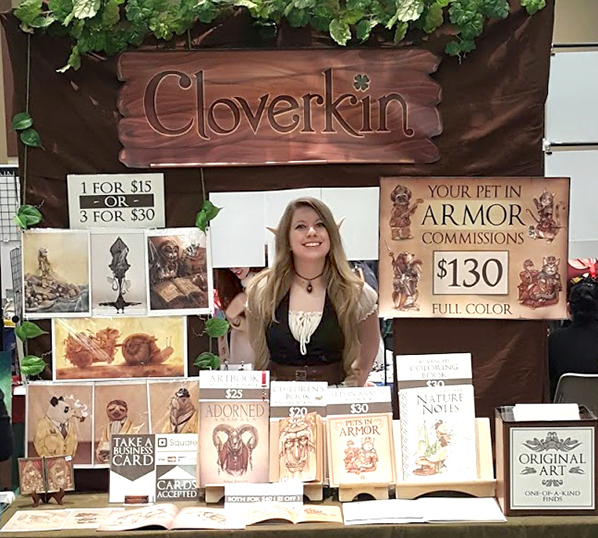 Ashley Erickson (Cloverkin)'s tree-inspired storefront.
3. Create an Inviting Layout + Be Ready to Engage
It can be nerve racking waiting for people to approach your table. Calling people over from across the aisle to sell comic books might not be your speed, but you also want to make sure you look approachable and not "too busy" to talk to someone who might wonder over to get a closer look at your work.
A way your table can seem more inviting is to arrange a visual hierarchy. Use the vertical space around your table and hang all of your prints that are for sale. That way, your artwork is in eyesight above the heads of the crowd.
Lucky Juice Press, a North American doujinshi circle created by Lucid and Jack, recall their first shows: "Both of us had almost nothing vertical for our first tables! Our tabling experience has taken off into the stratosphere at this point. We went from nothing to almost everything! We even added plushies this year."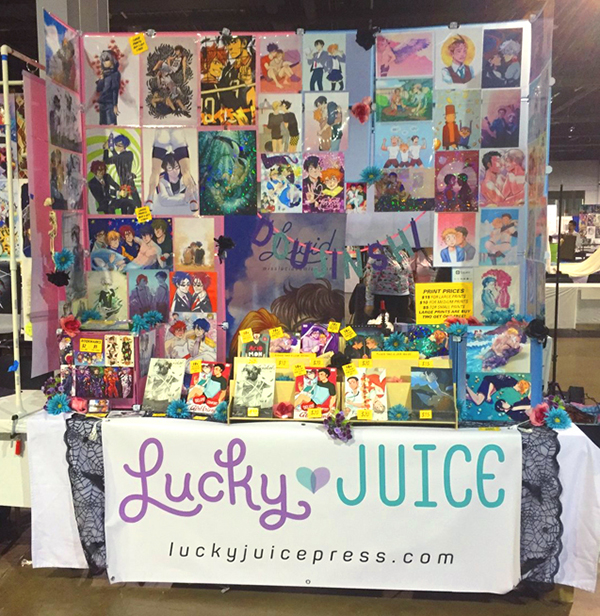 Lucky Juice Press' 2016 ACEN table display.
Another suggestion for your books and comics for sale: have your books on display up right so they face out to the crowd to draw people in, but also have a book laying on the table so that when that someone wonders over, they can easily pick up your books and flip through.
"From a business standpoint, getting a potential customer to actually hold an item increases the likelihood they will buy it," says Julie Wilmore. Julie's tabled at a variety of shows from large comic shows like C2E2 to outdoor street markets. "It makes them visualize what it would be like to own it. I am often picking up a print someone is eyeing and handing it to them while I tell them some background on the piece. Having all my prints front and center is vital for this interaction and ease of communication."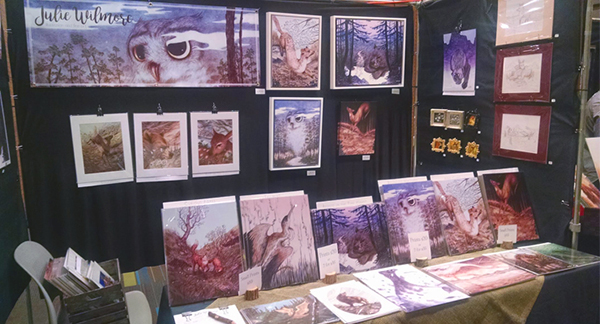 Julie Wilmore's full table set up.
4. Banners, Signs, Price Labels
Sensory overload can happen really easily at these shows: they can get crowded quickly and this can make people try to move quickly through all the artists' tables. Having clear and concise banners, signs, and price labels can help your work standout while answering a potential customer's question before they even say hello.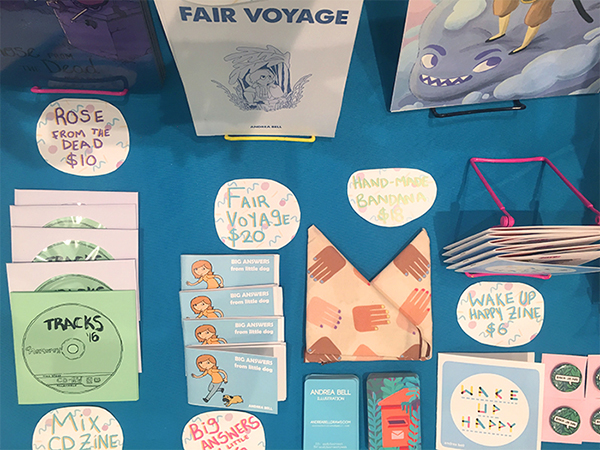 Clear, concise, and branded price labels.
Consider designing and purchasing a banner for your larger shows. They're great for a number of reasons:
Another canvas to showcase your artwork on
Adds height to your "visual hierarchy"
Allows guests using a program or map to find you more quickly
Encloses your "storefront" so guests aren't looking past your you/your work when they stop at your table
I personally use the same design for my business cards as I do with my banner. This way for shows that are longer than one day, when a new person approaches my table and takes a card I can point out that I'll be easy to find because the images are the same.
Keep in mind that if you're interested in doing commissions at shows, designing a separate sign or banner that outlines the type of drawing, price, and specs of the commissions will alleviate any confusion when someone approaches you for custom artwork.
5. Organize Behind your Table
It's just as important as keeping the top of your table organized—make sure you keep everything in order behind the scenes as well. You wouldn't want to sell a print you have hanging up and then realize you've sold out and have to sell the display!
You'll also most likely be sharing the behind the table space with other artists. To assure no one steps on your artwork, it's a good idea to keep it clean and make sure there's a path to walk through.
6. Make New Friends
Don't forget these shows are fun! You're going to meet a gaggle of great people with similar interests and people who like your artwork (that's why they stopped to talk to you!)
Keep the conversation going on social media by giving them a business card with your online info. Or if you'd like to reserve your cards for clients, consider making a mailing list to keep your new friends privy to your artwork and future shows.
And remember...
7. Don't be nervous!
Even the experts in this post acknowledge that their first comic, art, and fan shows were not only an investment (purchasing banners, table pieces, goods, printing, etc.) but a learning experience. It took trial and error to get to the point where they are at now.
The best part about the comic and art community is their friendliness and willingness to help new and young artists. If you have more questions, take a look at our experts future shows and ask them in person!
Luke Howard
Cloverkin (Ashley Erickson)
Lucky Juice Press
Julie Wilmore
Andrea Bell
Read More