"Small things can make a big difference." That's the motto of Inch x Inch, a new monthly button club featuring the work of a rotating line-up of contributing artists and designers. Focusing on small things in the form of 1" buttons, proceeds from club memberships support art programming, and the big difference it can make in the lives of young people.
Founded by Indianapolis designers, Bob Ewing and Drew Hill, each month's installment of Inch x Inch will include three 1" buttons with one designed by a guest designer. April's inaugural pack featured lettering superstars, Friends of Type, and a bonus line-up of eight designs.
"We created this organization as a vehicle to support youth art education by donating our proceeds to charities that we feel are making an impact," Bob Ewing said. "The two of us were influenced by a strong arts program in our childhood and recognize the import role it plays in the development of all youth."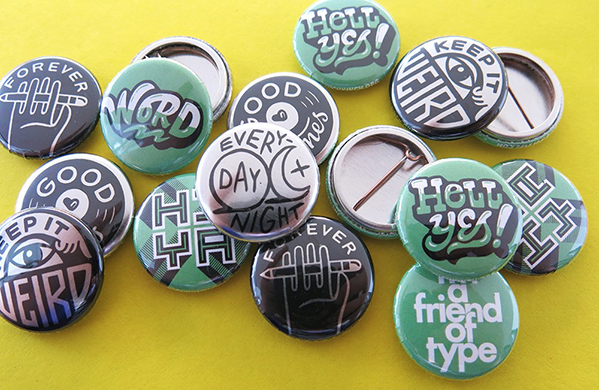 Busy Beaver has teamed up with Inch x Inch to manufacture each month's pinbacks, and French Paper, Mama's Sauce, and Element Three are also lending a hand to the project as well. After the April pack went out, Instagram erupted with gorgeous shots of the finished product.
Beautiful work guys. Cool stuff for a good cause. Sign up for @inch_x_inch

A photo posted by Dylan Wells (@dylanrwells) on
Ready to help make a big difference with some awesome little things? Sign up for your own Inch x Inch membership!
Read More