Busy Beaver Buttons is the go-to button company of all kinds of stars, but possibly the most adorable of them all is YouTube sensation, talk show host, author, and philanthropist, the celebrity cat Lil BUB.
Based in Bloomington, Indiana (also the birthplace of BBB), BUB and her best friend, recording engineer / producer / studio owner Mike Bridavsky are longtime customers of Busy Beaver, and for good reason. "Well, not to sound cheesy or cliche... but it's true: awesome service, great products, and friendly folks. And I'm not just saying that. I'm very picky about this kind of stuff, and Busy Beaver provides the best service I've ever experienced. A+++," Bridavsky said.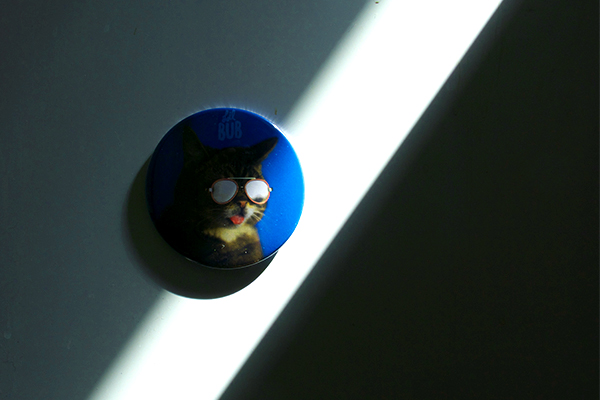 The duo recently ordered a bunch of new buttons and magnets for BUB's upcoming appearance at the second annual CatConLA. "I designed the new buttons myself this time," Bridavsky said. "As usual, the designs feature BUB's brilliant mug. It's pretty easy to design cool BUB buttons—just put her face on them."
The Lil BUB merch from Busy Beaver will debut as part of twenty new items for sale including blankets, yoga pants, and pillows that will only be available at the conference, and as always, proceeds will benefit a great cause. "Since we started this years ago, all of our merchandise sales and appearances benefit animals in need," Bridavsky said. "100% of the proceeds from our meet and greet tickets from all appearances go to homeless pets. Our CatConLA meet and greets sold out in a matter of days, and those alone have raised $15,000 for Lil BUB's Big FUND and Fix Nation. And on top of that, we will be donating 15% of all sales from our booth."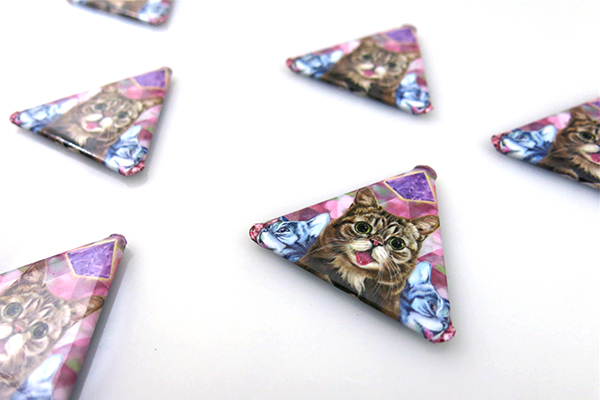 Limited edition triangle magnets, available only at CatConLA
Busy Beaver got in touch with BUB just before she headed west to CatConLA and learned more about why she loves buttons (for people, anyway), magic powers, and how she is using her celebrity status to help other animals.
Busy Beaver: Hi Bub, Thanks for taking some time to do an interview with Busy Beaver!
Lil Bub: Thank you. Hello.
BB: Did you know Busy Beaver started in Bloomington, Indiana? When you decided to move to Earth from outer space, how did you choose Bloomington? Was it the DIY culture?
BUB: I did know this yes, and that's why I chose Bloomington as my main destination. Because of buttons.
BB: Are buttons just for people, or are they fashionable for cats too?
BUB: They are just for people.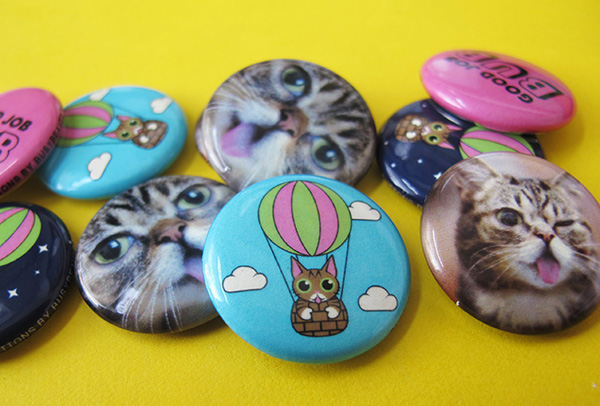 BB: Do buttons have magic powers?
BUB: Everything has magic powers, or rather can have magic powers, if you know how to charge them up. All of my buttons are fully charged with magic.
BB: You have interviewed a lot of musicians on your show, and as we all know, buttons are very popular with bands. Have any of your guests ever given you a button?
BUB: I wish I had a great story about a musician giving me a button, but unfortunately I don't.
BB: What made you decide to bring buttons to CatConLA? What is on your buttons?
BUB: As we touched on earlier in the interview, people love buttons. People also love me. And since there will be people at CatConLA, I decided to make some buttons with me on them.
BB: What is the best thing about sharing buttons?
BUB: It's a tie between two things: sharing and buttons.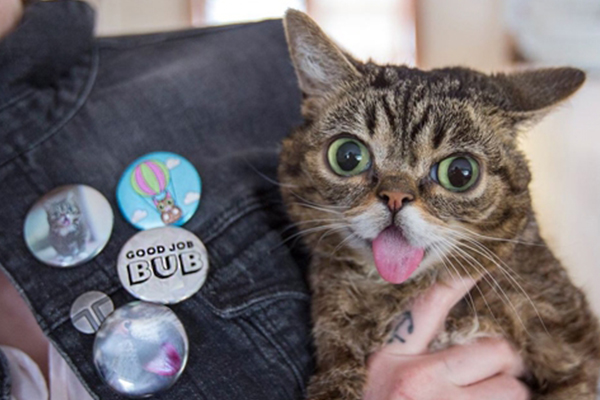 photo from lilbub.com
BB: It's great when celebrities such as yourself use their fame to help others. What are some things people should know about no-kill shelters?
BUB: That's a great question. I think the most important thing to know about "no-kill" shelters is that in many cases the term "no-kill" is just a technicality. Unfortunately in today's world, it is impossible for every shelter to be "no-kill" because there are simply far too many homeless pets in the world, and not enough homes. So most "no-kill" shelters end up having to give up some of their pets to regular shelters anyway. And it's important to understand that regular shelters don't want to euthanize pets. They are the ones with the most difficult jobs, and most good shelters do everything they can to minimize euthanasia, and to find homes for all of their pets. The problem is that the term "no-kill" shelter ends up giving regular shelters a bad wrap, and this can affect their funding, and their ability to do the work they need to do. So it's important to understand that there are also thousands of amazing regular shelters that are also doing excellent work, that also need volunteers and funding, and in many cases have a much more difficult job.
BB: Tell us about your Big FUND for the ASPCA.
BUB: Lil BUB's Big FUND for the ASPCA is the first national fund for special needs pets. The money is raised through my appearances and merchandise sales. 100% of the money raised is awarded to small shelters all over the country in the form of grants, specifically aimed to help with homeless special needs pets. To date, the FUND has awarded over $200,000 to shelters nationwide.
BB: Is it ok to wear a button in a hot air balloon, or should all sharp objects (aside from cat claws) be left on the ground?
BUB: You can wear a button anywhere you please. But there may be consequences.
If you'd like to adventure further with Lil BUB, she's got a Kickstarter out for her new video game, "HELLO EARTH".
Read More