After seeing Haydee Yanez's adorable buttons, we were excited to ask her how she was planning on using her pins. Her answer was humble and nothing short of inspiring; she is selling her buttons and other artwork at the Hollywood Forever Day of the Dead Festival with profits then going to benefit the people affected by the earthquakes in Mexico City and Oaxaca.
The same organizations that helped Haydee and her family when she was younger, are the same she wishes to help now as an artist. Here's more about her life, art, and how she continues to give back to her community:
—
1. Was art always a big part of your upbringing?
I'm a proud born and raised Mexicana from Tepic, Nayarit. Although I grew up in very humble and modest household, art and literature were always a big part of our [family's] lives. We didn't have access to a lot of things, even a basic library, but my parents always made sure we were exposed to history. I would say that something as simple as the Britannica Encyclopedia made a huge difference in my upbringing. I would read the volumes for hours.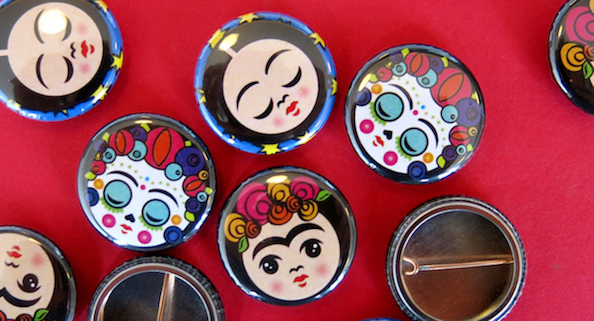 2. What are your biggest artistic inspirations? Did they change from when you were younger?
I will say that overall my biggest artistic inspiration is nostalgia. Of course that has changed through the times. In the 80's and 90's "La Movida Madrileña" was huge for me, especially "Alaska y Dinarama", but I always return to the nostalgia of the Golden Age of Mexican Cinema.
3. What was your process in creating this body of work, "MexiconsArt?"
MexiconsArt started in college in 2000. I have a BA in Graphic Design. I remember specifically that the idea was conceived in a class called Genealogy of the Mexican Object. It started as a simple memory game with Mexican icons such as Frida Kahlo, Cantinflas, the Virgen of Guadalupe, the soccer ball, the Satellite Towers of Luis Barragan, and others.
When it came to my thesis, the idea of making a didactic book with Mexican icons for kindergartners in Tijuana started to develop. My goal was to show border kids that in Mexico we have icons worthy of admiration...and slowly but surely the collection has grown from coloring book to buttons, wrapping paper, etc.
4. How did you get involved in Day of the Dead festivals like the Hollywood Forever events?
I was invited to participate by the lovely coordinator last year. It was truly an honor specially because I don't reside in Los Angeles. I have done a few shows in LA but most of the shows and events are in San Diego where I live. This is going to be my second time participating and hopefully they can have me again for many years to come. It's truly a beautiful and overwhelming event full of love, music, and tradition. Visiting the Altares are must!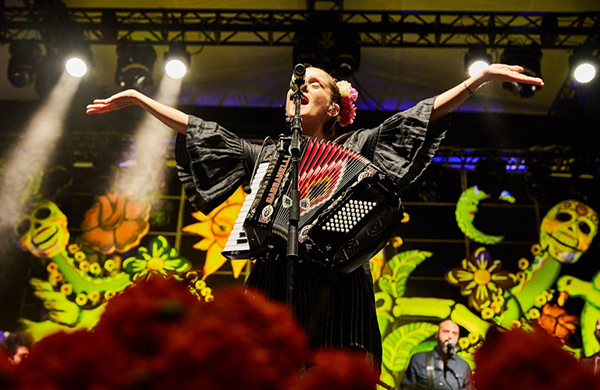 5. How do buttons fit into your MexiconsArt brand?
When I was younger I always collected buttons and I wanted to incorporate them into my collection no matter what. Sometimes you just need a special little gem that resonates with people without breaking their bank, and buttons do that for me. I still connect with them and it truly resonates with my customers because they can support their roots and their identity in a very friendly way.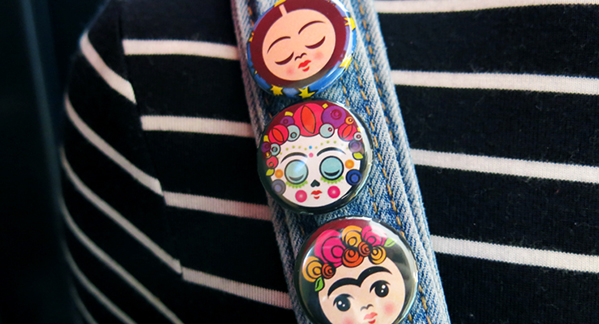 6. How else would you like to see your art help causes in the future?
My innate nature is to give. I decided when I start making my own money, no matter what I will always put something aside for an organization. I'm proud to say that although I've had a modest income for the last 15 years I have manage to give to organizations that make a difference such as UNICEF, ASPCA, NPR, the Humane Society, and for the last two years I have been focusing on local organizations such of Humane Society of Tijuana, KPBS, LGBT Latino Services, Es por los Niños Foundation, and local or Mexican non-profits through Go Fund Me.
Since the terrible earthquakes that affected the City of Mexico, Puebla, Oaxaca, and Chiapas this last September I created a "Coloreando por Mexico" limited edition coloring book kit and 100% of the earnings went to Topos Brigade. The kit is now sold out but I will continue my aid by donating 25% of my earnings from the month of October to Unicef Mexico and the Humane Society International.
—
To support Haydee in person, you can find her Saturday October 28th at the 18th annual Dia de los Muertos festival.
Read More