When Erik Harms and Emily Wilensky decided to leave Chicago after almost ten years in the bustling city, their restlessness led them to Minneapolis. Their reintroduction to all things coffee in the Twin Cities would eventually lead them to Traverse City, Michigan where they started Planetary Coffee, their mobile coffee shop.
We caught up with one half of Planetary Coffee, Erik, to ask a few questions about the formation of their business.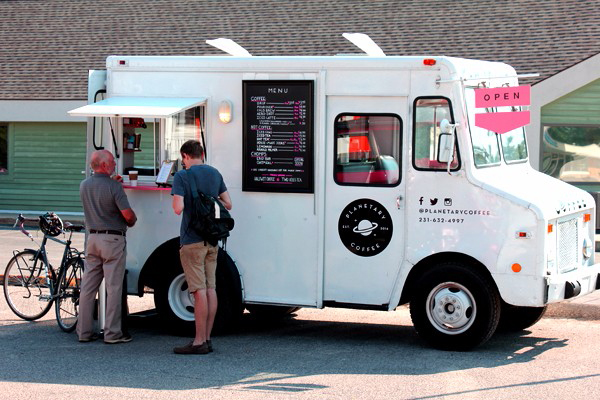 BB: Can you talk a little bit about your journey for making your business?
Erik: We started crafting the idea for a coffee shop of some kind, but we knew that the scene in Minneapolis was already fairly saturated. The same with Chicago. And, really, we were done with big cities.
Emily's family has a vacation condo in Traverse City, which we had visited several times while living in Chicago. Traverse City is really a semi-hidden gem in the midwest. There's a strong appreciation for craft there. Lots of breweries, wineries, cider makers, etc., and a fairly established coffee scene, which is continuing to grow.
Traverse City gets a lot of tourists throughout the year from Grand Rapids, Detroit, Chicago, places where coffee is already at a higher standard, so they are more likely to seek out specialty shops like ours. We decided to give it a go!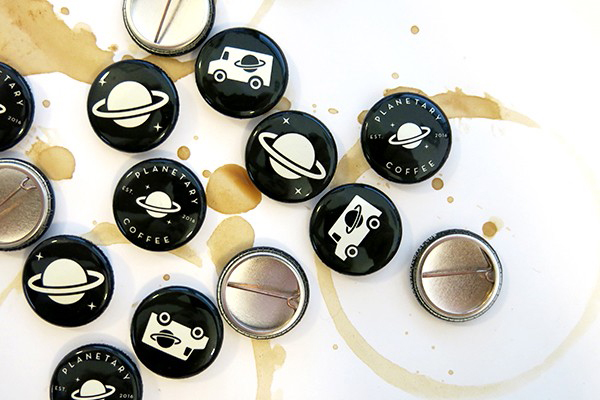 BB: Can you describe the process in selecting the coffee you serve?
Erik: We chose Halfwit Coffee Roasters for a few reasons. Firstly, Halfwit's standards are super high. They source direct from farmers, and work to build lasting relationships with them. They are very scientific about their coffee, while still being extremely approachable. We wanted to offer coffee that was above average, but wouldn't alienate folks who just want unpretentious coffee.
Our standard batch brew that we always have at the ready is their Moonbat Blend, which seems to satisfy any coffee drinker's palette. We've received a lot of compliments on it. We also use it for our cold brew, which again, according to customers is the best in town. We've been serving a few different options on our pour over menu and in retail bags, rotating our offerings based on what Halfwit currently has seasonally. It gives the local coffee nerds (like myself) something new to try every couple of weeks, and people new to good coffee a great place to start trying specific offerings. It's cool to see some of the same people come back weekly to get a pour over and a retail bag for home.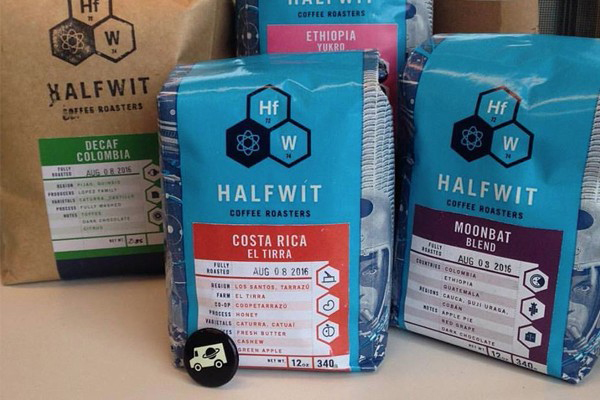 BB: How is the food truck hustle out in Traverse City?
Erik: Food truck culture in Traverse City is currently experiencing a boom. We're currently the only coffee truck, and we've set that bar pretty high for anyone who dares to try it. We've had great success at a few flea markets, and have a couple private events coming up in the next month.
BB: How important is social media to your mobile business?
Erik: Facebook and Instagram have been really useful. Being able to showcase new drinks, new coffees, locations, etc. It seems Facebook is the go to for Traverse City area for reviewing businesses, more so over Yelp. We have more and more people say they saw someone share something on Facebook. Our truck is cute, so we get people taking photos in front of it fairly often which is great. The social-media-word-of-mouth has really helped us get started.
BB: How are you using custom buttons? Did you have a certain display set up?
Erik: Originally we did just give them out to get some brand recognition, and give the customer a little take away to remind them of us later on. I figured if we give them a little something extra they'll keep coming back. We'll also give them to kids, since we don't have a ton of offerings besides hot chocolate for them. Kids love things that Glow In the Dark, and the parents always tend to find it charming. We have them displayed in a little frame on a shelf by the service window with the retail coffee bags and pint glasses we have for sale.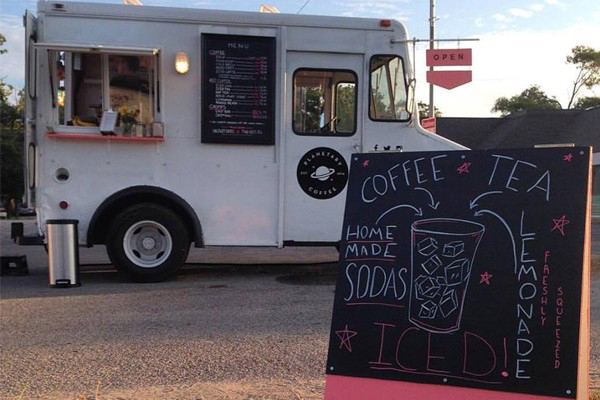 This latest batch of pin backs we're selling for $1 each. We're currently reworking our website a bit to have an online store where we'll sell the buttons online in packs of 3. If someone buys a retail bag of coffee, we offer a free drip coffee or pour over, but if the customer doesn't want that, we'll throw in a button. Just today, a friend of mine stopped by for a latte, and I gave her one for her new denim jacket, because you can't wear a denim jacket without buttons. Sacrilegious!
Each step of the way for Erik and Emily's journey impacted how their coffee shop was shaped. In Minneapolis, the two learned more about specialty coffee selections. When searching for the best location to set up shop, they remembered the marketplace dynamic in Traverse City. Now, Planetary Coffee serves the coffee they had loved from Chicago and treats customers to custom pin buttons also from the windy city.
Update September 2019: Planetary Coffee has a new brick and mortar location! Visit the charming turn-of-the-century-home turned coffee shop on the East Side of beautiful Elk Rapids, Michigan.
Read More