We're quickly approaching the one year mark of both the inauguration of the 45th President of the United States and the anniversary of our country's largest organized protest against said new administration. According to the Washington Post, on January 21st, 2017, the Women's Marches across the country drew an estimated 3,267,134 to 5,246,670 individuals out to protest.
Signs were painted, pussy hats were knit, and buttons championing a variety of causes were adorned in the massive crowds. As we head into the preparation for the 2018 Women's March, here are some of the ways buttons can be used as an aid in expression during the marches.
1. Wear your Message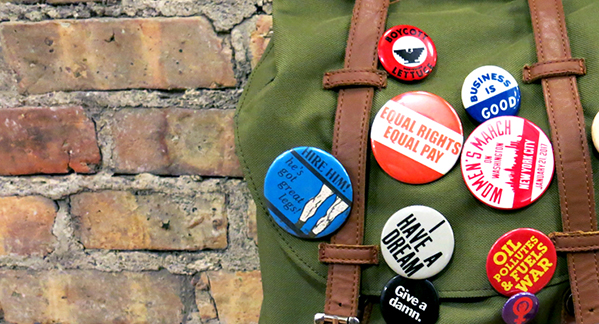 An easy way to spread your individual message is by wearing the buttons that communicate your values. Do you want to curse out the administration? Do you want to shed light on the issues closest to you? A pinback does all that for you without aggression— anyone interacting with your pin has the option to engage or walk away.
Even if you feel not particularly artistically equipped to design a button of your own, there are plenty of ways to get your message on a pinback. If you have an idea and would like a designer to execute, Busy Beaver has excellent design services that can help turn your button dream into a reality. Otherwise, you can take the DIY approach like Our Music My Body.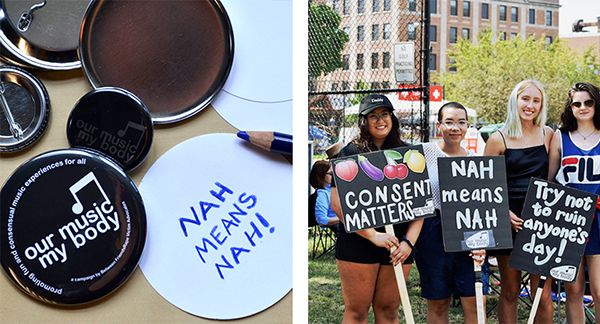 Our Music My Body uses buttons to spread awareness about sexual harassment in the music scene. At their tabling events, they provide button machines, pens, and paper for people to create buttons with their specific message. Clear and concise writing on a button works so well: a pin that has a clear message can speak volumes.
2. Share your Message
Pins are an easy and an inexpensive way to raise awareness for any cause and are being used by activists of all kinds. Empowered by the discourse of the current political atmosphere, voices are being raised by new coalitions. These individuals and organizations have been utilizing the power of the button.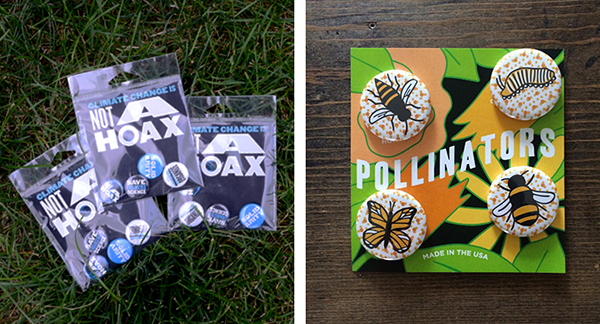 The Natural Resources Defense Council (NRDC) works to protect the Earth's longevity. The New York based organization of scientists, lawyers, and policy advocates use buttons to reach the public about these issues that affect our planet's environment.
"We use our buttons to help raise awareness of NRDC's work across the country," says Elizabeth Corr, Manager of Arts Partnerships & Events. "Most recently, the 'climate change is not a hoax' buttons were passed out to attendees at Bonnaroo Music Fest." The NRDC has also created button packaging to educate the public about the importance of bees and pollination.

For the Women's Marches, ordering a small batch of pins and handing them out to friends and strangers is an easy way to contribute to the overall conversation. Hangrynastywoman uses her "Believe Women" in this way. She explains, "I'm going to try to always have some on me so if anyone stops to mention the one I'm wearing, I'll be ready to give them their own."
3. Find your People

This previous year Planned Parenthood has come under even more intense criticism. To spread the truth about their mission and services, Planned Parenthood offices across the country rely on buttons to help educate and dispel misconceptions about their organization.
Planned Parenthood pins are given out at events, conferences, pride parades, and for the women's marches to help encourage, inspire, and educate. Keep your eye out in the crowd this year—especially in a protest of thousands, looking out for familiar buttons can lead to your next friendship. The buttons can move the conversation from, "Do you support Planned Parenthood?" to "Are you going to their next fundraiser?"
--
Now more than ever before, people all across the country are using buttons as a way to express their opinions and their support. It's clear that buttons have remained a vital and relevant form of self-expression despite many digital options to express opinions. No matter how you decide to use your pins during the Women's March, we firmly believe that buttons hold the key to creating a dialogue that can effect change.
Read More