The month of June has been adopted to celebrate the LGBTQ+ community in cities all across the world and while the month is used to express unity and camaraderie, the issue of misidentifying gender identity is one that happens all year round. It is not an attribute one can assume onto another person based on appearance. To help, organizations have taken a step toward a greater understanding by making their own Pronoun Buttons.
With buttons being one of the oldest conversation starters, they are the perfect tool to announce your preferred pronouns, help spread awareness, and even fundraise the cause.
Buttons for Raising Awareness
As Worner Leland the Director of Development and Promotion at Upswing Advocates states, "One way to be affirming and supportive of people is to use their correct pronouns. Gender identity is different than gender expression." It's important to remember that even if you mistakenly use the incorrect pronoun for an individual, you can apologize and make the effort to use the correct pronouns in the future.
Worner continues, "You can ask people what pronouns they use, you can practice to build your fluency with pronouns that might be less familiar to you, and you can help normalize the concept and practice of using correct pronouns by wearing a pronoun pin or button."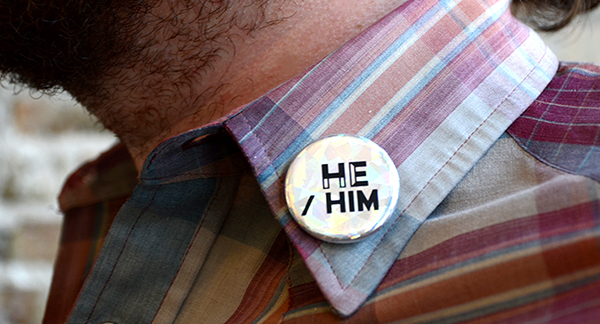 In addition, the inspiration behind Center on Halsted's pronoun buttons is "to serve our community with a functional piece of communication" says COH's Art Director Vivian Gonzalez. "Many LGBTQIA+ community members we serve face a daily struggle of being misgendered. Gender pronouns he/him, she/her, they/them, and 'ask for my pronouns' [buttons] are a helpful tool in their day-to-day lives." The Center on Halsted uses their Pronoun buttons to help create a welcoming and safe place for anyone looking to be their authentic self.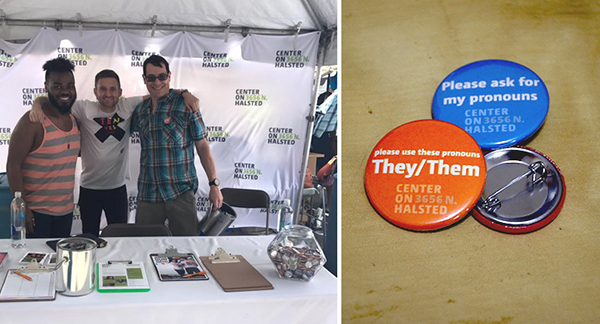 Fundraising for the Cause
Organizations like these are a staple in the LGBTQ+ community. With any not-for-profit group, donating to the cause is a one of the best ways to be involved.
The Mass Trans Political Coalition is using a cosmic button design featuring the sets of pronouns, as well as a button stating, "Please ask me about my pronouns." The pins were sold during Boston's Pride celebrations for a suggested donation of $1. MassTPC is an organization that is dedicated to ending discrimination and oppression on the basis of gender identity and gender expression, through political advocacy, education, and community empowerment.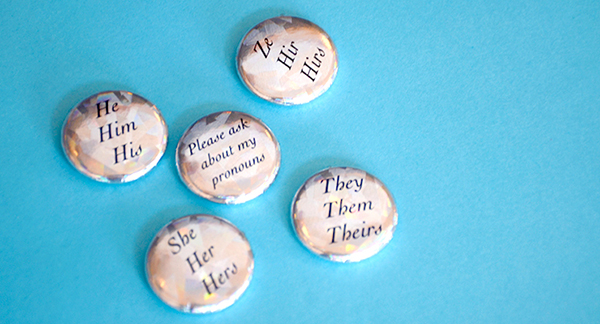 After Pride Month, the afore mentioned Upswing Advocates will also be using their own cosmic pins "for sale in a few shops around town to provide the funds to keep giving more away through education-based Pronoun Pop-Ups" adds Worner Leland. This is their second year making pronoun buttons and "like last year, we made 'SHE/HER' 'THEY/THEM' and 'HE/HIM' buttons, as well as fill-in-the-blank buttons for folks who use less common, but equally valid, pronouns. This year we opted for text on a cosmic background, because who doesn't love a shiny button?"
Show Your Support
Displaying pronoun and pride buttons on a lapel is a great way to proclaim support to the community. Planned Parenthoods have been sponsoring and advocating Pride celebrations across the country for years.
Emma Corbett of Planned Parenthood Mohawk Hudson confirms. "We hope the pins will be a small statement of support for Pride month and beyond!" PPMH's pronoun pins this year feature the authentic motto of the northeast chapter, "Care no matter what" on the rim text of the button. Emma continues, "Our staff are excited to wear them long-term. If they can help someone feel positive and/or start a conversation about advocacy or services, then we're very happy to have made them."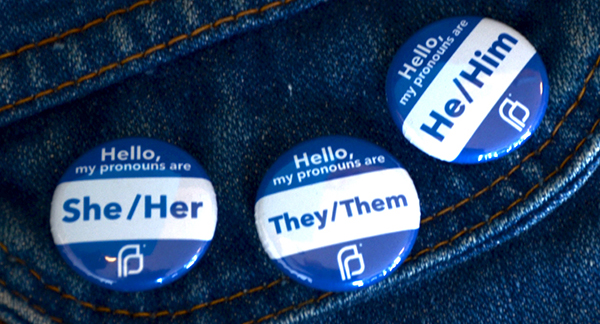 —
Wearing a these buttons is a safe way to open up the conversation about what preferred pronouns. We encourage you to get out there and make your own buttons and discover all the ways to use buttons to support equal rights.
Read More