You've got the perfect logo, icon, image to print on your custom buttons. It's sleek, it's well-designed, and it conveys exactly what you want your brand or message to be. But if your buttons are just the logo, how will people know where to find out more about your project?
While it's always an option to add a website or phone number to the front of your personalized button, this lengthy extra information on the face of the button can make your design cluttered or busy, especially on smaller sizes. The solution as to where to put that extra info? Rimtext.
What is Rimtext?
Rimtext or back rim text is small writing that appears on the side edge of your button. Instead of being visible on the front face of the button when it's being worn, the rimtext appears on the side edge for round buttons and along the back for square buttons.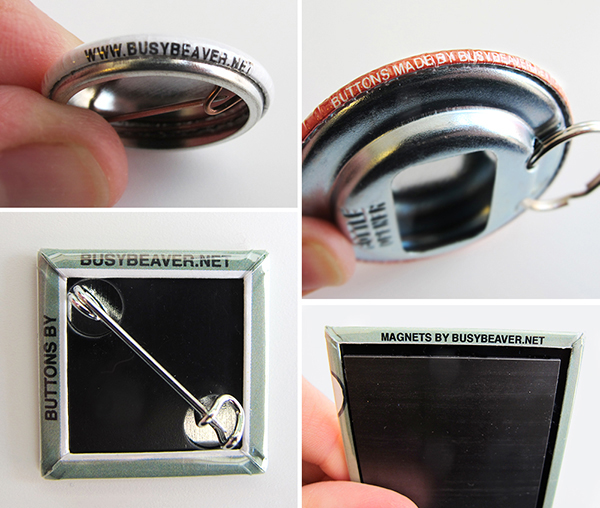 Back rim text on, clockwise from top left, 1" round button, bottle opener, 2x3" magnet and 1" square button.
What do people put on the back rim?
Back rim text is a great place to add some extra contact info or any extra bits of information you'd like the button-wearer to know. Wedding buttons may have the couple's name and wedding date on the back rim to commemorate the occasion. Artists can add their name, website, or any social media handles to the rim text as a avenue to find more of their work. A business can include their street address on the rim and if you want to get really creative could add a coupon code, copyright line, or special joke to the back rim. You can think of the rim text as adding information for those who receive the button, so make sure to use it for you advantage!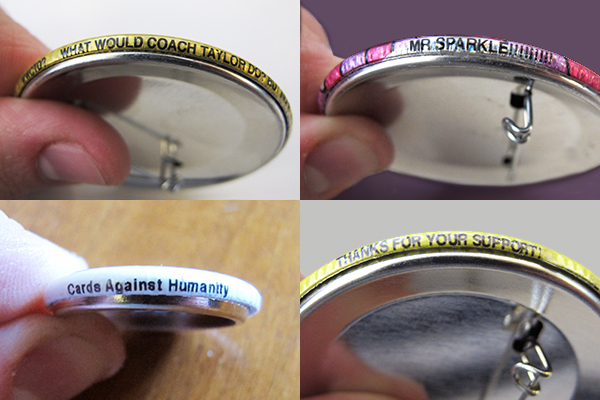 Examples of back rim text.
In 2013 when Guantanamo Baywatch ordered their 3 inch set of Seinfeld buttons, the rimtext of the buttons added that additional wink of an inside joke to whomever picked up this button set.
"Because we are such Seinfeld nerds, we went through a ton of episodes and wrote down the quote being said for each moment." - Chris Scott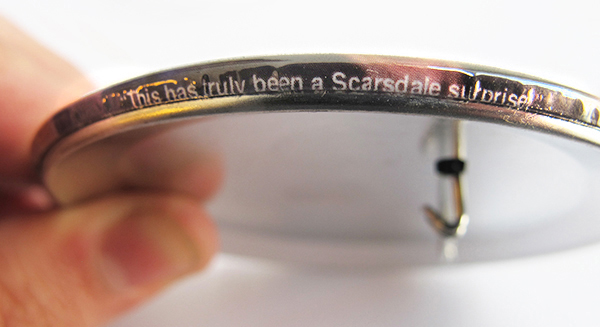 Seinfeld quotes on the back of a button by the band, Guantanamo Baywatch.
We suggest that anything that's vital to your design be on the face of the button and not the rim text. Our button makers press all your pin buttons by hand. Especially on the smaller buttons, some shifting can occur in this button making process that may cut off a bit of the bottom of your text as it wraps around the edge of your button. We suggest keeping back rim text short and sweet to minimize the effects of these shifts on your button pins.
How do you get back rim text onto the button?
Rim text can be added into your design when you make your own button artwork one of two ways. First, if you'll be setting up your artwork using our button templates, simply type the back rim text in the layer that's called, conveniently, back rim text. Also, if you're using our templates to upload to your order and wish to not include rim text, we will not add anything in it's place.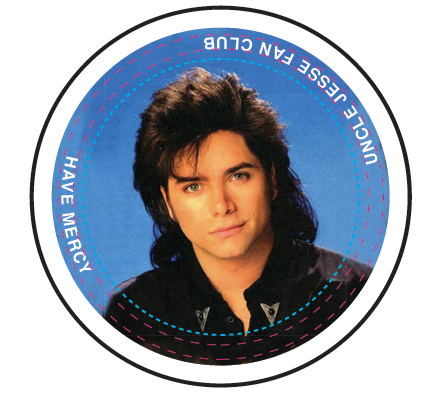 Not so design savvy? We're happy to help! Busy Beaver can add back rim text to your design for free-- simply type in what you'd like that to say in the "Free! What should the back rim of your button say?" box when placing your order. The rim text will be printed on your button exactly how you type it. It's good to add an order comment if your rim text has any unconventional spellings, to let us know that the rim text is exactly the way you'd like it. Otherwise, our team at Busy Beaver will definitely keep our eyes out for any discrepancies in this field.
If your order is placed and you instantly regret not including something on the rim text, we're happy to help make the adjustment. Shoot us a quick email to see where your order is in production. If it has not been processed, it's very easy for our designer to add this text to your artwork. If the order has been printed and process, we're happy to help out and send a quote over for a reprint charge.
Now that you're a back rim text expert, you can create your own button and add a special little message to the edge of your next order. Get started in our online shop.
Read More