Smell is perhaps the most under-appreciated of all the five senses. Yet research has proven that scents are linked closely to memory and emotion-- whether it's fresh cut grass, suntan lotion or the smell of bacon frying, scents make an impact. So if you're creating a dynamic marketing campaign, adding small into the mix can only increase your impact.
Enter Schmacon, "the un-bacon." Schmacon is a beef-derived meat product that looks and tastes like bacon. Created by Howard Bender, the product has been in development for two years and was ready for it's "coming out party." Schmacon was set to receive an award at the National Restaurant Association show held in Chicago back in May and wanted to make as big a splash as possible at the show. Alan Herbach, Chief Operating Officer of Schmaltz Retail Products, the company that makes Schmacon, had an idea.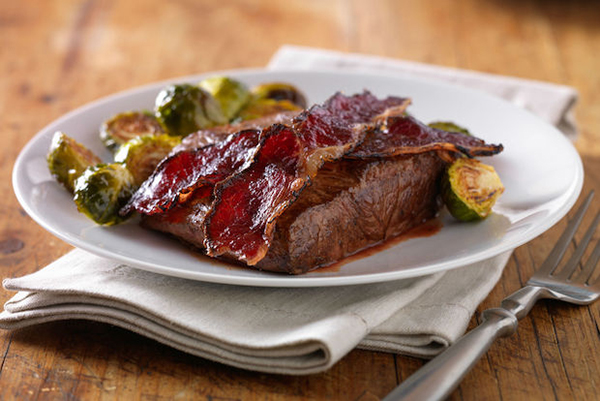 They planned on serving Schmacon samples to attendees, of course, and also wanted to create a button that would get the word out about their new product. Alan wondered, "How could we make the experience irresistible? Not only does our product look good, it smells good. Could we take the image and marry it to the smell?"
Alan and Busy Beaver owner Christen talked about the possibility of combining the visual punch of a button with the irresistable smell of cooking meat. What was born was a true original— the first ever scratch and sniff button!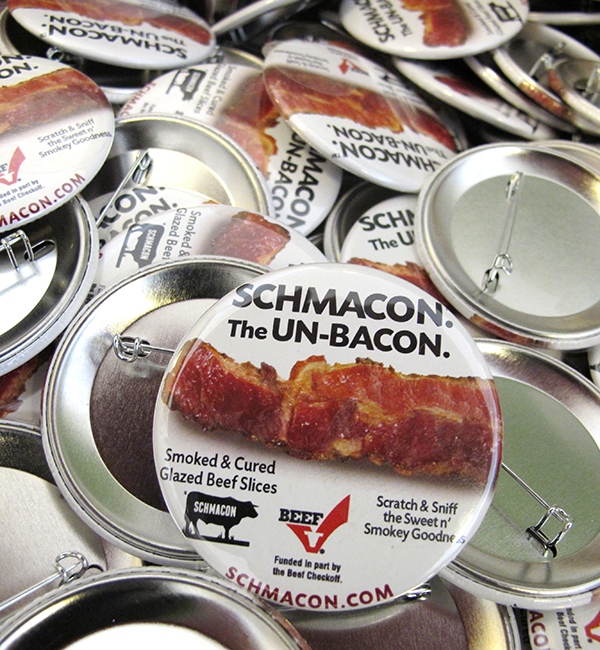 A nearly invisible scratch and sniff sticker was applied to the lower corner of a 2.25" button featuring the image of an enticing slice of Schmacon. When that section of the button is scratched, an unmistakable smokey scent wafts from the button. Alan said that the buttons are a "truly multi-dimensional approach to bringing our product into the marketplace."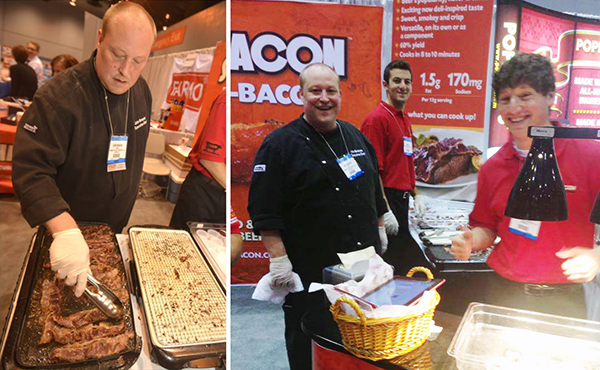 The buttons, and Schmacon, were a hit at the Restaurant Association show and received press coverage local and national press coverage. Schmacon is set roll out to restaurants, and the company hopes to have retail packages available around Chicagoland later this year. In the meantime, we suspect that anyone who received one of the new scratch and sniff buttons will remember fondly that first sample slice of Schmacon every time they scratch that button for years to come!
Inspired by Schmacon's scratch and sniff button original? Check out all the innovative buttons we've made for our creative customers over the years.
Read More