Snoopy, a cartoon dog that needs little introduction. Created by cartoonist Charles M. Schulz in 1950, Snoopy was the pet dog of the Peanut's main character, Charlie Brown. The pup didn't become anthropomorphized until 1956, when Schulz started drawing the dog as walking on his hind legs. Since that time, Snoopy has won over the hearts of many. Never speaking any words, Snoopy's personality is represented through his many personas he embodies, which were can remember through Schulz' comics strips, cartoons, movies, and of course the buttons in our museum.
I'll Get You Red Baron!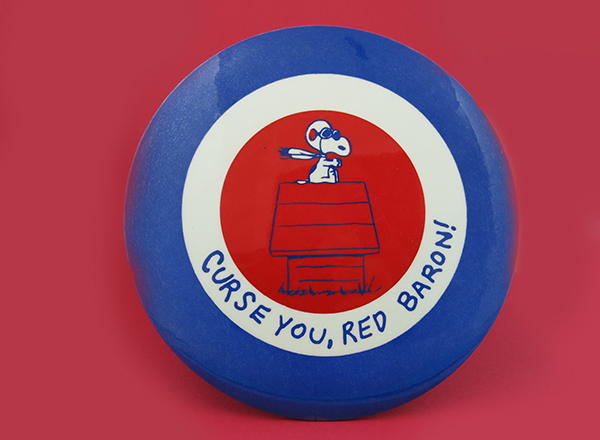 Snoopy often was depicted as a World War I pilot who used his red dog house as his fighter plane. The arch-nemesis in this imaginary world was none other than the Red Baron. Snoopy, the ace pilot, would be depicted starting his flights in the comic strips, then in the cartoon series to follow. Eventually Charles Schulz became concerned that this character Snoopy was portraying may be depicting war as comical, and decided to put Snoopy in other scenarios that depicted matters of love and loneliness instead.
Snoopy, Wearing Snoopy


This button is a perfect example of the Droste effect, which simply means having a picture appearing within itself. This pin, being housed in the Self-Referential category of the Button Museum, showcases Snoopy wearing a button of his own likeness (what a Snoopy thing to do)!
Joe Cool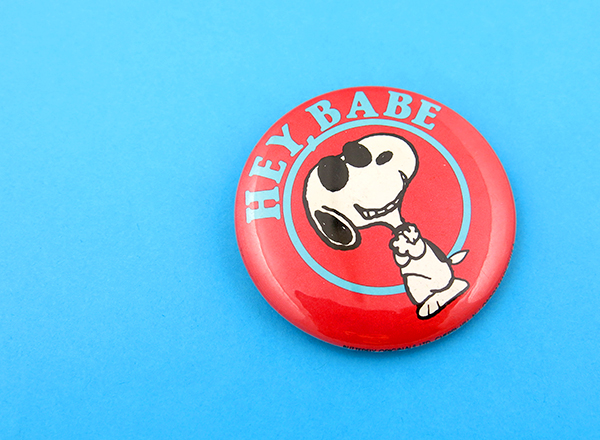 One of our personal favorite Snoopy alter-egos, Joe Cool, was Snoopy drawn wearing glasses and actin' real cool. Typically accompanied by his own theme song "Joe Cool" by composer-musician Vince Guaraldi, Snoopy would do more human-like activities like working at a supermarket or going to school. Think Fonzie meets Uncle Jesse, and you'd only be HALF as cool as Joe Cool.

Topical Snoopy



Having a comic strip that was published from 1950 to 2000, Schulz was creating illustrations that reflected decades of significant, cultural, social, and political topics. During the height of the Vietnam War is when the scene on this button was first shown in Schulz's February 25, 1967 comic strip. In the comic, we see the character Linus holding a picket sign reading "Help Stamp Out Things" while the character Lucy is saying that the sign should be more specific.

Linus then returns with a sign reading, " Help Stamp Out Things That Need Stamping Out!" A year later, this same illustration is captured on this button, however Snoopy is represented on the pin as well, but is not originally found in this comic strip.

With nearly 18,000 strips featuring Snoopy, his owner Charlie Brown, and all of his friends, Schulz has inspired the Peanuts cartoon, t.v. specials, cinematic movies, and so much more memorabilia that will make Snoopy live in our hearts forever.

Looking for More? Check out more of the Snoopy and Peanuts buttons in our museum!
Read More