Metallic was the first special finish that Busy Beaver ever offered to help make buttons custom. Inspired by a customer's special request way back in 2000, metallic takes advantage of the button's metal parts to give your design a sleek, silvery sheen. As the first company to offer metallic in modern times (a few companies had something similar back in the day), our metallic finish has personalized pins for over 16 years!
Interested in adding a little metallic pizzazz to your design? Check out our top tips and a quick metallic button tutorial for your button and magnet designs!
1. Know What to Expect
The number one tip to make your own buttons custom with a metallic finish is knowing what a metallic button actually looks like. Our metallic finish works by printing your artwork on a layer of clear plastic. Anything that is white in your artwork will be unprinted and show through the silver of the steel button parts.
*Note that it is not necessary to design a button with a transparent image such as a .PNG or layered Photoshop or Illustrator vector file. On printing your design, everything white will automatically become see-through.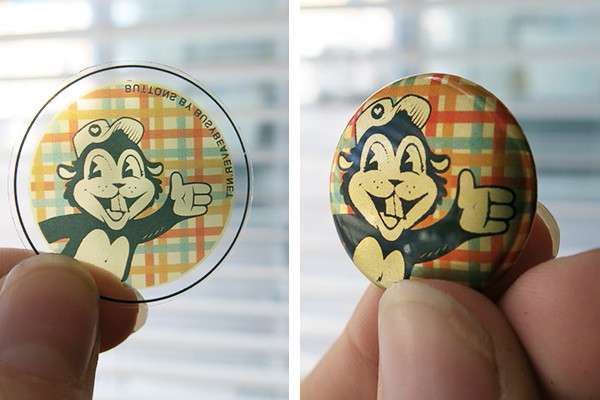 Metallic buttons are slightly reflective-- it's that light-bouncing quality that gives them the sheen-- but it makes it tough to capture the true look of the effect in a photo. To give you a better idea how metallic buttons look in person, check out this quick video of one in action.
Still unsure? Get in touch and we'll be happy to send you a sample to check out in person.
2. Lighten Up
Metallic finish replaces the white in your design with the steel pinback and shows through somewhat as a silvery sheen on other colors, so the overall look of the final button is always a bit darker than what you originally saw on screen. When you design a button for metallic, always err on the side of lighter rather than darker designs for metallic finish. Dark details, especially in grays and blacks, won't show up as well when printed with this effect.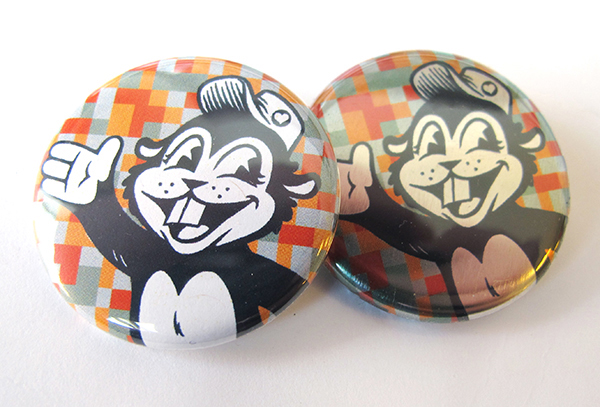 Comparing standard (left) and metallic finish (right). When designing for metallic buttons, keep in mind that artwork will appear darker than on screen, or printed in standard finish.
3. Pump Up the Contrast
In addition to avoiding t00-dark designs with metallic finish, make sure that your artwork has lots of contrast. Subtle color changes will be less obvious with the silver background, so make sure to go for colors that stand out against each other when you order custom buttons.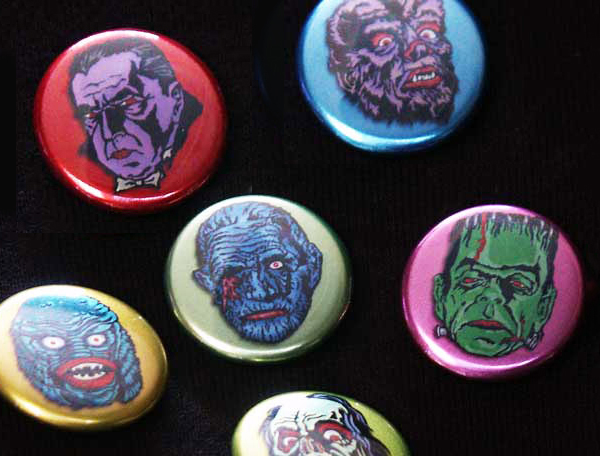 With high contrast designs and bold colors, these famous movie monster buttons work well in metallic.
4. Go Graphic
Some of the best-looking metallic finish designs are the simplest. Bold, graphic imagery looks great with metallic, and designs with a lot of detail can sometimes appear a little "muddy." When you design your own buttons for metallic finish, consider eliminating extraneous details when possible.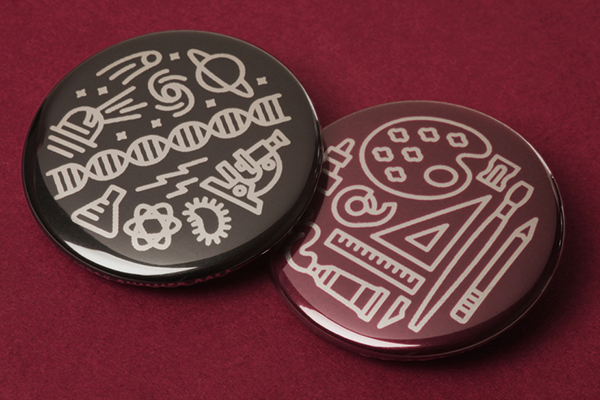 Bold line art is a great addition to these metallic buttons for Field Notes Arts & Sciences series.
5. Fake your Gold
Since our 24k gold buttons are only available in the 1 inch round button size, we've crafted a special formula to achieving that gold metal look by using what is known as our Full Color Metallic finish. Also known as a Gold Metallic Button. It's a great work around that let's you utilize the metal shine for your buttons for any size and shape!
When beginning the design process, know that you will be adding a special CMYK formulated background color as the background of your design. Don't worry, we'll let you in on this formula: 0% Cyan, 22% Magenta, 77% Yellow, and 0% Black at about 35%-50% opacity will do the trick. You're more than welcome to tamper with these values as well to create any shade desired for your metallic button pins.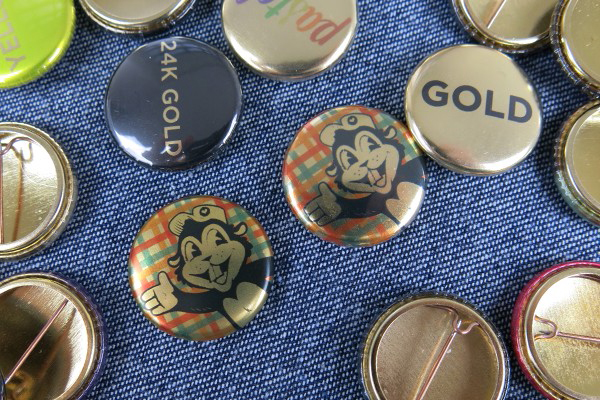 Round Metallic Gold Button next to a Round 24k Gold button. Can you tell the difference?
Get Inspired!
Now that you've gotten our 5 tips on how to design a metallic custom button, check out some of these inspiring metallic buttons made by our customers and Busy Beaver promotions.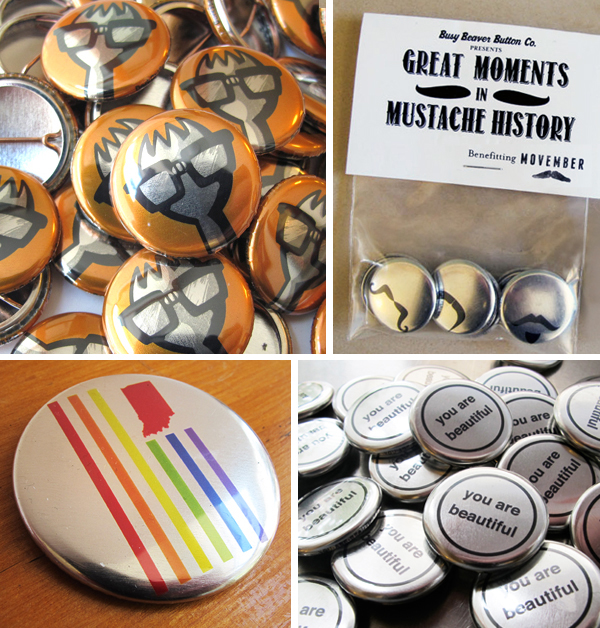 Clockwise from top left: Spork buttons from Dork Out with Your Spork Out, Famous Mustaches Movember button pack, buttons for Matthew Hoffman's You Are Beautiful project, Pride month buttons from United States of Indiana.
Matthew Hoffman often uses the metallic finish . He notes previously in his interview with Busy Beaver, "I love that you can print on clear material, and let the metal of the button show through. Black and silver, that's all we need," Hoffman says.
Read More