In anticipation of this year's Button-O-Matic series release, we're presenting a multi-part series of interviews with a few of the artists called "Behind the Button". First up, Fred Sasaki tells us in his own words about the how his 1-inch design is a loving tribute to his father: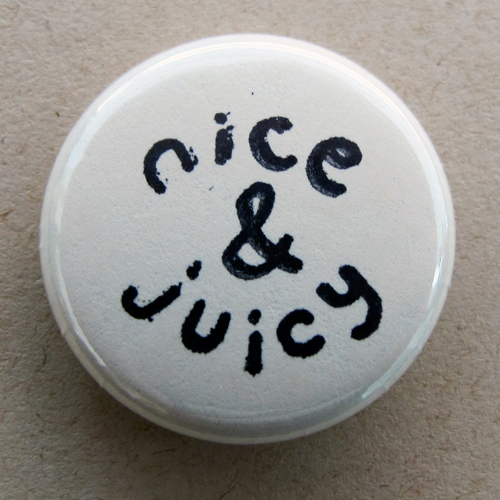 "My father (Fred Sasaki) and I (Fred Sasaki) made a zine together called Fred Sasaki's & Fred Sasaki's 4-Pager Guide To: How To Fix You. In them are life's advice. Titles include "How to stretch," "Six-Pack Flab," and "Prelude to Healthy Sex." You know, the usual. You can buy them at Chicago Comics or Quimby's, or I will eventually send you one gratis if you e-mail fredsasaki@gmail.com.
When my father died suddenly, Busy Beaver Button Co. made a series of buttons with sayings by my father on them, drawn from the zines. They said "GAMBARU" (I overcome), "Bounce your tummy," and "Tickle your vitals once and a while," among others. Mourners wore them and we felt much better. "THINK OF A SMILE."
The button we've just made for the great Button-O-Matic features another of my father's famous sayings, "nice & juicy." He'd say this about his favorite steaks, which he liked nice & juicy. He'd say it so much we'd say it too, to him, when he had a fresh plate of meat. "How's the steak, nice & juicy?" we'd ask.
As my father got older he of course couldn't eat certain things, like steak that wasn't nice & juicy. He'd eat what I'd make, which was always nice & juicy, or at his favorite place, Yoshi's Cafe on Halsted. That's the steak he felt safe eating. And that's what he choked to death on, at dinner with an old friend. They had oysters, sushi, red wine, and a nice & juicy steak. He wore a suit and tie which he never did. He sat down to the meal and told his friend, "I feel really good."
The button we've made is hand drawn the same way my father and I made the zines, and I asked my friend Paul Halupka to clean the art up to make rubber stamps that would then be hand stamped onto French Dur-O-Tone Butcher paper, thanks to the diligence of Denise Gibson at Busy Beaver. I got to know Paul through a "non-consensual collaborative narrative" I performed with him for an art exhibit called...This is Paul Halupka. Through knowing him I learned of his own father's sudden death, who had collapsed after a "fun run" with Paul and his younger brother. At the time I told Paul how terrified I was of my own father's death. So I wrote to Paul for this special job and he traced my letters lovingly.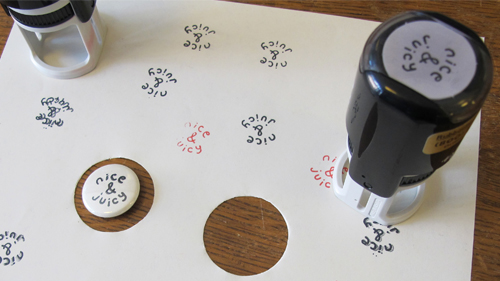 The design is stamped on butcher paper as the wrapping of freshly butchered meat would be. As in, while we're all pieces of meat, we're not just pieces of meat. Each one of us is unique, however the same we might be. And of course we're each of us "dead meat." Further to that I'd say we're all nice & juicy, and I'd like to recognize our nice & juiciness every day. I like our bodies awful as they are, and your body is equally special, especially with a fine and dandy "nice & juicy" button on it." — Fred Sasaki
Read More