It all began in 2001 in New York. Busy Beaver's owner, Christen Carter, was hanging out in NYC with her friend Allen, an avid manhole cover collector who also ran a vending machine route. They had what Christen calls "a peanut butter and chocolate moment" when the two of theme realized buttons and vending machines could really work together! Christen designed a series of buttons which Allen then distributed to record stores across NYC.

When Christen returned to Chicago her friend and Busy Beaver co-worker Rosie encouraged her to set up her own button machine route locally so they could distribute limited edition art buttons. Rosie and Christen spent the summer of 2002 buying and rehabbing old vending machines. Their first curated series included 96 different buttons designs created by friends, co-workers, and local artists. They named the project "So and So's Button-O-Matic" as an irreverent nod to the fine art world where gallery owners often named their spaces after themselves. It wasn't until 2008 that the project was re-branded as the "Busy Beaver Button-O-Matic".

See all of the past series below.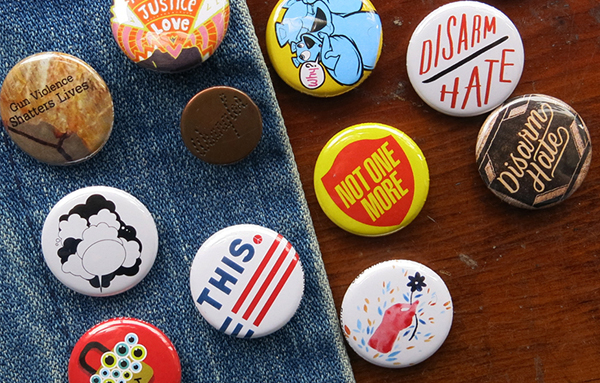 2017: "Buttons Over Bullets"
Curated by Everytown for Gun Safety
Features art by Wayne McNeil, Sirron Norris, Vichcraft, Cecile Vidican, Melissa Diperi, Jennifer Kinon, Bobby C. Martin, Tiffany Mallery, Andrea Pippins, Libby VanderPloeg and Ronny Quevedo.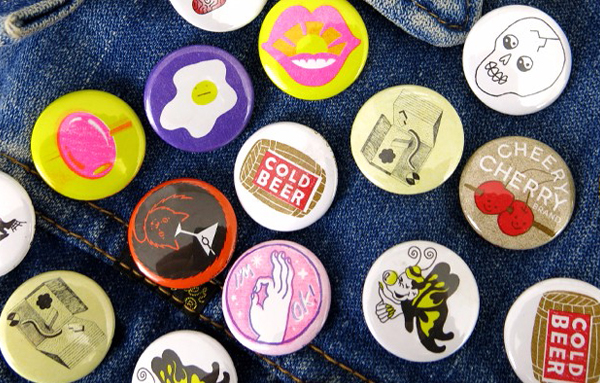 2016: "Happy Hour"
curated Clay Hickson of Tan & Loose Press
Featured art by Annu Kilpelainen, Liana Jegers, Nathaniel Russell, Adi Goodrich, Pete Gamlen, Rachel Howe, Brie Moreno, Ryan Duggan, Gabriel Alcala, Ben Marcus and Clay Hickson.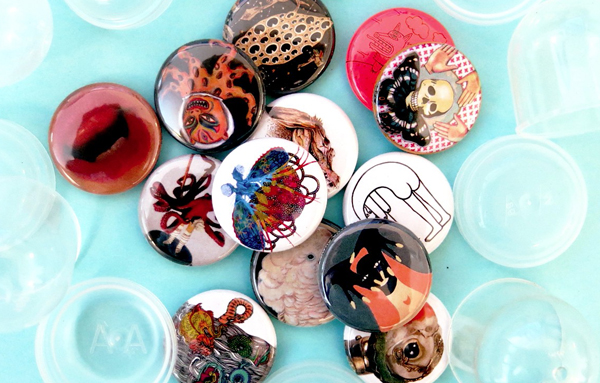 2015: "Bestiary"
Curated by Tony Fitzpatrick
Featured art by Duncan Anderson, Mariano Chavez, Dawn Hancock, Julia Haw, Kelly Houlihan, Jared Joslin, Jessica Joslin, Tyler Krasowski, Damara Kaminecki, Julie Murphy, Nate Otto, and Renee Robbins, in addition to students of Yollocalli Arts Reach.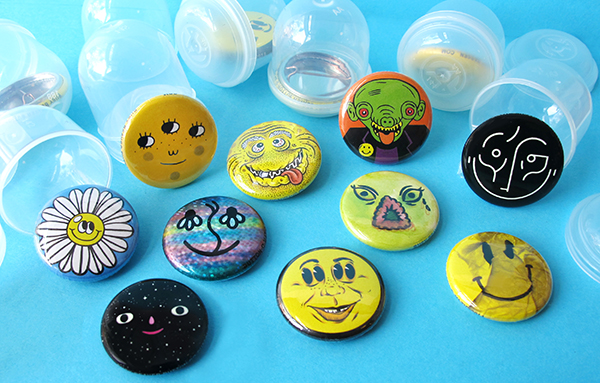 2014: "Smiley Buttons"
Featured art by Tuesday Bassen, Laura Berger, Cortney Cassidy, Anya Davidson, Penelope Gazin, Phil Guy, Tim Lahan, Jay Lynch, Chris Uphues and Carrie Vinarsky.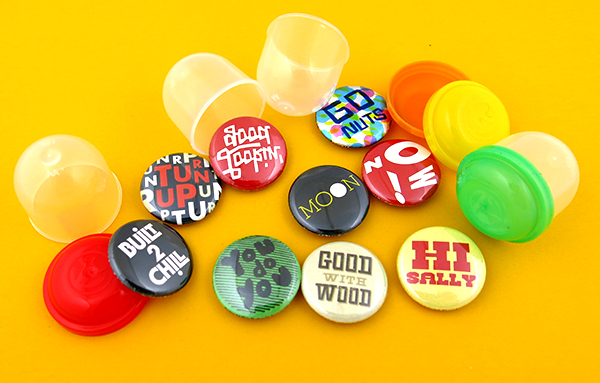 2013: "This Button Is Just an Attempt to Communicate"
Featured art by Milton Glaser, Hamilton Wood Type & Printing Museum, Ann Friedman and Dylan C. Lathrop, Margot Harrington of Pitch Design Union, Cyrus Highsmith of The Font Bureau, Inc., Marieke McClendon, The Office of Jason James, Plural, Starlee Kine, and Fred Sasaki of The Poetry Foundation.
Learn more about the 2013 series >
Read more about Milton Glaser's button design >
Read more about Ann Friedman and Dylan C. Lathrop's button design >
Read more about Hamilton Wood Type & Printing Museum's button design >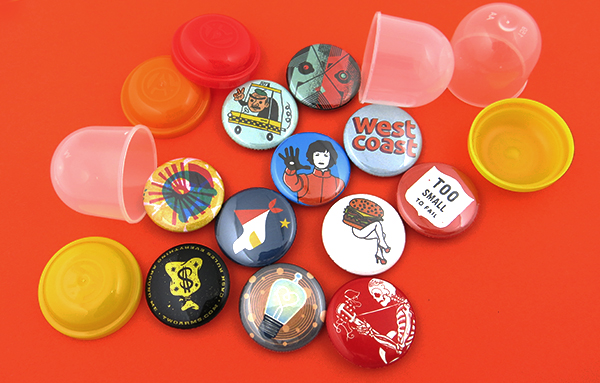 2012: "Printmaking"
Curates by Delicious Design League
Featured art by Anne Benjamin, Aesthetic Apparatus, Burlesque of North America, Doublenaut, Hero Design Studio, James Flames, Kevin Tong, LandLand, Spike Press and Two Arms.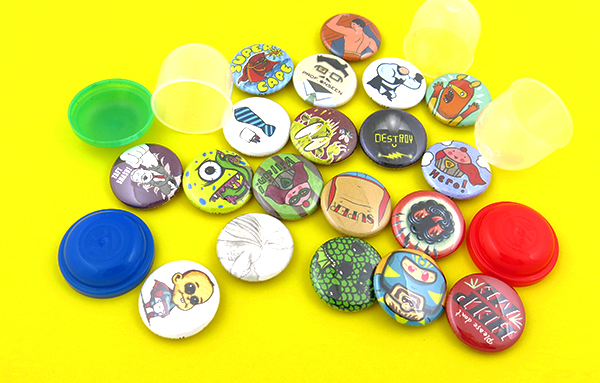 2011: "Superhero!"
Featured art by Box Brown, Jeffrey Brown, CakeSpy.com, Lilli Carré, Abbey Hambright, Denise Gibson, Erik Harms, Travis Lampe, Anders Nilsen, OhNo!Doom, Laura Park, Jay Ryan, Shawnimals, and Wolfgnards.com.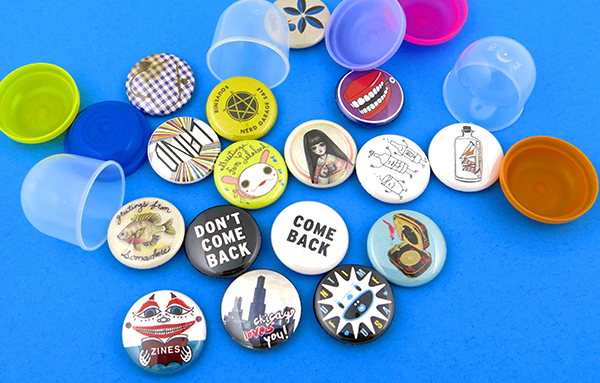 2010: "Souvenir"
Curated by the Button-O-Matic locations
Featured art by Joe Lauer, Supercorn, Chris Corbalis, Jason Hammel, Edie Fake, Angela Finney-Hoffman, Russell Etchen, Melissa Grubbs, Mei Stewart, Cody Hudson, Brett Manning, Tae Won Yu, and Alicia Hermanny.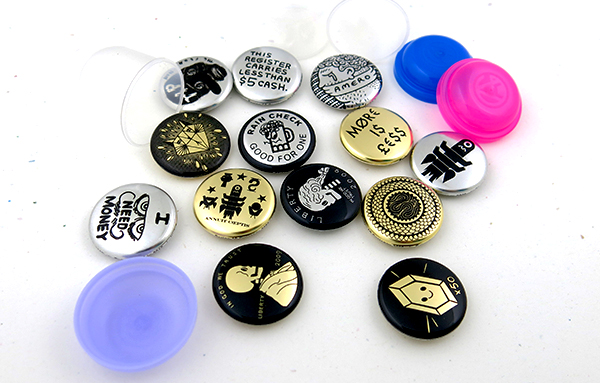 2009: "Currency"
Curated by Dustin Hostetler
Featured art by Spacesick, Tim Biskup, Damien Correll, Jennifer Daniel, Nicholas Gazin, Ginette Lapalme, Travis Millard, STEAK MTN, Luke Ramsey, and Geoffrey Todd Smith.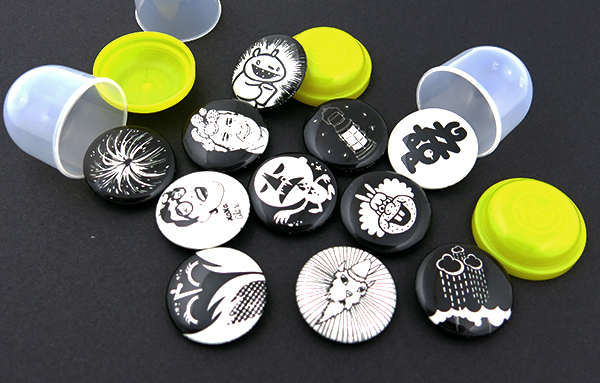 2008: "Glow"
Featured art by Jay Ryan, Johnny R., Julia Rothman, Derek Erdman, Jacob MacGraw, Alex Jovanovivch, Kenny Hooyman, Quietlife, Sonny, and Little Friends of Printmaking.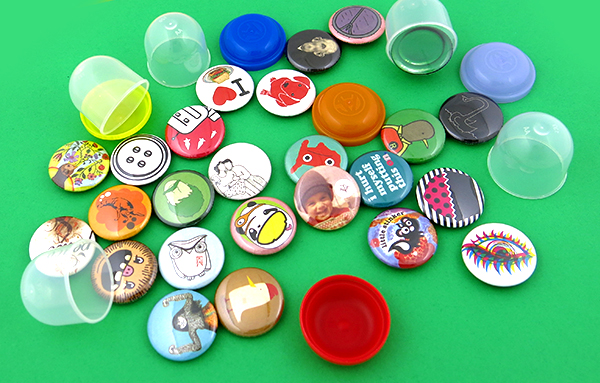 2007: "Audience Voted"
Curated by the public
Featured art by Byron Flitsch, Maz, Alex Synge, Mike Hensel, Russell Etchen, Disposable Hero, Rich.vom.Dorf, Tiber Scheer, Justin Langlois, Ross Leaver, Lena Tatar, Sam Eames, Mark Mothersbaugh, Róisín, Mel Kadel, Ruggedwoodsman, Pierre Hourquet, Rachel Domm, Veronica Semeco, Jen Frank, stunts, Jorge A Herrera, Sandra Martin, Ryan Gonzales, Michal Zak, and Tom Stack.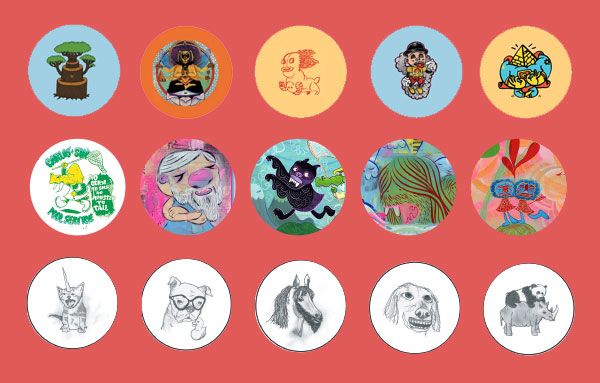 2006: "Imaginary Friends"
Curated by Emily Counts
Featured art by Melina Ausikitis, Ezra Li Eismont, Andy Moran, Miel Margarita Paredes, Jon Santos, Bwana Spoons, and Jonathan Van Herik.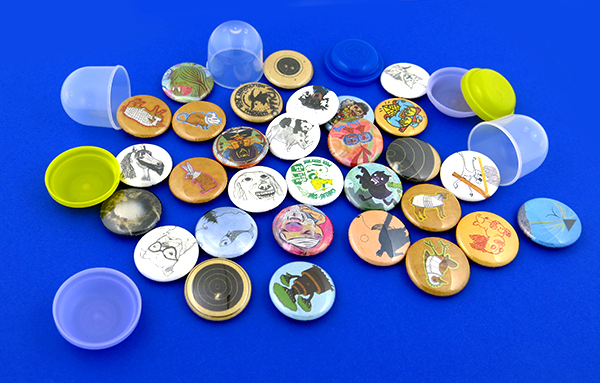 2005: "Summer Love"
Featured art by Deanne Cheuk, John Parot, Maya Hayuk, Michael Schmelling, Royal Art Lodge, Rob Syers, Sayre Gomez, Scott Lenhardt, and Steve Harrington.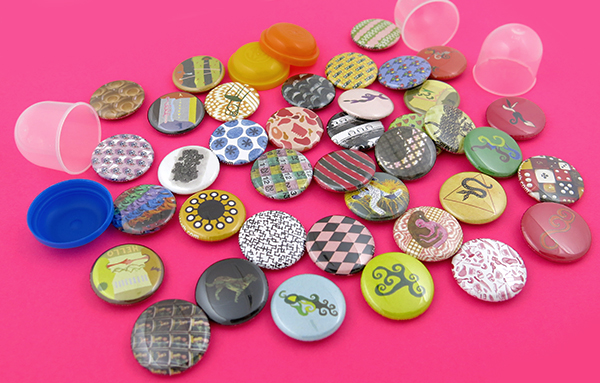 2004: "Patterns" and "Stinky, Hairy, Scary"
"Patterns" series featuring art by Brandy Agerbeck, Christian Arrecis, Guy Burwell, Milton Carter, Cat Chow, Emily Counts, Krista Babbit, Kelly Mulloy, Anders Nilsen, Kelly Riek, Kim Soss, and Theo Katsaounis.
"Stinky, Hairy, Scary" series curated by Arthur Jones and Christen Carter featuring art by Jad Fair, Katy Fischer, Jeff Kleinsmith, Jesse LeDoux, Kathleen Meaney, Ben Olson, Clare Rojas, David Shrigley, Shawn Smith, and Francine Spiegel.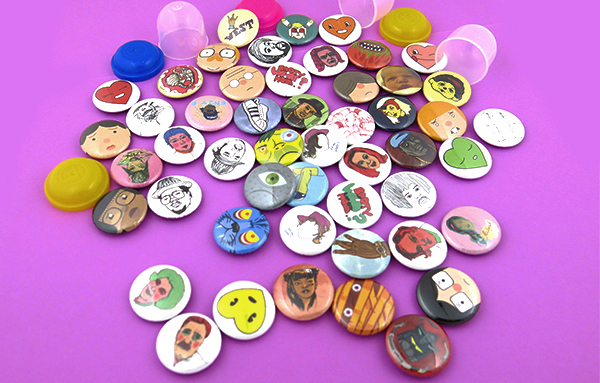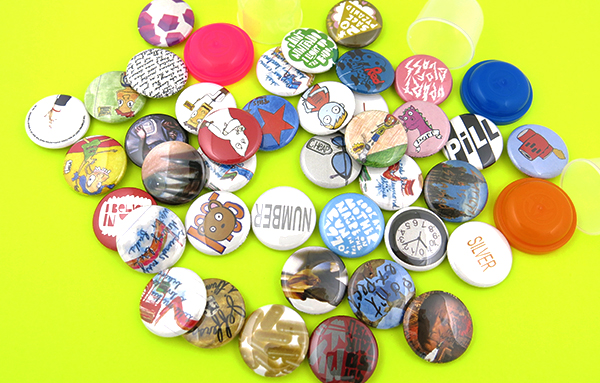 2003: "Song Lyrics" and "Portraits"
"Song Lyrics" series featured art by Alexis Wilson-Castaldi, John Esguerra, Teo Griscom, Cody Hudson, Terence Hannum, Tony Sunby,Tod Trainer, and Norah Utley.
"Portraits" series featured art by Kelly Marie Breslin, Emily Counts, Rob Doran, Arthur Jones, Nathan McKee, R-n-R, Chris Uphues, Jessie Vala, and Chris Ware.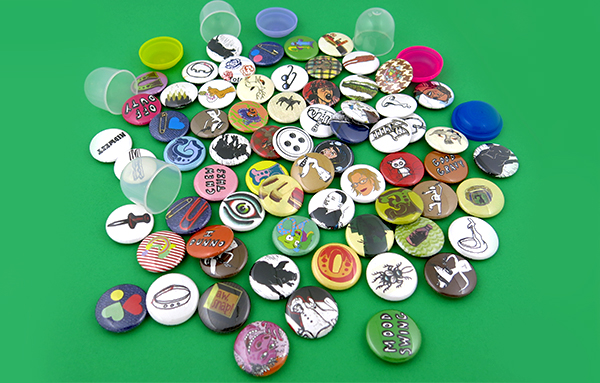 2002: "The Beginning"
curated by Christen Carter and Rosie Sanders
Features art by Jessica Abel, Kim Ambriz, Krista Babbitt, Emily Counts, Fay Davis-Jeffers, Jaie Devore, Rob Doran, Butchy Fuego, Teo Griscom, Keith G. Herzik, Arthur Jones, Paul Koob, Andy Moran, Marko Neely, Ariane Nelson, Matthew McClintock, Hilary Olson, Archer Prewitt, Kim Soss, and Jessie Vala..